'[The term 'refugee' shall apply to any person who] owing to well-founded fear of being persecuted for reasons of race, religion, nationality, membership of a particular social group or political opinion, is outside the country of his nationality and is unable or, owing to such fear, is unwilling to avail himself of the protection of that country'
Article 1(A)2, The Convention and Protocol relating to the Status of Refugees 1951('the Convention')
This brief clause – Article 1(A)2 of the Refugee Convention – has sprouted thousands of pages of academic commentary and countless cases, impacting the lives of the world's most vulnerable people. Assessing its meaning of 'persecution', in light of the UK Supreme Court decision in HJ (Iran) (2010), was the first chance for Georgia, Jasmine, Will and me to probe into the complexities of the refugee law regime, as we submitted essays which ultimately earned us a place on the City University International Refugee Law and Migration Moot team.
Then the real work began. Vrije Universiteit Amsterdam, the hosts of the competition, sent us a twelve-page case file. Splitting into Applicant and Respondent pairs, we had to argue the respective cases for and against the granting of refugee status to Venezuelan musician Yago Alvares Moreno, who had sought asylum on the fictional Caribbean island of Caraiba. Andy, our coach, a City lecturer with expertise in international human rights and refugee law, led us through the process, identifying weaknesses in our arguments, drawing out our strongest points, and recommending books.
With all 12,000 words of our written submissions edited, formatted, and sent to the judges, there was nothing left to do but wait. In March, good news arrived. We'd ranked 9th, meaning we were off to Amsterdam with eleven other teams to present our oral submissions in front of an impressive panel of international justices.
Arriving on Wednesday 8 May, the four of us checked into our hostel, and fuelled up for Thursday's competition with an Indonesian feast, before retiring to bed early. The next morning, the breakfast bar was awash with (future) lawyers of all nationalities, rehearsing their speeches and scanning through the fact pattern for a final time. You really had to feel for the rest of the guests.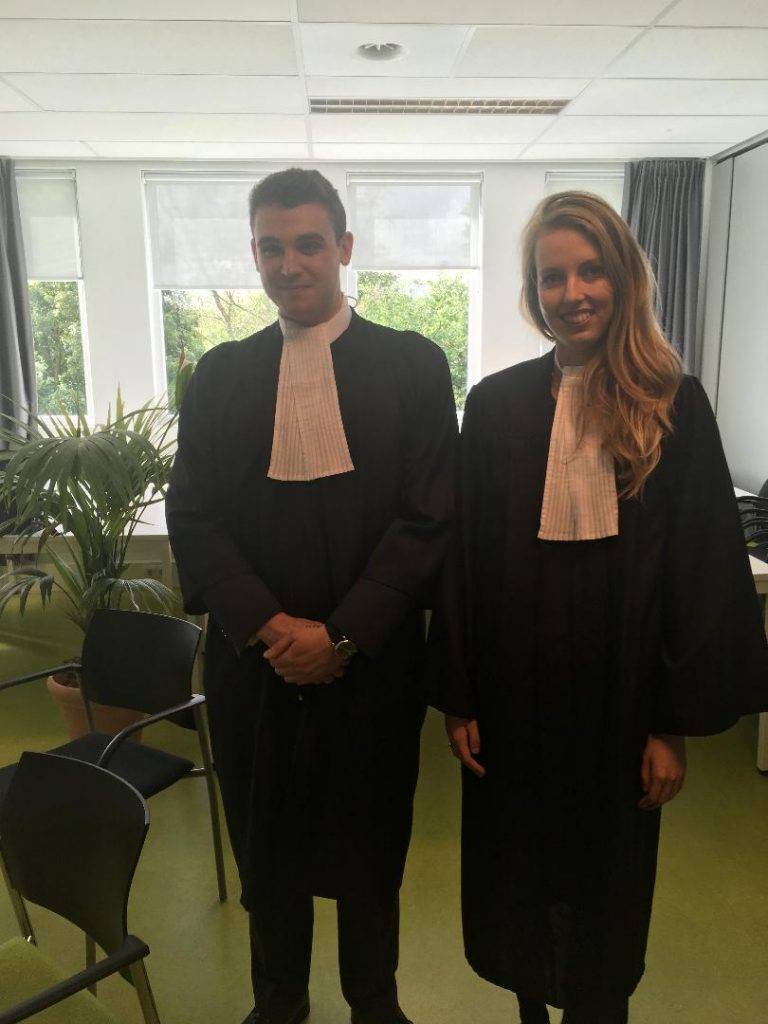 First up, Will and Jasmine, for the Applicant, argued against the team from Turkey's International Refugee Rights Association, submitting that Yago had been targeted by the Venezuelan government due to his political activities.
After lunch, Georgia and I faced the pair from Belgium's University of Ghent, arguing that Caraiba had no legal obligation to grant refugee status to the Applicant. After the first oral round drew to a close, all the participants mingled over coffee and cake as the judges tallied up the scores. The semi-finalists would be those with the highest aggregate marks over the written and oral rounds, and since we'd placed 9th out of 12 in the written submissions, expectations were low. The shock, then, on our faces, must have been apparent to all, as the judges called out our names. We were through to the penultimate round, the strength of our oral advocacy having catapulted us up the score table.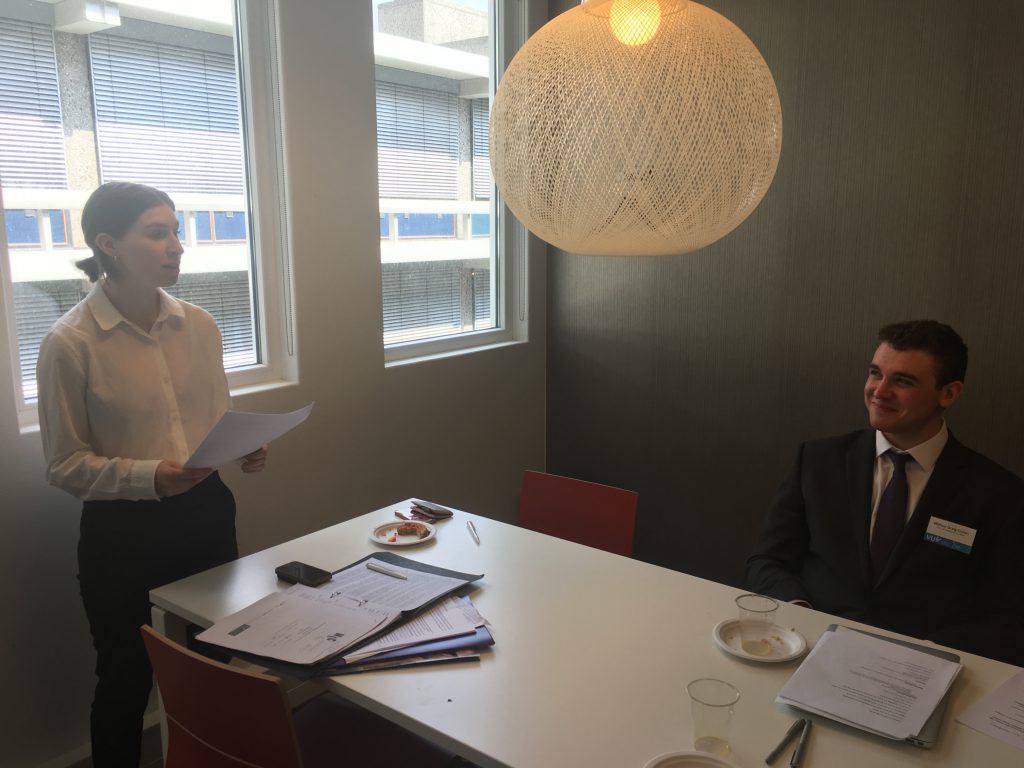 Cue an hour of frantic research and drafting, as the organisers presented us with new facts. Working together to build an enhanced case for the Respondent, we argued, inter alia, that national security concerns legitimised the State's derogation from the ICCPR, and also that the Applicant's refugee sur place claim could not succeed since he had deliberately created a new, high-risk situation by posting provocative and inflammatory Instagrams. However, despite our best efforts, we later found out, whilst having dinner at Amnesty International, that we had narrowly lost out to the University of Hong Kong.
Lamentable as this was, we were proud of our performance and our joint-3rd place finish, and, more importantly, were now free to enjoy Amsterdam's pubs, before a day of tightly scheduled human rights seminars. Personally, I attended two sessions on the Friday: one on litigating human trafficking cases in Israel, delivered by attorneys from Tel-Aviv University's Refugee Rights Clinic, and another on strategic third-party interventions, led by a lawyer from the European Council on Refugees and Exiles. Contextualising refugee law – which is, in my view, a thorough and fair regime on paper – within the political, social, and economic confines it encounters upon implementation was a refreshing contrast to the law conversion, which necessarily elides such problems in order to build up pure legal reasoning skills.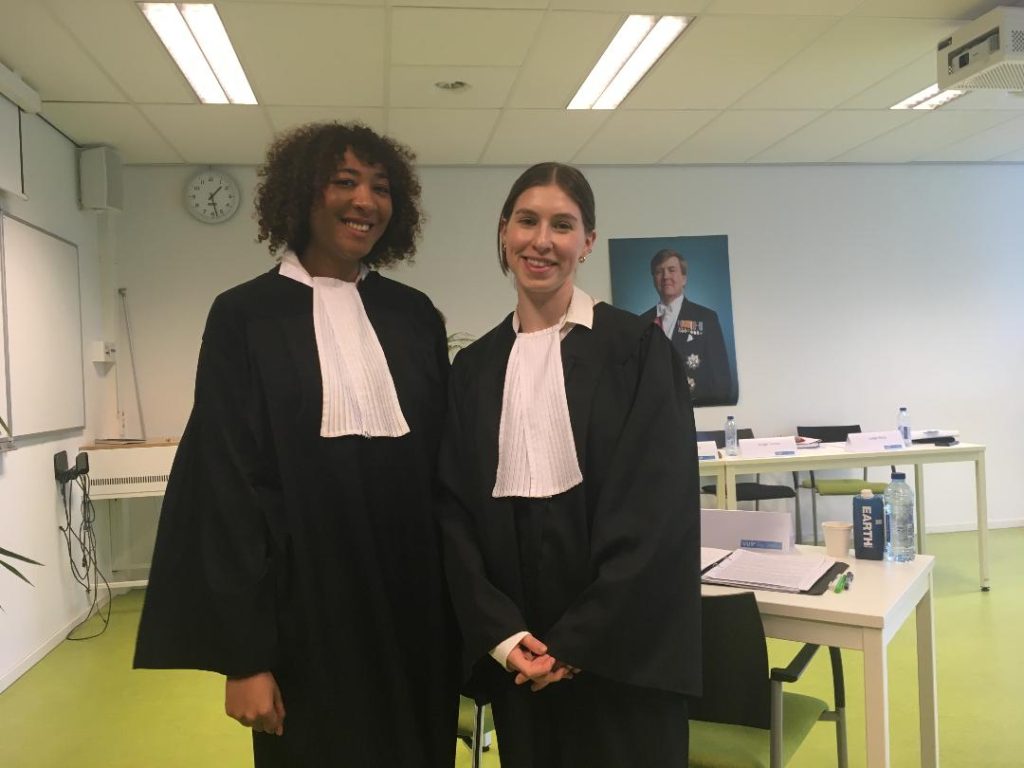 Moreover, discussing such issues with incredibly bright, articulate and impassioned law students from across Europe, the Middle East, Asia and North America was fascinating and inspiring. As politicians and the press continue to ferment virulent anti-migrant and refugee rhetoric, with debates about 'Us' and 'Them' devoid of empathy, compassion, and reason, knowing that there are so many law students ready to dedicate their careers to the defence of open and progressive values is a comfort and a motivation. The opportunity to meet likeminds, finesse our advocacy and grow our knowledge of refugee law at the Vrije Universiteit moot court was invaluable and I could not recommend the experience more.
Thanks to Lauren Chaplin for this excellent insight into the competition. Lauren has, to the relief of her parents, finally finished the law conversion and is about to start her training contract at Leigh Day.