Michaela Mauricio is one of 21 LLB1 students who won the chance to see her induction work published on Lawbore (she also got an Amazon voucher, just in case this privilege wasn't enough!). This was part of the #exploringthelaw project – students tracked down 4 buildings of legal significance on a trail around London, researched the locations and then penned a blog post on something they were inspired by.

 Introduction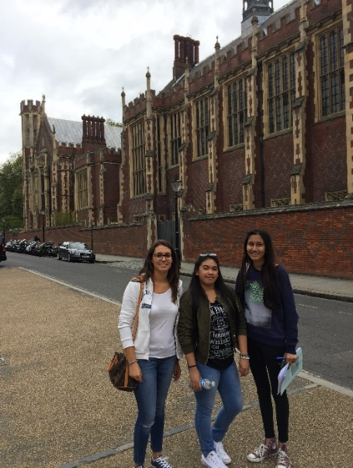 For some, London is one of the most amazing and vibrant cities in the world to visit and I am privileged to call it home. Despite living here for 18 years, I have not explored much but through an 'Out and About' task with my fellow Law students from City, University of London, I have become a modern day legal explorer.
Preparation for exploration
Unlike most explorers, I must admit that I was not especially enthusiastic about having to traipse about Central London, aimlessly hoping to reach all of the assigned destinations without getting lost. However, I was armed with my tools of expedition – this is where the modern part comes in. In hand I brought along my version of a modern day map, my iPhone. I can assure you that it was an essential tool needed for the course of the day-not just for navigation-but more on that later.
 Lincoln's Inn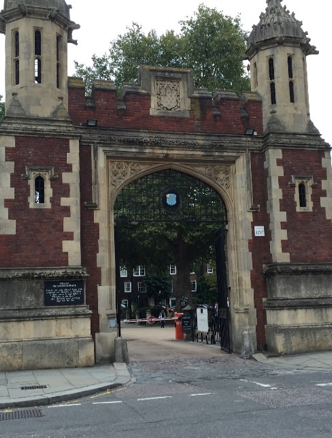 The first taste of my legal London journey was Lincoln's Inn. Getting to this location was no easy feat from the university as we stumbled through a maze of busy London streets in exploration of this hidden gem. The historical building, being one of the four Inns of Court and thought to be named after Henry de Lacy (the 3rd Earl of Lincoln), is home to many barrister's chambers and some solicitor's offices.[1]
The legal landmark is hidden amongst the hustle and bustle of Holborn and is a sight to behold. Seeing Lincoln's Inn in all its glory and grand architecture reminded me of a familiar feeling. Have you ever visited a museum and found yourself observing a magnificent piece of art?
You look over every finite detail, scrutinise it and all of a sudden you become blown away by its beauty and the sheer power it conveys, which ultimately leaves you overwhelmed and speechless.
Well, when you behold a historical legal landmark such as Lincoln's Inn, I can confirm that that feeling sparks truly well and alive inside you and you feel…awestruck. As you can tell, that was my reaction to this impressive building and it's long holding stand within the history of legal London.
Do all great legal places have amazing architecture?
I have concluded through a simple observation amongst my travels that almost all the legal places in the city of London are beautiful. In my opinion, they can even be argued to be works of art – designed to be the home of where justice is served. The Law Society is just one example of this.
The Law Society, Chancery Lane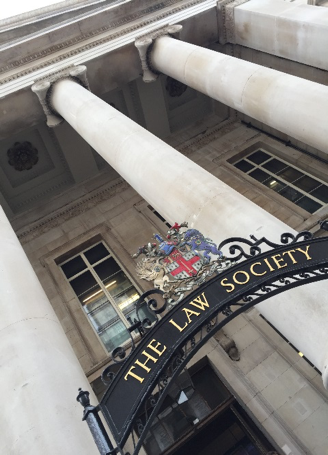 Another location that I felt very passionate about was the Law Society, based in Chancery Lane. The society was founded on 2 June 1825 and was formerly known as 'The Society of Attorneys, Solicitors, Proctors and others not being Barristers, practising in the Courts of Law and Equity of the United Kingdom'. You can take a breath now! Can you imagine that as a sign? Thankfully they decided to change it in 1903 where its official name became what we all know it as of today, 'The Law Society'.
As my interest in law currently relies on becoming a lawyer by the end of my three years at City, the Law Society is an important place to gain membership too (I can assure you that it is a much better place for me than the gym!). The organisation serves to exist in order to do three things; represent, promote and support all solicitors. Whilst the Law Society takes pride in their commitment to the profession, they are also concerned with upholding the rule of law, legal independence, ethical values and the principle of justice for all.[2]
The modern aspect?
Now before I forget, the use of my iPhone allowed me to not only navigate my way around legal London but it also permitted me to capture moments of my travels through the use of – yes you guessed it, selfies and my own little variation of that particular word. "Groupies" – selfies with a group, of course!
You haven't seen the last of me yet!
Laugh at me all you want but my one-day experience as a modern day legal explorer gave me an insight as to how I may spend my legal career in these very buildings that are well within my grasp. I hope to be walking through those doors one day as a solicitor or a barrister! Maybe even as a judge because why not?
Though I cannot compare my experiences to someone as historically famous for their explorations like Columbus for example, the exploration of legal London was a most valuable and enlightening experience, reminding me all the while of why I aspire to become a lawyer someday, soon.
[1] The Honourable Society of Lincoln's Inn, http://www.lincolnsinn.org.uk/, (Accessed 25 September, 2016)
[2] The Law Society, https://www.lawsociety.org.uk/, (Accessed 28 September, 2016)