LLB1 student Tamara Ivchikova was one of our 21 winners of an induction task set in September/October 2016. This task sent our 28 tutorial groups out into legal London – following trails to track down certain buildings before doing some research and then writing a blog post on something they'd been inspired by on this journey.

Never have I thought that the Exploring the Law task, which was set out to first-year law students during the introductory week, was going to take my group of twelve three-and-a-half hours. To be perfectly honest with the reader, at first, no one really got the point of the exercise. Exploring the local area? Could do it sometime during the weekend with a friend/family member, during my free time…
Getting to know each other better? We all are serious, confident people, future lawyers, who can easily come up to each other and say "hi".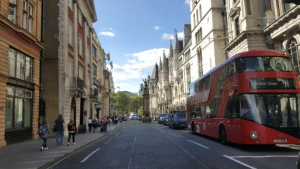 But the truth is… No one was ever going to buy a fifteen-pound sightseeing tour ticket, spend the "time of [their] life" sitting on a bus, and, most importantly, do it exactly during their free-from-education hours.
Having said that, what I personally noticed during the activity was that when a group of individuals are (if you don't mind) forced to act together and reach a common goal, the probability of them talking, laughing, whining, and helping each other is much higher than when they are trivially sitting next to each other and listening to an awkward silence of the university's lecture theatre. In other words, when put "on the same boat", people automatically establish a group even if they have not met before.
This idea I found central: we were given a task and an objective and (together!) we have found the four assigned legal buildings, such as the Temple Church and Middle Temple Hall. In my group, there wasn't a single person who didn't participate, either by navigating us, taking pictures, assuming the right direction, thinking about what bus is best to take, where to top up the Oyster card, or engage by simply laughing and experiencing a YOLO moment (which all of us did). Therefore, the spirit of the team work, which is so critical in any legal occupancy (whether it is in private law or in a non-profit organization), was demonstrated by the group I was in.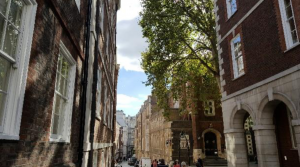 The first place we took about an hour to find. The rays of the bright warm sun accompanied us all the way to the Colebrook Row, where "the son of John and Elizabeth Field Lamb, Charles Lamb, […], was born […], the abode of London lawyers, where his father was factotum for […], Samuel Salt" [1].
Almost having our hopes down, we finally saw the building, "the last house on the left, at 64 Colebrooke Row […], where Charles Lamb and his sister Mary lived from 1823 to 1827" [2].
After reading about a tragic story of the Lamb family, where "Mary, exhausted and deranged from overwork, killed their mother with a carving knife" [3], I have expected something a bit more grandiose and impressive than just a building under construction. Nevertheless, the first goal was reached: we got to know this historical site and the story behind it.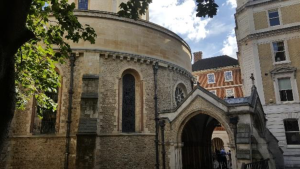 Thanks to the "era of technology", as the older generations call it, we got to the Temple Church, "the church of Inner and Middle Temple, two of England's four ancient societies of lawyers, the Inns of Court."[4]
This place with its tranquility seemed to be inside and a part of some beautiful, pleasant town, but definitely outside of the crowded, noisy city of London, with its restlessness and agitation, emphasized by the amount of people and sound on the streets. It is important to note that "on 13 August 1608 the King granted the two Inns [of Court] a Royal Charter giving them use of the Temple in perpetuity". Personally, it was quite unusual and thought – provoking to observe a strong bond between religion, monarchy, and law.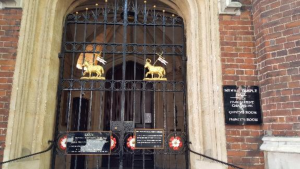 Again, heavily relying on technology we moved on to the process of finding the next location – Middle Temple Hall, one of the four ancient Inns of Court, which "was built between 1562 and 1573 and remains virtually unchanged to this day having survived the Great Fire of London and both World Wars." [5]
Our last location clearly defined the leaders of the group. It was extremely difficult to find Lloyd's bank (Law Courts Branch, The Strand), and our group started to divide, each following a chosen "boss". This has lead me to think that leadership (a quality essential in almost every profession) inspires confidence in others, easily encourages them to work towards a set goal, persuades and makes others contribute to solving a difficult problem. A person with such nature automatically becomes an example for those who lack (or may not have fully expressed) this type of disposition.