Obviously you'll have heard by now about all the options for selection for moots where you can represent City Law School nationally and internationally. Soon, you'll also be able to sign up for the internal mooting competitions, an ideal first step for new mooters. However, there are lots of opportunities to moot outside of City too – competitions you can sign up for without going through any City selection process. And you get to choose who you want to team up with!
Here are a few to get thinking about…
SLAM – Sports Law Moot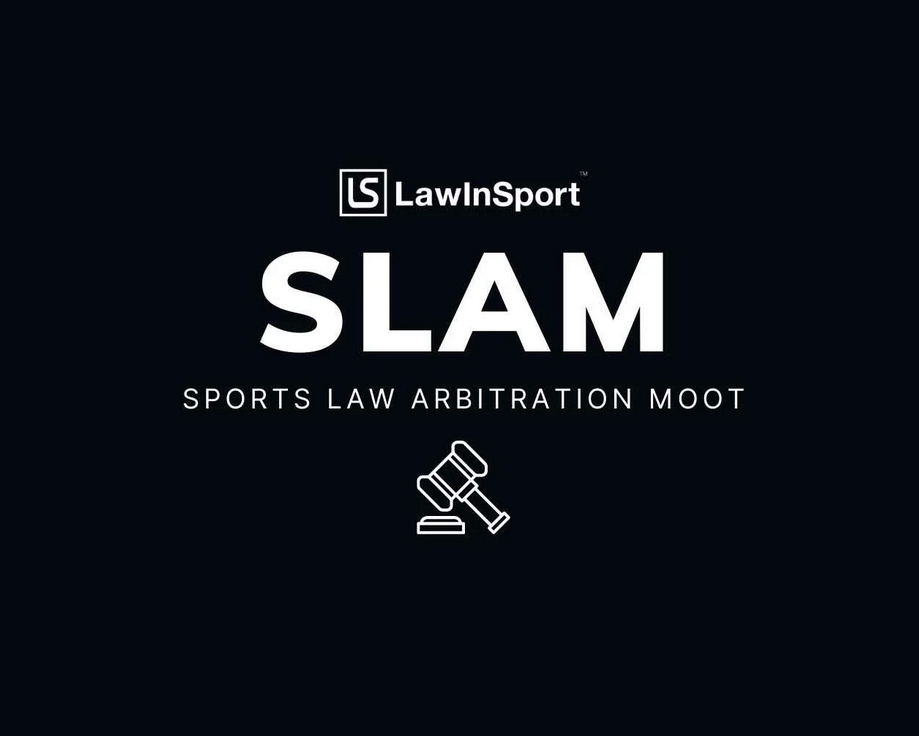 SLAM is organised by LawInSport, the world's leading sports law knowledge hub and global community. It aims to provide students from around the world the opportunity to:
Develop and showcase their legal and advocacy skills before the world's leading arbitrators and practitioners virtually and in-person;
Gain real world experience of international sports arbitration under the leading procedural rules;
Receive training on writing submissions and advocacy from some of the world's leading advocates and arbitrators in world sport.
You can register up until the 1st December for a place in the moot competition but it costs £100 a team (you moot in a pair). Bear in mind if you made it to the final (12 – 13 April 2024) you would need to get to the Court of Arbitration for Sport, Lausanne, Switzerland. Winners of the competition will receive £1,500 prize money and tickets to LawInSport's Annual Conference or Football Law Conference. 2 City students won this competition in 2022 – read Will and Kieran's story elsewhere on Lawbore.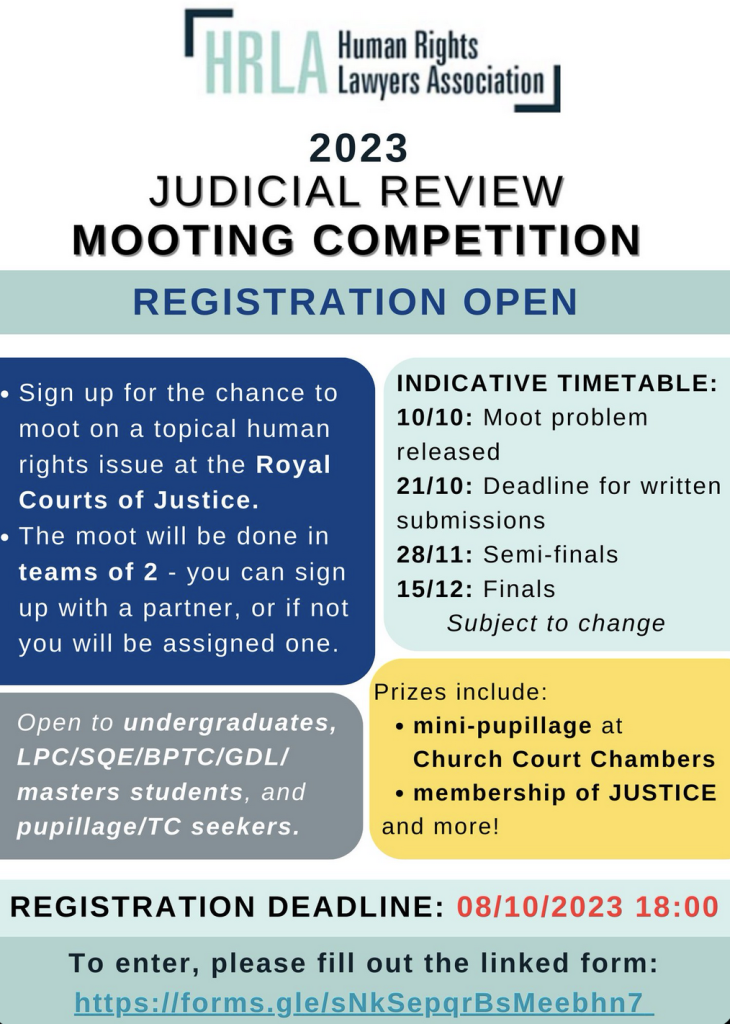 HRLA's annual judicial review mooting competition
This is a fantastic opportunity from the Human Rights Lawyers Association (Young Lawyers Committee) to develop and improve legal reasoning and advocacy skills, as well as the chance to argue your case at the Royal Courts of Justice for the final in December.
Applicants can register in a team of 2 or as an individual (and they will endeavour to find you a partner) via this form. from
Prizes include:
mini-pupillage at Church Court Chambers;
membership to JUSTICE;
others to be confirmed.
Find out more on their website, but the organisation have just extended the deadline for registration to 6pm on the 8th October 2023.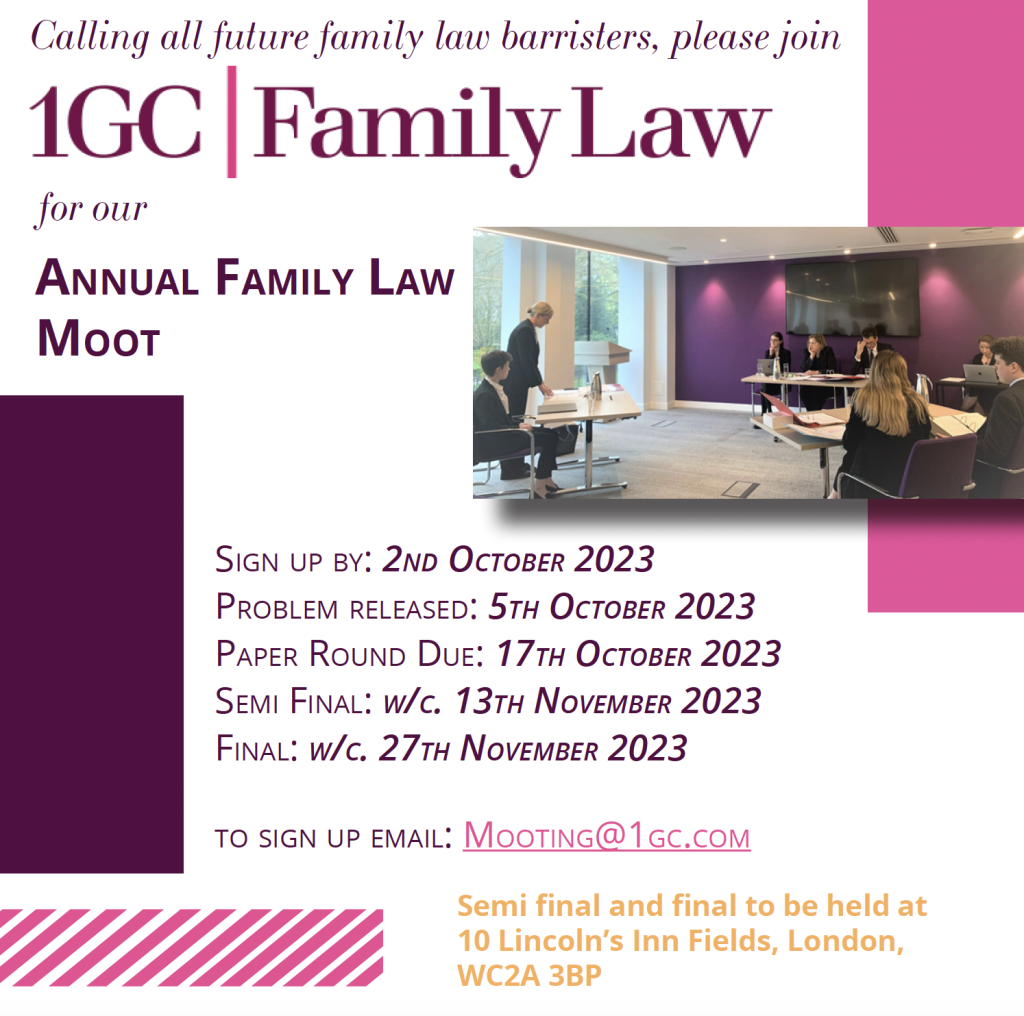 1GC Family Law Moot
An annual moot on family law run by the chambers of 1GC.
The deadline was 2nd Oct for signup but worth getting in touch with them if you really want to participate and they will try and squeeze you in (as long as you can guarantee you can get cracking on the prep quickly). Email them at mooting@1gc.com.
UKELA Moot Competition
Sponsored by No5 Chambers and ENDS Report, the UKELA Moot is a great opportunity for those interested in developing their advocacy skills. It helps if you know a little about environmental law, but is not at all a requirement. Just give it a shot!
Richard Kimblin KC has set the Moot problem for 2023 and the Moot Master is Howard Leithead (former City GDL/Bar student and now barrister at No.5 Chambers). The semi-finals and finals will take place in person in early December, but for now, those interested need to take a look at the problem, find a partner to moot with and then submit your skeleton arguments and entry form ready by midday on 6th November. You can find all the relevant information on the UKELA Competition website.
Bear in mind there is a Junior Competition, named the The Dame Frances Patterson Moot (for LLB, LLM, GDL) and a Senior Competition, named the Lord Slynn of Hadley Moot (for those doing the bar course or LPC). Last year two City students won the Senior Competition: Naomi Kilcoyne and Joshua Hillis. Want to get a feel for what it may be like to moot in this competition? You can view the finals via the UKELA website too.
FTB Kingsland Cup
Later in the year is the time for this prestigious moot from the chambers of Francis Taylor Building. European, administrative and environmental law are the focus of the problem within this competition, which has been running since 2011.

City students have flourished in this competition in recent years, winning in 2015-16 (Esther Drabkin-Reiter and Ryan Ferro), 2016-17 (Harriet Fitzsimons and Sarah-Jane Ewart), 2018-19 (Jessica Allen and Richard Mahal), 2020-2021 (Lois Lane and Tom Lambert), 2021-2022 (Joshua Neaman and Bethany Hermanszewska) and again, last year when Iason Pafitis and Ruari Clarke triumphed (with the runners-up from City too!). You can take a look at the problems from previous years of the competition on the prize pages and register your interest for when the 2023-24 competition is announced by emailing kingslandcup@ftbchambers.co.uk.
The LSE-Featherstone Sexual Orientation and Gender Identity Moot
The great LSE-Featherstone Sexual Orientation and Gender Identity Moot competition runs over a weekend in February. The oral rounds of the moot competition run alongside an associated networking event during which participants engage with a number of workshops, discussions, and panels focused on the gamut of sexual orientation and gender identity law issues. Teams are made up of between 2 and 4 participants and you don't all have to be from the same institution. Registration normally opens in January – so look out for this in January 2024 and quell any January blues…you can look at the problem from last year's competition on the competition website.
The Times 2TG Moot
Running since 2015/2016, this competition is a joint venture between the Times newspaper and the chambers of 2TG. This is a competition that pops up very late in the academic year, so registration normally opens in March. The problem is released in April and then registration (and first round) closes in May. The various rounds spread across the whole year, with the Grand Final in March of the following year. Teams are made up of two individuals. Have a look at this year's competition materials to get a view on whether it is something you would like to compete in next year (you can see the Round 1 problem there.
National Speed Mooting Competition
The National Speed Mooting Competition has run for a number of years, and is open to students for a fee. They also run various events and an Advocacy Club. Find out more via their website. There are separate competitions for LLB/GDL and LPC and Bar students.