The SCL is a registered educational charity that seeks to cultivate discussion and provide foundational and advanced training at the intersection of information technology and law. Their mission?
"To inform and educate legal and technology professionals, academics and students and the wider audience on the impact of IT on law and legal practice through the promotion of best practice, thought leadership, and the fostering of a global tech law community."
For those of you out there who have an interest in the many exciting things going on in this sphere joining the Society should be a no-brainer. Membership is free for students (you just need to register) and it means you have access to a wide and interesting network of people, you get to attend events at a reduced price and all the information on the website is open access to you. Take a look at the E-learning and Events pages to see the sorts of topics they cover.

If you want to take it a step further you might consider becoming an SCL ambassador – it means you can attend SCL meetings at no cost, with increased opportunities for networking. Across a year these meetings can cover a wide range of topics. are looking for dedicated students who are interested in tech law who can share that enthusiasm and encourage their peers to get involved with SCL and contribute to forthcoming SCL student initiatives. In return, the ambassadors will receive free attendance at SCL events, great networking opportunities and a say in shaping the content of upcoming SCL student events and initiatives. To be eligible for the role candidates must provide a reference from a University contact who has known them for at least a year so they are ideally looking at second year students upwards.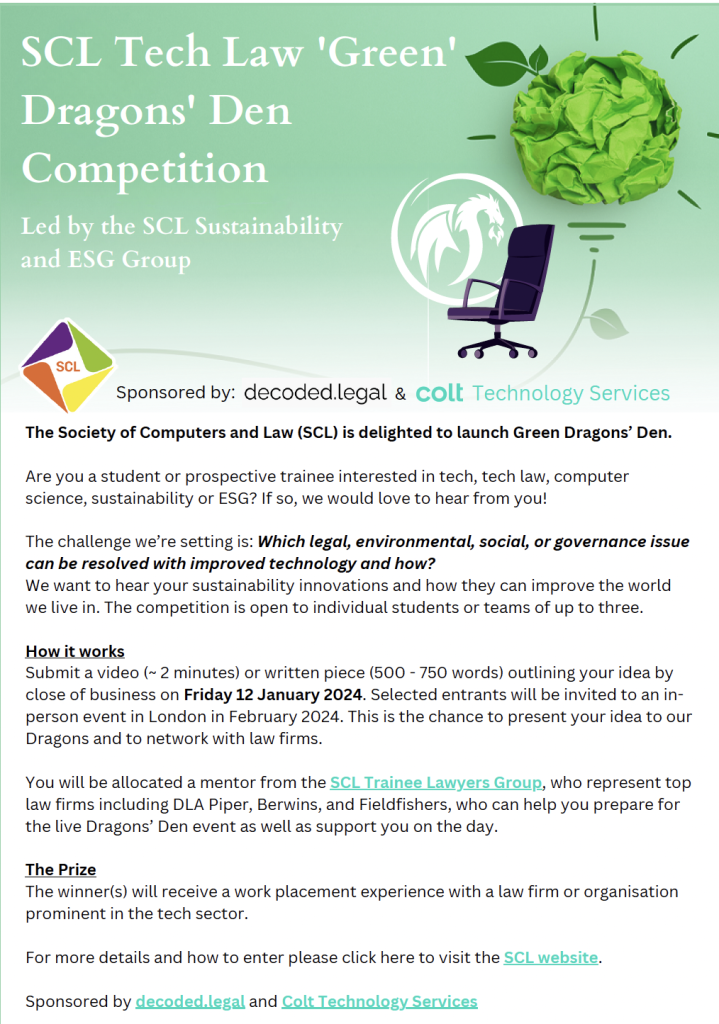 There is also the Green Dragons Den Competition. Organised by the The SCL Sustainability and ESG Group, this is for those interested in how law can embrace sustainability principles. If you have a good idea, you need to submit a video or a written piece by 12 January 2024. Selected entrants will then be invited to present their idea at an in-person event in London.
It aims to offer students and prospective trainees the opportunity to pitch their sustainability ideas to a panel of tech law experts and to help accelerate the profession's drive to sustainable practice.
The challenge is: Which legal, environmental, social, or governance issue can be resolved with improved technology and how?
Judges would like to hear sustainability innovations and how they can improve the world we live in.
Entrants can compete individually or in teams of up to 3 and those shortlisted will be invited to an in-person event in London in February 2024 to present their idea to the 'Dragons'. Each shortlisted entrant/team will be allocated a mentor to help them prepare for the live event and to support them on the day and the winner(s) will receive a work placement experience with a law firm or organisation prominent in the technology sector.