Support Through Court is a charity that has as its main goal, as the name suggests, helping and supporting those who cannot afford to pay for legal services, and are thus forced to appear in court alone. The unmet need for legal services is in fact a serious issue threatening to jeopardise the very essence of the English adversarial system, preventing people from getting a fair trial. Support Through Court's last webinar, which took place on the 18th of November, showcased two very special guests: William Clegg QC and Sarah Langford. The former is a leading criminal barrister with a career spanning 47 years, as well as an accomplished author, having published in 2018 the successful book 'Under the Wig', a personal memoir and account of some of his most interesting cases. The latter is a Criminal and Family Law barrister, author of 'In Your Defence', which powerfully shines a light on the more humane side of law and its 'shades of grey', bringing to the fore the very personal struggles and lives of her clients.
Legal Aid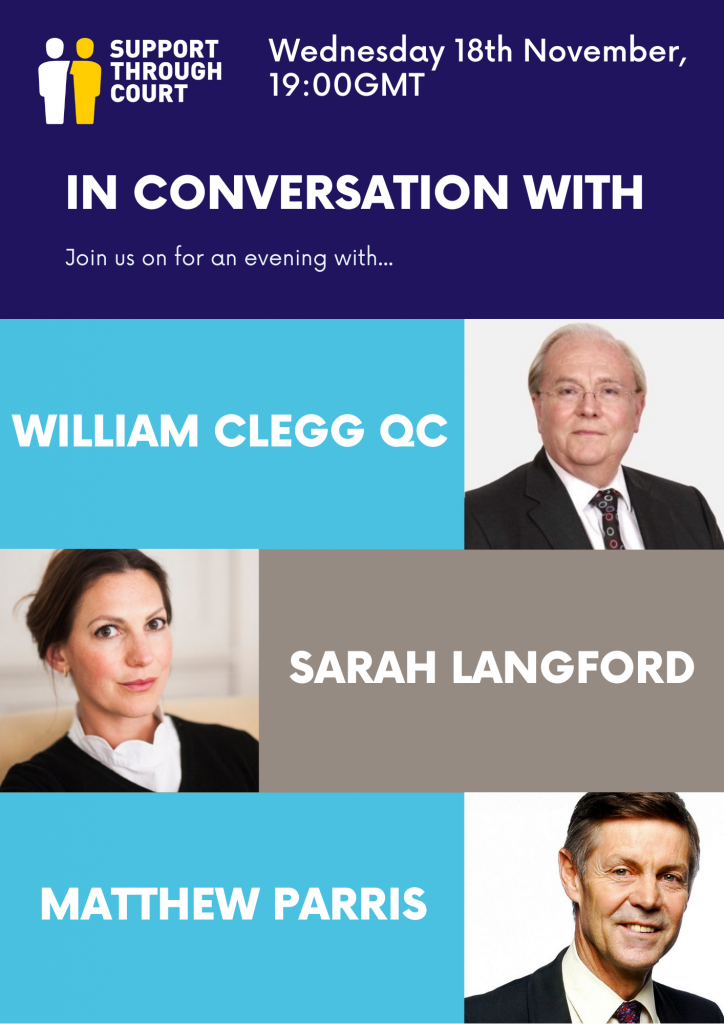 'Without legal aid we could not even begin to pretend we have a proper criminal justice system. Every individual must have access to proper legal representation, regardless of their financial status.'
These words come from a short reading William Clegg gave from his book, and clearly spell out one of the major themes of the evening, that is, the importance of legal aid and the impact that funding cuts have had on the justice system.
As pointed out by Sarah Langford, the introduction of means testing to determine who is eligible for legal aid has greatly restricted its availability, with the risk of creating a two-tier justice system that draws a marked line between those wealthy enough to afford legal services and those who are not. Legal aid is in fact meant to provide a level playing field between people appearing in court, thus putting a fundamental check on the sheer financial advantage one party could potentially enjoy over the other. However, the restricted availability of legal aid means that many are forced to appear in court as defendants in person without the benefit of legal counsel or representation, potentially appearing against very skilled and experienced barristers.
William Clegg offered a telling example of this issue. The Privy Council acts as the final court of appeal for formerly British territories, such as Jamaica or the Caribbean, and in a number of these cases the defendant is facing a death penalty. However, even in such extreme circumstances, there is no provision whatsoever for legal aid or representation before the Privy Council. Thus, pro bono work offered by barristers and solicitors often becomes in such instances the only way to ensure people get a fair trial.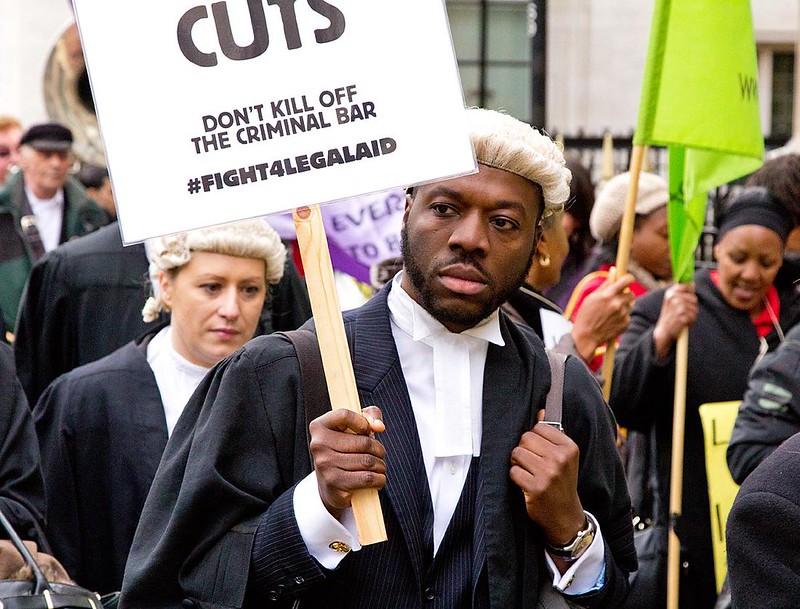 A fundamental issue that was addressed is the reason why such restrictions and funding cuts were carried out in the first place. As it turns out, there are multiple factors involved. Part of the problem, as noted by William Clegg, is political in nature. The slogan "We want to give money to criminals to defend themselves in court" is in fact not likely to win over many votes in any elections. In addition to this, there are also underlying economic motives. Entitling everyone who is arrested to legal representation, so as to ensure a fair trial, would effectively displace any budget cap and could therefore involve huge expenditures. This is of course, not something the Treasury would not be happy about.
Finally, as Sarah Langford observed, legal aid easily falls prey to misconceptions. It is therefore necessary to plainly explain its importance and function to the wider public, so as to redress such misconceptions. 'We don't take this huge lump sums of legal aid and head off to Magaluf with it' she said. People need to realise that legal aid is a necessary component of any fair justice system, and that, insofar as it is used to ensure that people, regardless of their financial situation, get a fair trial, it underpins the concept of justice itself.
Tips For Aspiring Lawyers
William Clegg and Sarah Langford also drew on their personal experiences as barristers to provide a few helpful tips for aspiring lawyers:
First and foremost, if you are determined to pursue a legal career, don't let anyone talk you out of it. 'It's the best fun you could ever have', said William Clegg.
Second, brilliant academic lawyers and even brilliant lawyers don't necessarily become the most successful barristers. To be a successful barrister is to be able to communicate with the client and make them confident that what you advise them to do is the right thing for them to do.
Third, learn to find a balance between your life and work and to, as Sarah Langford put it, 'close the chapter and move on'.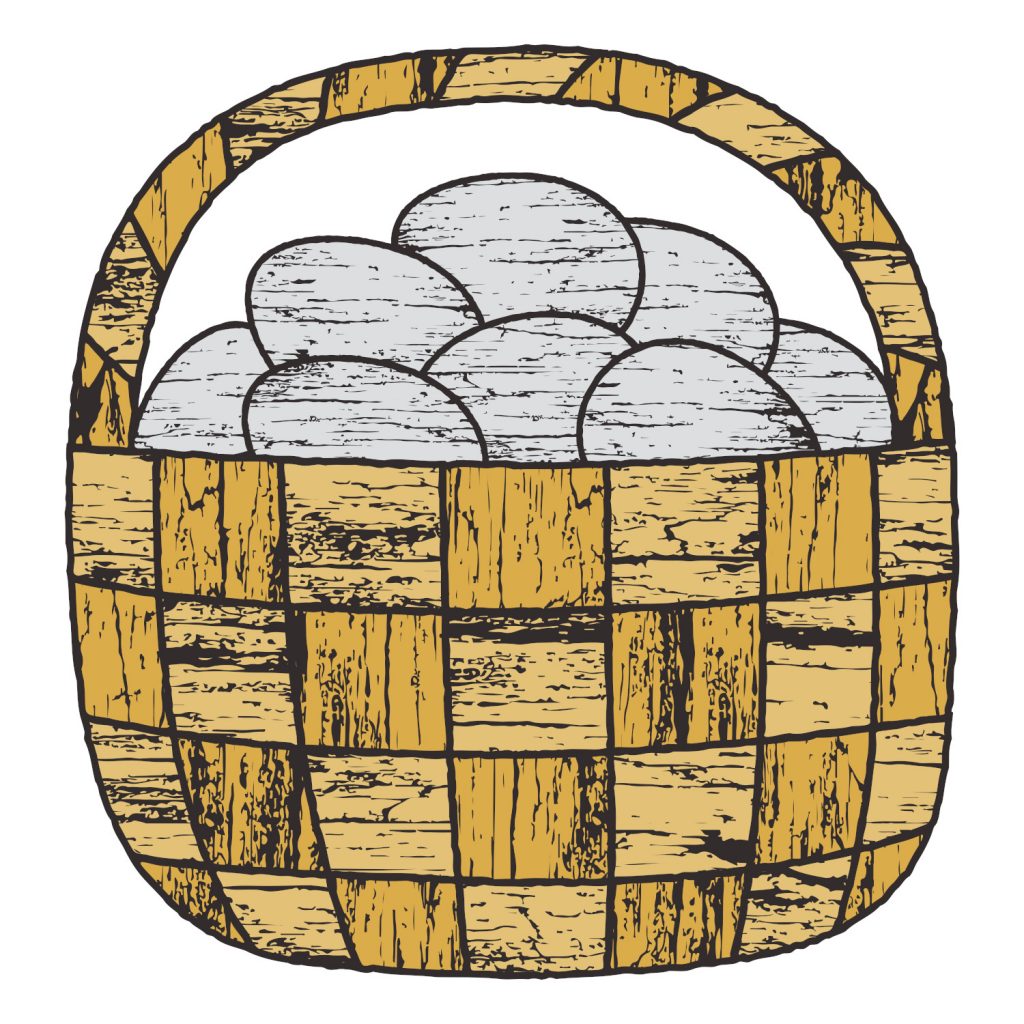 Fourth, try and be eclectic, supplementing what you do with other areas of the law that may bolster your main practice. Don't put all your eggs in one basket.
Fifth, strike a balance between your humanity and your 'professional armour'. Don't lose the openness with which you treat people.
Conclusion
This webinar was indeed interesting and thought-provoking, helping to raise awareness in terms of the importance of legal aid and the efforts that are being made by Support Through Court to try and help those who cannot afford legal services. The right to a fair trial is a fundamental cornerstone of any justice system.
Support through Court
Eileen Pereira (CEO) kindly gave us a quick summary of the work done by this amazing organisation:
"Support Through Court works with Litigants in person in the Family, Civil and Tribunal courts. Our volunteers provide practical, procedural and emotional support in many areas of Civil and Family court and tribunal processes. We do not give legal advice but do signpost to partners and agencies that can support LiPs when that advice is needed. There are 20 Court based units and a national helpline offering support across England and Wales."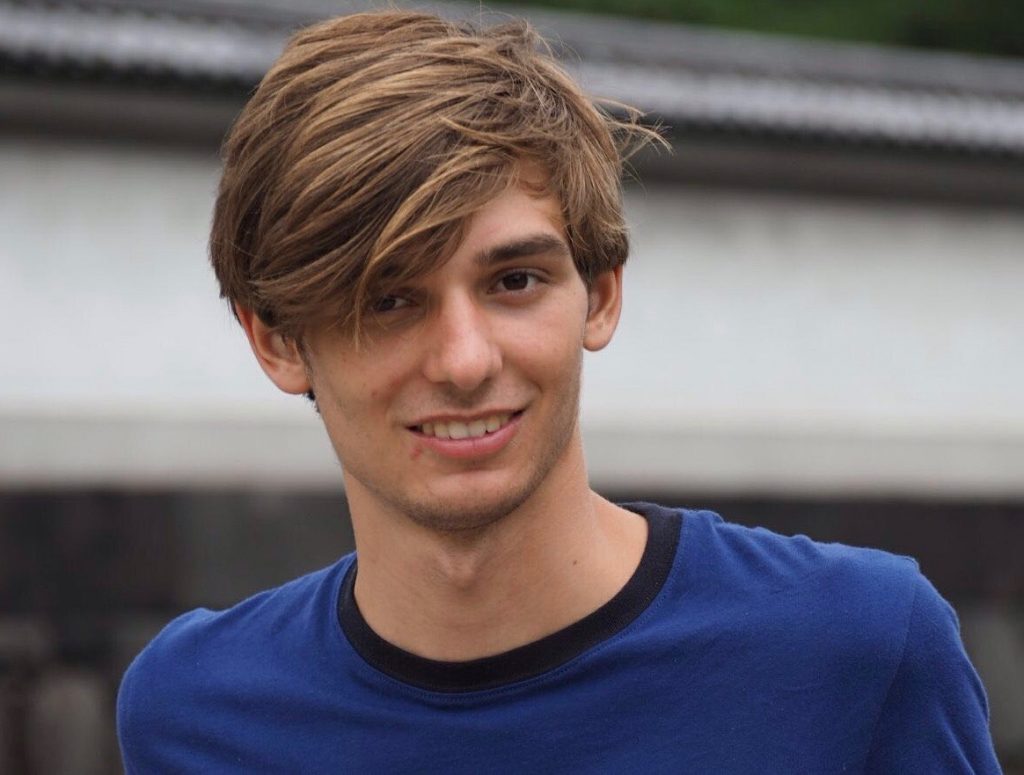 Thanks to Riccardo Silvestri for reviewing this event for Lawbore. Riccardo is an Italian GDL student here at City, and, if everything goes according to plan, an aspiring solicitor. He is a member of the Lawbore journalist team for 2020-21. He graduated in Classics from King's College London, but decided to pursue a legal career and embark on this new adventure.