In the induction period, new LLB students at the City Law School were asked to undertake the 'Exploring the Law' activity – wandering round the local area to find certain buildings, statues, streets or murals on one of eight trails around legal London (compiled by Emily Allbon), along with their tutor group. They then penned a short blog on some aspect of their travels. 21 students were chosen as winners and these will be posted here on Lawbore Future Lawyer. This first one, was chosen as the top prize winner – well done to Anisa Taznim.

I rolled my eyes as I watched some of my peers leave. I was somewhat excited to uncover the 'secrets of Legal London', but looking back now, maybe I was more eager to get away from the student in the lion costume, who was running around the bandstand, comically taking pictures with some of the people from Group 23 and 24.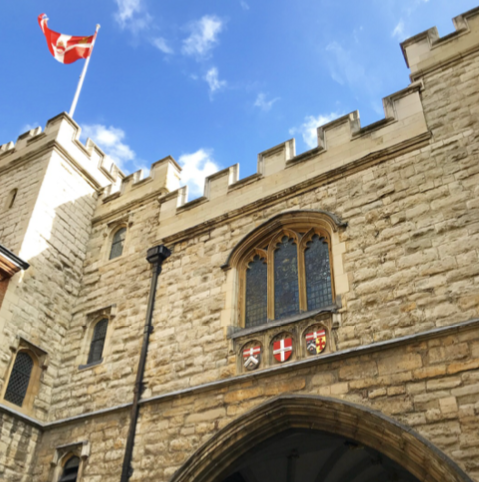 Our first destination was the Museum of the Order of St John. On the outside, it looked like something straight out of a fairytale; a cobblestone road, an archway, coat of arms, and a flag flying in the wind. I wondered whether London had always been this beautiful. I was snapped out of my daze when I heard someone call, Anisa, come get in the picture! Uh, no thanks… the place may have looked like a castle from a fairytale, but I looked the furthest away from a Princess, unless we're talking Fiona the Ogre.
I've lived in London for all of my life, but I have not managed to travel around the city and see what it has to offer. In only an hour, my group had visited St Sepulchre Church, Staple Inn, and even caught a glimpse of the Old Bailey – every prospective lawyer's dream – but my favourite place that we visited was Magpie Alley and its October-friendly Crypt at the end of it.

Magpie Alley Crypt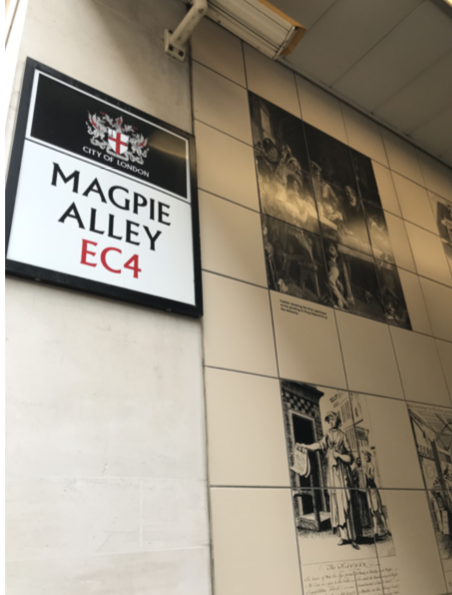 Magpie Alley can't be found on Google Maps, so we got lost three times trying to find it. This made our final discovery of the narrow alleyway all the more rewarding. I sheepishly walked into the alleyway (side note: I had no clue where I was off to) and was stunned by the drawings and pictures on the wall. This is what the British felt like when they discovered all those hieroglyphics in Egypt, I thought. I collected my thoughts and realised that I knew the story being told; pictures and drawings depicting the formulation of the printing press. It felt a bit magical really, walking along the wall, trying to make sense of it all, watching how the printing press developed and travelling through time as you walked further down the path.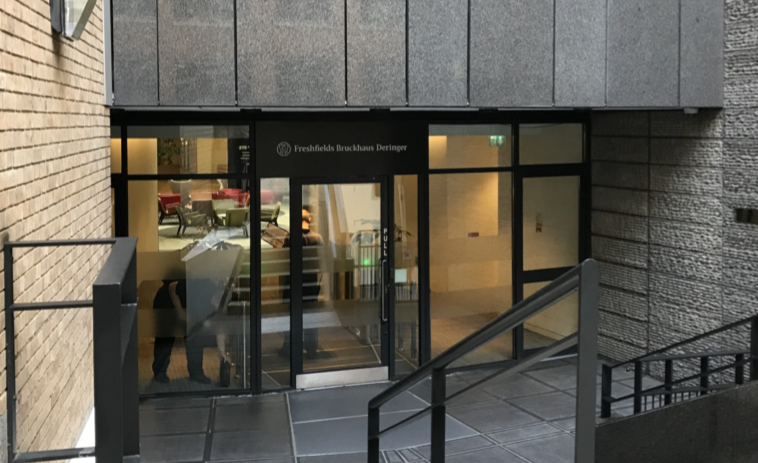 At the end of the pathway, I felt a sense of panic as I laid eyes on Freshfield Bruckhaus Deringer, the law firm I had set my sights on, almost seven years ago. I stared into the glass doors, unknowingly fixing my gaze on a staff member. I realised how rude I was being, caught his eye and flailed my hand about, attempting an awkward wave. He waved back and smiled enthusiastically. I turned towards the rest of my group, who were already at the crypt, and wondered whether my wave counted as networking.
The Crypt was once home to Friars who used to reside in Fleet Street, all the way to the Thames, until Henry VIII's dissolution of the monasteries during the 14th Century. Afterwards, it had numerous functions: a coal cellar, a theatre and a place for publishing.
It was difficult to imagine that in the basement of this prestigious law firm was only a coal cellar, but once I had read about the merging of the Crypt's theatre with another company, I immediately made sense of the reason that a corporate law firm would keep this piece. It was representative of one of the very first mergers in England. It was even across the street from where it was taken from, adding to the significance of its location. I felt touched by the good intentions of the English to restore something so close to its ancestral home but I couldn't shake the feeling that, one day I, like this crypt, may find myself in the basement of a law firm, most likely photocopying documents.
I smiled to myself as the thought of 'basement-me' banging a faulty copying machine, became inked in my brain. I am so excited to become a lawyer and do even the trivial things, and this trip helped me see that.
"Bye guys!" I yelled abruptly, suddenly inspired. I was hurrying home, telling myself the same thing repeatedly.
Optional or not, I'm writing that damn blog.