'Brains, like hearts go where they are appreciated.'
I read this quote and applied it to me; I am a law student, I have a brain, I have a heart, so where will I be appreciated?
I know that the law appreciates my passion for the subject as well as my brain, but I need to support myself financially while I study and finding a flexible job that ticks these boxes isn't so easy. I am not sure I could thrive academically working late nights in a bar, waitressing or stacking supermarket shelves.
However, like all good lawyers, I did find the answer – the family I nanny for on a part-time basis whilst studying. I look after a fun loving, creative and busy family located south of the river. Harrison is the eldest, currently in Year Two with a passion for Lego and Ryan is a spritely four-year-old into everything active and outdoorsy. I look after them every Friday from school pick up time until late into the evening so their parents can enjoy an evening together. Their parents work together and have found success operating a graphic design company specialising in window frontier design for prestige/luxury companies. It is lovely to feel part of a family whilst I miss the company of mine back home in the South-West.
I signed up to be a Student Nanny via www.studentnannies.com when I was relocating area from Bournemouth to London and needed the security of earning money (especially in London). Fantastically, this site located me with a family within days. The concept is for parents to advertise based on their locality, days/time requirements and extent of liabilities. This is perfect as although income is important during studies (I earn £10 an hour), the hours need to work around university timetables, you cannot be overstretched compromising reading hours or social events and naturally, work is convenient when close to home.
So how can a non-legal job help with a legal degree? 
My first year of the degree has taught me that Law is, and will always be, time consuming. To find balance between study and spare time is really important especially in preparation for when you secure your first job within the legal sector. Personally, nothing feels better than taking time out with children. Yes, that's right, I might be working but it feels like time out to me. We cook together, we chat, they come out with hilarious comments, I help them with homework and we watch movies – I forget about student stress and am just in the moment, hanging out with funny children.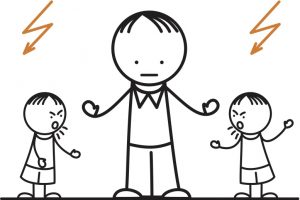 While looking after children is fun, it can be challenging at times, particularly when it comes to discipline (as anyone who has had to break up a fight between two raging siblings battling over a glitter biro will know). Being able to negotiate and be strategic but be firm, and discipline where necessary helped build my confidence, which is something I've found helpful when putting forward arguments in activities like mooting.
I was helped in my mission to secure work experience last term by some friends of my parents. My parents are not within the legal sector, but many of their friends are. Remember many parents advertising for a Student Nanny will have high powered jobs and they may be only too happy to open up their networks in order to help you get an all-important foot in the door.
The hours are not exceptionally late. For example, I work from 3pm till 10pm every Friday and occasionally, if I am needed last-minute, the latest I work is till 8pm. Good study comes from having good sleep. Working as a Nanny allows you to earn money at an hourly rate (with chances of hours increasing over term time breaks) but not feel exhausted.
Finally and most importantly, if you are able to provide childcare support which your chosen parents/family appreciate, then it is a feel good experience. You help working parents and they similarly help you. To know you can provide customer service and to be able to do this whilst balancing other responsibilities are skills which will come handy later on in your legal journey.
Many thanks to Aisling Scott,  current LLB2 student at the City Law School, for giving us an insight into how she gets that much-coveted work/life/study balance…