Three further Brand Ambassador positions are available (see the earlier post for the role for Ernst & Young), here is the roundup:
DWF

Dwf is a business law firm with a distinctive approach and they are looking for enthusiastic and proactive students to act as 'Brand Ambassadors' to build the DWF brand on City University campus.
What will you gain?
Becoming a Brand/Campus Ambassador is a fantastic way to learn how a law firm works, whether you're a good fit for them. You can build a network of contacts across DWF, get some experience and earn some cash, all whilst you're at University!
Case study:
Ayesha Sayeed has been a Brand Ambassador for DWF at City, University of London, City Law School for the last academic year. Here is what she said about her experience with the firm:
"Being a brand ambassador has meant that I've learnt first-hand about the workings and structure of law firms, which has been great for my commercial awareness. It has also helped me to enhance vital skills any future trainee (and any graduate!) requires: organisation, presentation and communication skills, amongst much more. But I have also been able to network a lot more with City Law Students and within DWF and has helped me to build connections which I can now maintain through LinkedIn."
You can read the full interview with Ayesha over on the City Law Society blog.
Dwf is looking for bright, creative students who are highly active on campus to represent their law firm at City, University of London. Find out more about what qualities DWF are looking over on their website and apply via their online application form (deadline 31st July 2017).
BLAKE MORGAN
About Blake Morgan:
Blake Morgan LLP is one of the leading law firms in the city – it's a large full-service commercial law firm with offices in Cardiff, London, Oxford, Portsmouth, Reading and Southampton in the United Kingdom. They have a wide range of 70 legal services for commercial and private clients, across many sectors, regionally, nationally and internationally.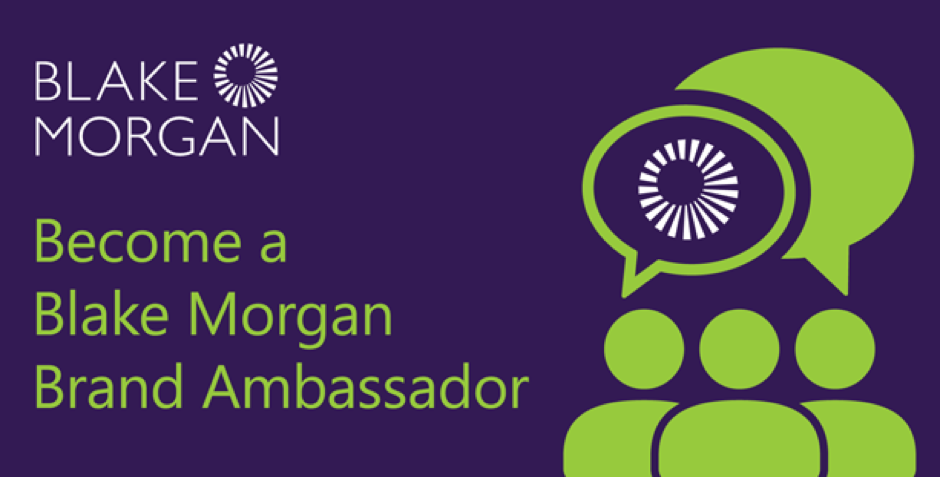 What they are looking for:
The firm is looking for creative, passionate and personable individuals who are highly active on campus to represent the Blake Morgan brand on their campus.
What will you do?
As a Brand Ambassador, you will work closely with the Graduate Recruitment team to:
Advertise and generate interest in the firm's vacancies and events.
Increase brand awareness within the relevant faculties, colleges, student societies and careers services.
Monitor brand perception on campus and report back regularly to the Graduate Recruitment team with recommendations for the next academic year.
Organise and manage Blake Morgan competitions on Northampton Square campus.
Support the firm's social media recruitment campaigns.
What will you get?
As a Blake Morgan Brand Ambassador, you will form a strong relationship and gain great exposure to the firm's Graduate Recruitment team.
You will also increase your experience in marketing and networking with key activities, crucial for a successful lawyer.
You will be invited to attend an Insights Day within the firm giving you the opportunity to learn more about the firm's culture, clients and values and the opportunity to network with leading individuals within the legal industry.
How do you apply?
To apply for this role please send a copy of your CV and a covering letter to the Graduate Recruitment team at graduateinfo@blakemorgan.co.uk
In your covering letter please include the following:
Why would you like to represent Blake Morgan?
What do you think would make a good Brand Ambassador?
What new ideas will you bring to the role?
Deadline for applications: 9th November 2017.
For more information visit the graduate recruitment pages on their website.
LEGAL CHEEK
About Legal Cheek
Legal Cheek is the UK's leading news source for junior lawyers and law students. They regularly publish interesting content of legal news, cheeky commentary and careers advice. They are currently seeking a Campus Ambassador for the academic year 2017-18 at City, University of London, City Law School.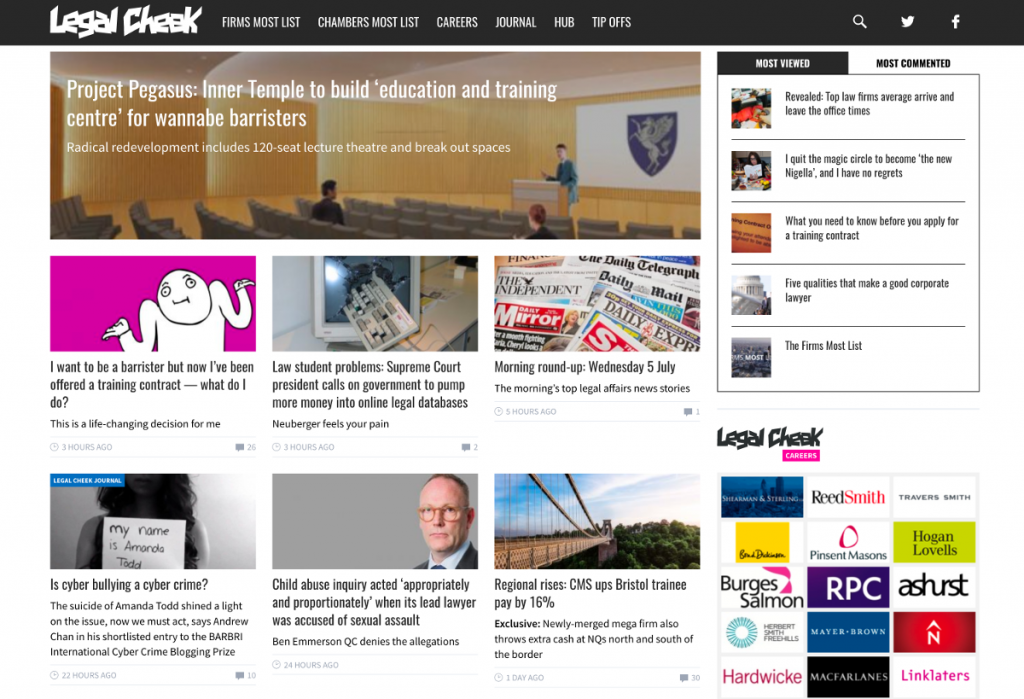 If you're studying at The City Law School and you'd like to represent Legal Cheek at City, particularly in respect of their careers events and Journal section, drop them an email at team@legalcheek.com for some more information. They currently have 33 ambassadors representing them at universities across the country including Bristol, LSE, Nottingham and King's.
Edin Imsirovic has been a Brand Ambassador for Legal Cheek at City, University of London, City Law School for this academic year. He has offered some tips for students considering applying for the role:
"My first tip would be make sure your CV is the best it can be when you apply. I'd also say ensure you have good interpersonal and communication skills because at Legal Cheek events you really need to come off as professional and personable, irrespective if you're talking to the Legal Cheek Staff, trainees or students on campus. You will be representing and be the face of City Law School and obviously, you want to come off as well as you can. But just be confident and apply, and enjoy it!"
If you've missed a Legal Cheek event(s), reviews are written by City law students and can be found on net.
Follow Legal Cheek's Social Media for news and updates:
Further reading: