On the eve of the US election, law students from around the world gathered at Barbri International, to find out how the rise of Trump and Brexiters will affect lawyers.
In her latest piece Lawbore writer Christianah Babajide reviews a Legal Cheek panel event.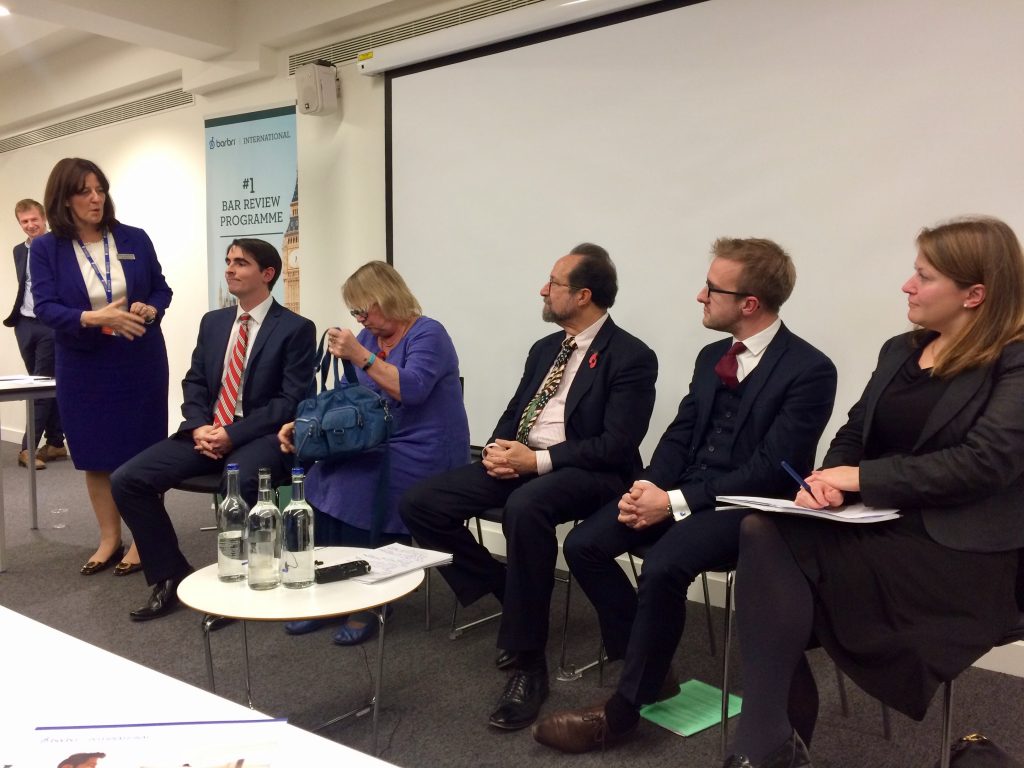 Speakers:
Dual-qualified Barrister, Founder of Allen & Overy – Jeffrey Golden
Managing Director of Scotland-Moncrieff & Associates Ltd – Lucy Scott-Moncrieff
Mayer Brown, Senior Associate – Jessica Walker
City University of London, Constitutional Law Specialist – Dr John Stanton
Junior US-qualified lawyer – Robert Cooney
Hostility towards Globalisation
Host for the night and Legal Cheek's Alex Aldridge kicked off the question time with the following question: there is a preserved hostility that Trump, has towards global businesses, but what are the repercussions on international law firms?
Jessica, Senior Associate at Mayer Brown stated that the position of a global law firm is to assist clients and help them get as much certainty as they can, despite the circumstances. She highlighted that some of the ways her firm had worked to ensure certainty was by providing clients with a Brexit-tool kit. She also suggested law firms can begin to achieve this by working closely with their clients and identifying potential risks.
US-qualified lawyer Robert Cooney stated that Trump will have a difficult time renegotiating or getting rid of the trade deals in the United States. He added that even if he succeeded, it won't be the end of international trade.
Constitutional Protectionism

Many law students are worried about what populism will mean for the Rule of Law and Human Rights across the globe, especially with the defeat in the High Court, Brexit legal challenge.
Dual-qualified barrister Jeffery Golden addressed the name calling of the judiciary and emphasised the important role Judges play with checks and balances. Former Law Society President, Lucy highlighted that the difference between the UK and the United States was that our constitution is unwritten and therefore it is often misread and misunderstood. Lucy echoed the   need of judges in the UK and stated that judges are completely incorruptible.
Populism and Bill of Rights
Due to Trump being referred to as a Populist, the meaning of Populism has been lost in translation so Lucy offered some clarity, and declared populism means people's lives going backwards, working harder for less. She admitted Populism wasn't bad on its own, only when it is twisted to pick on vulnerable people rather than people that ought to be picked on.
The possibility of having a codified Bill of Rights was posed to the speakers on the panel. Constitutional Law Specialist at City, University of London, Dr John Stanton dismissed the prospect by arguing that our constitution to an extent, does exactly what a constitution should do, despite it being uncodified and slightly misunderstood. Despite Lucy highlighting a flaw of the UK's uncodified constitution during the question time, the speakers didn't appear convinced this necessarily meant the UK was in need of an official Bill of Rights.
Post-election legal fall out
Robert, who was born and raised in Texas, referred to the well- known US politician, Bernie Sanders. He added that Bernie has pushed the democratic platform to the left and requested, from potential President Clinton, that she enact some of the policies that he was pushing for, such as higher-minimum-wage for workers and making college affordable.
However, the Presidential TV debate revealed social justice wasn't high on the agenda as personal attacks took the forefront in the bitter debate between Clinton and Trump. Jeffery criticised the quality of their campaigns because the candidates were more concerned about keeping their opponent's flaws in the spotlight. As an American, he admitted feeling embarrassed whilst watching the debate. Jeffery concluded the question time on a positive note by saying, in times of uncertainty, it is up to the lawyers to do their bit of stirring things back to the straight and narrow.
A New Chapter Begins
Lawyers are problem solvers who offer clarity in times of uncertainty. With Brexit, lawyers will have the opportunity to equip their clients with a Brexit-tool kit, which will hopefully pre-empt them for what may come and provide assistance as they adapt to changing circumstances. With the recent chain of events, Future Lawyers ought to be keeping a close eye on things and discussing the implications Trump's presidency might have on global firms and businesses.
Legal Cheek have made the video of the event available via their website.

On a related point, City Law School academic Dr John Stanton has written a comment piece on the Miller judgment: Populism and the Rule of Law.
Author Christianah Babajide is a guest contributor to Legal Cheek and you can see her work via her Legal Cheek profile page.  She also writes regularly for Lawbore and CAREERS (City's Careers blog).