Kristina Voronenko recently undertook an internship with a start-up, HairGoals Ltd through the Start-Ed Accelerator Programme. She tells us about her experience before interviewing the Director of the firm, Jennifer Agwunobi for Lawbore. 
I've never studied Intellectual Property law but after this internship I have learnt a great deal, not only about domestic registration of trademarks but also about international registration. If you are interested in creating your own business, or just want to read a 'real-life story' on how people tackle their legal work without solicitors, read on!
If you are interested in Intellectual Property law, and how to register your brand domestically and internationally, check the following websites for further information:
1. What have you studied? Did you enjoy it? Could you please give some recommendations for students who are still studying?
My first degree was in BSc Economics and I liked it because it was important to have knowledge in economics, especially at this time period when so much is going on with the EU. My particular degree was mathematical in the sense that we did lots of core maths. I do think we could have done more applied economics, especially when everything is happening in the world but now I have more mathematical understanding. It was good to have this insight and I did a Masters degree straight away in MSc Marketing. This also had a mathematical background, and it was good to have insight into marketing coming from economics because it meant that I was able to understand demand, market etc. My Masters degree was really applied and we did a lot of projects whilst learning about marketing. For example, we completed a consumer behavior project, I think I got 90% in it, the point of it was that we had a project in a real life store and we had the actual data; why on some days they have lower sales and how they can improve their marketing.
Tips for students:
Do study subjects that you have an interest in because it makes you more motivated to study and get engaged in what you're reading about.
Stay focused and remember the end goal! It is all going to be done before you know it.
Try to identify your best revision techniques. It is so bad when people try to adopt other people's techniques.
2. The best work experience completed during your studies?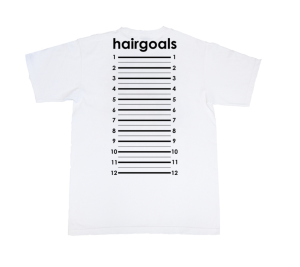 When I was in my 2nd year,  we utilised lots of social media to market the company and we got Rihanna to wear our T-shirt. This was really fun because from seeing her wearing it we saw how we have to re-engage with marketing. I've been keen to secure work experience, even from a young age –  I did work experience with a fashion company when I was 16 and I  learnt a great deal about fashion marketing but when I was really really young, 13 years old, I was lucky enough to have work experience with Youth Experience Agency. They had many projects for young people, we worked with companies such as EA Sport, Dr Pepper. It was great to have the insight from that angle.
3. When did you start blogging?
I started blogging around 2009 but created my Bootyfurl blog itself in 2012. I started blogging firstly because of the Youth Experience Agency where I did some things with their blog. My natural haircare started around 2009, I was helping people with tips on how to grow their hair and I decided to start a blog so I could share the answers I gave with others. Before 2012 I was blogging on different websites and writing huge essays but not under my name. I wanted to teach people how to love their hair, and in turn to love yourself and appreciate different part of yourself.
4. What was the main idea to create your own business? 
I started HairGoals Ltd because wanted to create a platform to help people learn themselves through haircare. I wanted it to be a comprehensive company; the idea was not just us selling products, but about sharing haircare tips, it should form a positive community of people, encouraging members to love themselves. I describe it in 3 ways: Simple, Sassy and Sustainable. Simple is minimal to operate, easy to use and be part of hair goals community. Sassy is cool, modern and Sustainable is friendly and natural.
The biggest challenge has been trying to balance your time and use it efficiently. In a sense I literally spent from 6 am to 11pm thinking about this business idea. If you manage your time well you can be more productive.
If you ever thought to start a business but were afraid – the best thing is just to try because you never know what is going to happen. See how it goes!
5. How did you manage to handle legal processes in order, for example, to register your trademark?
When you are younger and you want to start a business it seems so unreal. When you want to start a business you have to register it and even this is very scary for some people. I researched and then registered it as a limited company, you can choose which type of company you want to register. I knew from my Master's degree that branding is so important, and with brand comes Intellectual Property law. This is all about protecting your brand.
My idea back in 2012 was to start a hair goals brand, and after much research I decided to use only the products that I had created. This way when people asked me what products I use to grow my hair, I show them my products! The term 'hair goals' has become really popular; I think last time I checked it was tagged 800 000 times and I realised it was important to get a trademark for it, domestically and globally. The process to register can be difficult because there is a lot to research but when you actually do it, it is worth it, because you have protected your brand. It has been interesting and I am grateful that I know a great deal about international trademarks now.
As a law student you have at a great advantage if you want to start a business: you know how to find and understand the law (which is always changing) and look at it across different jurisdictions. Indeed whatever you want to do after a degree in law, you will find your legal base will be applicable – even if it's only giving you the confidence to understand a contract before signing.