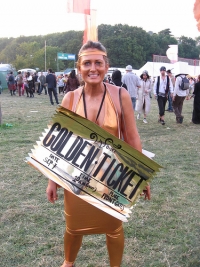 Me after getting my invite! Thanks to
anthonyjhicks
for photo via CC licence on flickr.com
When Adam Wagner of esteemed UK Human Rights Blog, emailed my invitation to a Legal Blogger's Panel Discussion I was very excited (…and no I don't get out much I guess…); mainly to hear the distinguished line-up, but also to put some faces to the names I know online via twitter and their blogs. And so it was I headed to the chambers of One Crown Office Row on Thursday 17th February.
A lively evening with a variety of subjects covered ensued; nerdiness, the vitriol of the commenter, the relationship between the press and bloggers, the potential for students and money making. Chaired by Catrin Griffiths, Editor of The Lawyer, the three panellists were David Allen Green, Carl Gardner and Adam himself. All three prolific and influential and happy to speak about what got them started in blogging and what they feel it adds to the body of legal commentary.
CG: 'Love law…outlet for conversations previously had in The Seven Stars…Showcase for my writing'.
DAG: '…like a new form of pamphleteering..but with the ability to link and transmit quickly'.
AW: 'Starting out as a barrister is a bit chicken and egg – you need good cases to get good cases. Blogging is a useful legup'
There's no doubt what connected each of these three; a love of writing, of wanting to get quality law commentary out to a wider audience and a striving to change things.
Catrin raised the issue of the commenters and how acerbic and abusive they can be, observing it wasn't quite a conversation but 'shouting in megaphones'. All three seemed relaxed about this, noting the flipside: the many good comments generated. DAG noted the comments were often as interesting as the original post, joking he liked to start the day with a few death threats.
What was interesting was the discussion around the links between the press and bloggers, and where the two connect. Some present noting that the mainstream media law coverage has gone downhill in recent years, with many newspapers cursorily covering legal issues; could the law blogger be filling that gap in reporting? AW flagged up why he thinks lawyers are so primed for this: 'we're quick to spot when something is from one side of the argument – it's our job. Lawyers are good at critiquing a report of something, especially if ideological or misinformed'.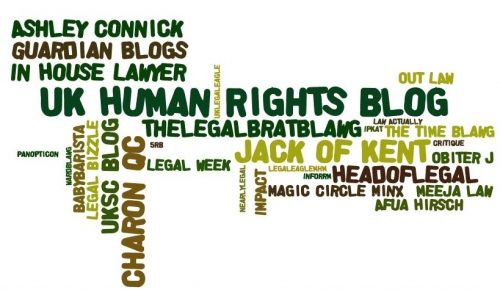 For those studying law, either at the academic or professional stages, what did come out of the evening was a resounding vibe that blogging should be a part of your lives, whether you read them, comment on them or start your own. It offers an opportunity to engage with people that you wouldn't neccessarily have a chance of meeting in 'real life', to get deep analysis on a judgment months before anything appears in a journal and to help you form your own opinions on the issues surrounding the profession. The skill of being able to summarise facts and present sometimes complex wranglings to readers who may not have a legal background is one which will pay dividends in both your client-facing and written roles.
Adam offered some good advice to students keen to blog, by warning against being an officious voice without experience, 'be honest about who you are, and that you're finding your way'. This is backed up by Ashley Connick in his great post on this event. Writing critically in a balanced fashion about the subject you profess to love, can only demonstrate your commitment to the profession whether pursuing pupillage or a training contract.
Certainly looking forward to the next event, a highlight (as well as all the worthy stuff I've mentioned) was the was good fun involved trying to match the faces with the twitter avatars/photos – I felt only a little silly saying "Hello I'm Emily…or Lawbore".
Read the tweets from the event for as-it-happened coverage, and other posts on the event from Adam Wagner: That was the future of legal bloggingand Judith Townend (Meeja Law), Legal Blogging: what can it achieve?. More to come I'm sure!