[jwplayer file="/videos/Ben Challis – 16x9__City_Hi_bandwidth.flv"]
Part of a series of videos filmed specially for Lawbore Future Lawyer, which give law students an insight into how some of the City Law School's extraordinary alumni have turned out. In this one, Ben Challis, an entertainment lawyer, tells us how he made it into the field, about his current and most recent roles (one of 2 lawyers for the Glastonbury Festival, lecturer in law, specialist in live events and television, General Counsel for 3A Entertainments AND editor for the great www.musiclawupdates.com). A pretty inspiring guy.
Ben completed a Diploma in Law and Practice at City University in 1985.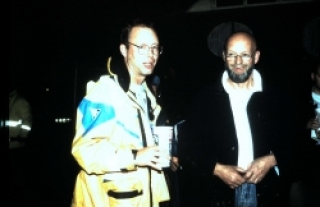 Ben with Michael Eavis at Glastonbury