LLB3 students Oravara (Vara) Ratanakorn and Helin Usal report back on attending a very special night…
Alexandra Wilson ("Alex") is a barrister specialising in family law and previously criminal law. She represented a broad range of clients in serious matters and specialised in young and vulnerable clients. In addition to her remarkable professional journey, Alex is also the author of a renowned book, well-known among many law students: "In Black and White". Alex candidly unravels the intricacies of her life as a young, mixed-race, state-educated junior barrister from Essex, skillfully navigating a world meticulously crafted by what she aptly refers to as 'a privileged few'.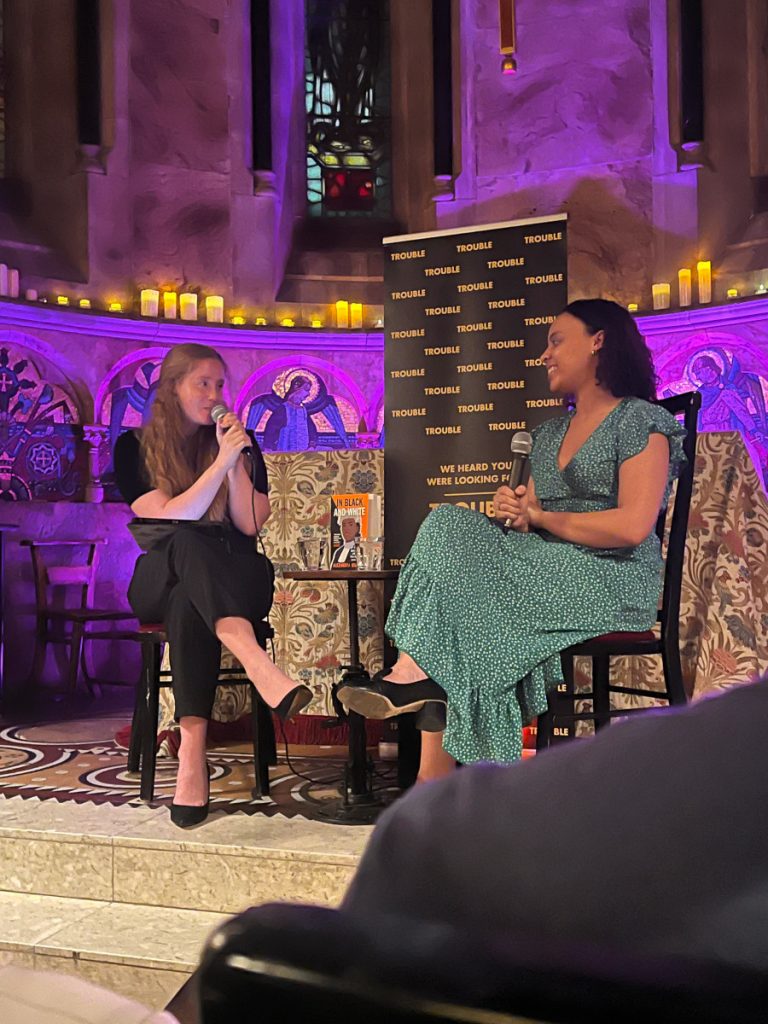 Event overview
On Tuesday the 10th of October this year, we were given the opportunity to attend the "In Black and White with Alexandra Wilson" event hosted by the Trouble Club in the beautiful chapel of the House of St Barnabas.
The event unfolded in the intimate setting of a mid-19th-century chapel, accommodating around 30 individuals, fostering a cozy and engaging atmosphere that sparked many open conversations about the overlooked aspects of the current legal system. Structured as an interview, Alex took the stage in dialogue with Trouble Club Director, Eleanor Newton.
Key takeaways
Alex's Path to the Bar
'Speaking on behalf of someone is a great reason to become a barrister'. Alex explained that the reasoning skills you gain as a barrister is something that comes over time, and the majority of it through your court experience. Throughout the two-hour session, we delved deeper into Alex's past, revealing some heart-breaking mementos. This included a case of mistaken identity, where a family member was wrongly associated with another individual, subsequently leading them to become the victim. While this was a challenging period for Alex, she has subsequently excelled in her career. Alex serves as both a prosecution and defence barrister, a role that might come as a small surprise given the conventional specialisation. Alex firmly believes that excelling in prosecution necessitates striving to be the best in defence. This emphasis that the path to success hinges on excelling in both domains, opened the eyes of many attendees.
Nature and Ethics
Alex discussed ethics at the Bar, bias within the court room, and also the difficulties that exist in reporting anything inappropriate which occurs within the context of a court room or chambers. In such a close community (the Bar), any upset to a relationship within that ecosystem can have far-reaching effects on how your career might develop.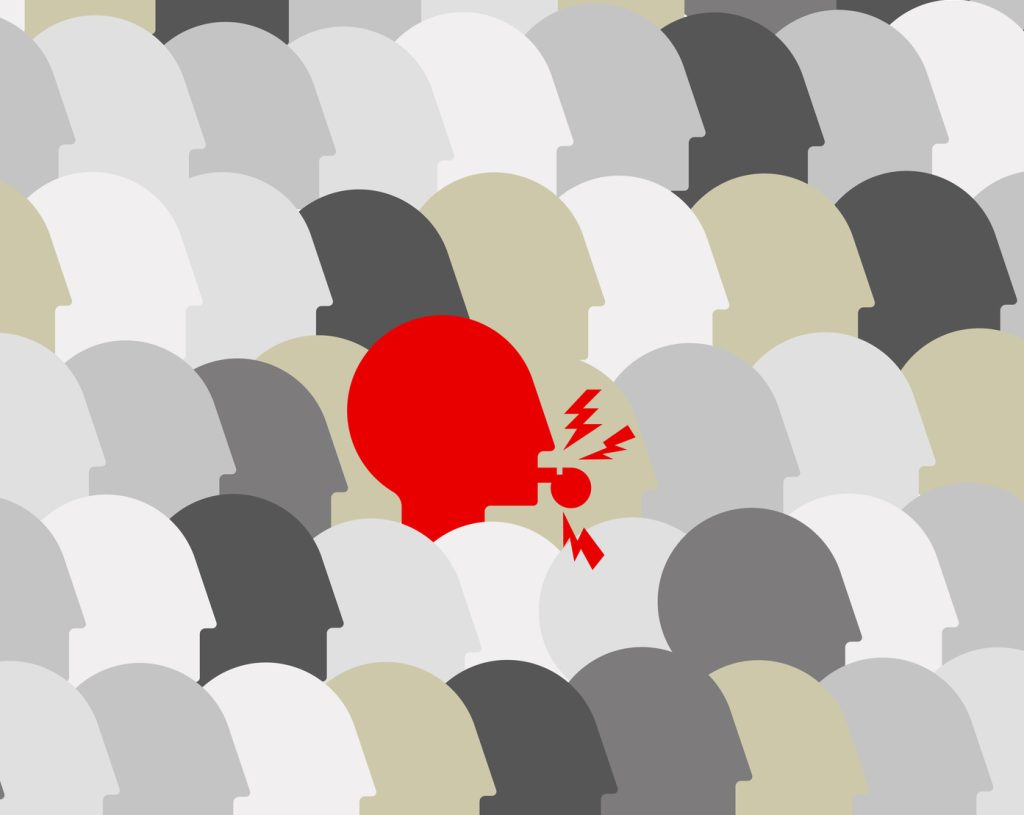 In some of the dialogues from 'In Black and White', Alex covered many sensitive scenarios that might pose risks if she were to report, leaving her uncertain about whom to approach, compounded by her identity as a woman and a person of colour. She further emphasised that "you need someone to understand the situation", demonstrating the heart wrenching truth about how the system operates, particularly for marginalised and minority communities.
One of the audience posed a question around clientele challenges, in terms of clients being given the option to choose the race and gender of their representative. This prompts us to question the ethical implications of such practices. Alex expressed that while certain clients are more inclined to a certain gender or race, such as a white male defendant not choosing a female barrister in a harassment case in case they identify more with the individual harassed, the reverse holds true as well. It seems that empathy can also stem from these situations, creating a trust and fair co-existence of both clients and barristers in court.
Alex also emphasised the significance of the relationship between a barrister and their Chambers, underscoring its personal importance to her. In the realm of a self-employed career, the challenges are not to be underestimated, and a barrister's performance is closely tied to the reputation of their Chambers, creating a certain sense of vulnerability.
Q & A
Following the enlightening talk, Alex kindly made sure there was time to address questions from the audience. We are happy to share some of these insightful interactions with you.
How do you deal with "imposter syndrome"?
Alex discussed the so-called "imposter syndrome", a feeling very common amongst law students and probably anyone new to their profession. The tough and intimidating playing field where many are thrown into the deep-end early, can leave one with a sense of emptiness. In addressing this concern, Alex highlighted the importance of taking ownership of your race and origin within a competitive environment and not allow yourself to lose focus.
How much does it "cost" to become a barrister?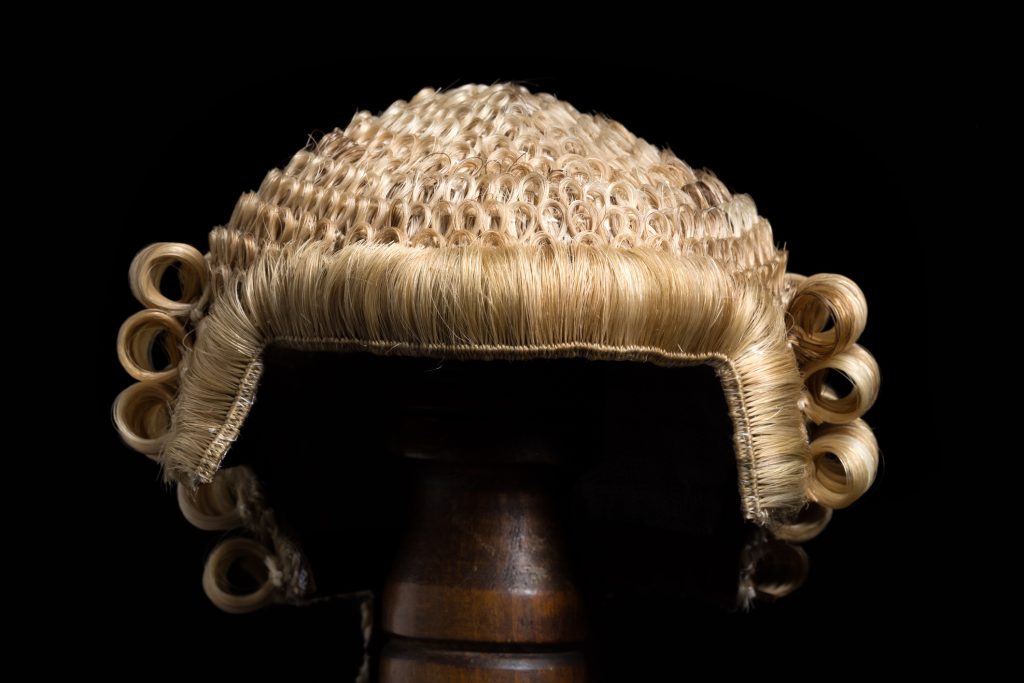 The cost crisis poses a significant challenge to many aspiring barrister. Alex kindly guided us through the process of becoming a barrister, commencing with the purchase of her very first wig and gown. This was also revealed in her book, where she shared a story of the time she was accompanied by her grandmother to collect them and found out that the cost was over £3,000. Unfortunately, there is not a obvious solution at the moment as the practice of law is still very traditional in relation to some customs (such as attire), but there are signs of hope in terms of modernisation and a more cost-effective future.
Get your own copy now!
We wholeheartedly recommend "In Black and White" by Alex as a must-read for both law and non-law students alike. The book is available on various platforms, including Waterstones and Amazon.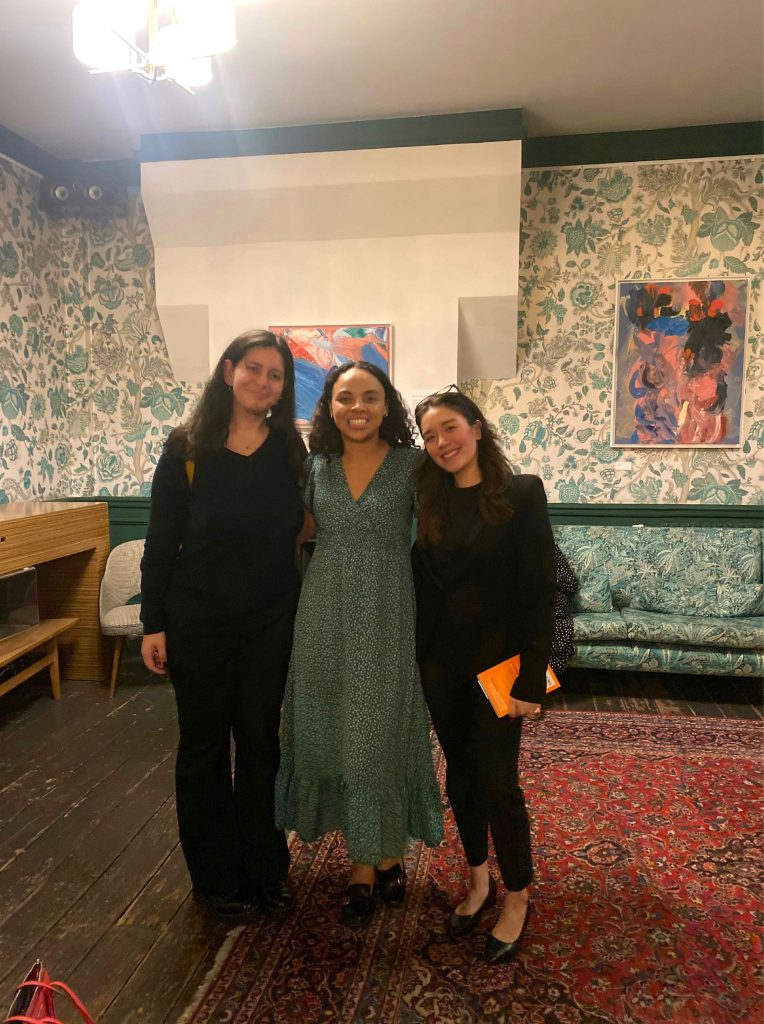 We are also excited to announce that Alex is set to release a new book: The Witness! This marks her debut in the realm of legal thriller. Now available for pre-order at Waterstones.
Acknowledgements
We would like to thank everyone who made this experience possible. A special thanks to Emily Allbon for introducing us to this incredible event. We are also deeply appreciative of The Trouble Club for facilitating this transformative event and to fellow attendees for their enthusiasm and enlightening interactions. Most importantly, we would like to thank Alex for sharing with us her inspiring story and insights. Our attendance at the event would not have been possible without the support of each person who participated and made it a memorable occasion.