The Women in Law Society treated us to a fantastic 'Black Women in Law' panel event on the 7th November, promising us a 'deep dive' into what it means to be a black woman in the legal industry in 2023. Amongst attendees were two of our Lawbore journalists, Sumayya and Victoria. Here they report back…
Sumayya
Last week I had the pleasure of attending the 'Black women in law' event organised by the Women in Law Society. When this was held in 2022, the City Students Union crowned it Event of the Year at their annual awards ceremony, so I had high hopes of the evening…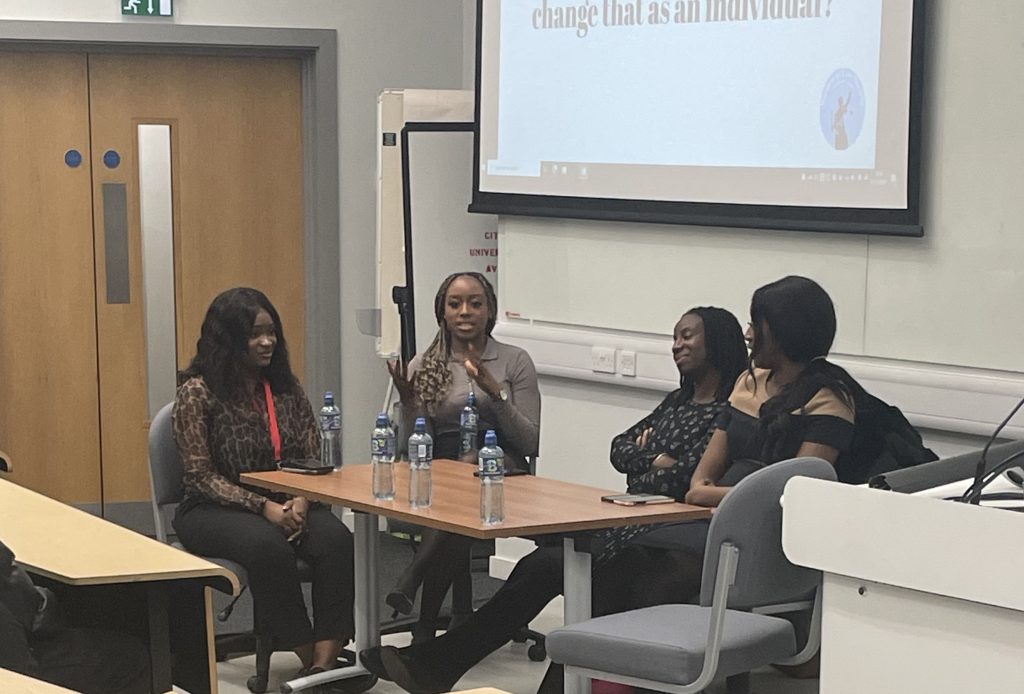 This 5-strong panel included:
It was insightful listening to the amazing panelists talk about their experiences and journey in attaining their positions. My focus in this review delves into the theme of intersectionality by exploring how experiences differ even within a common group.
Keshinda Gage noted the double-bind many find themselves exposed to:
'Being black you're under-looked and being a woman you're under-looked'
How these identities combine has a significant impact on the way in which one would be treated in society, especially in the field of law which has historically been predominantly a white, male profession.
I was curious to hear to what extent being a woman of colour affected them in developing their careers, and if indeed other features also came into to play to either uplift their social status or bring about more obstacles.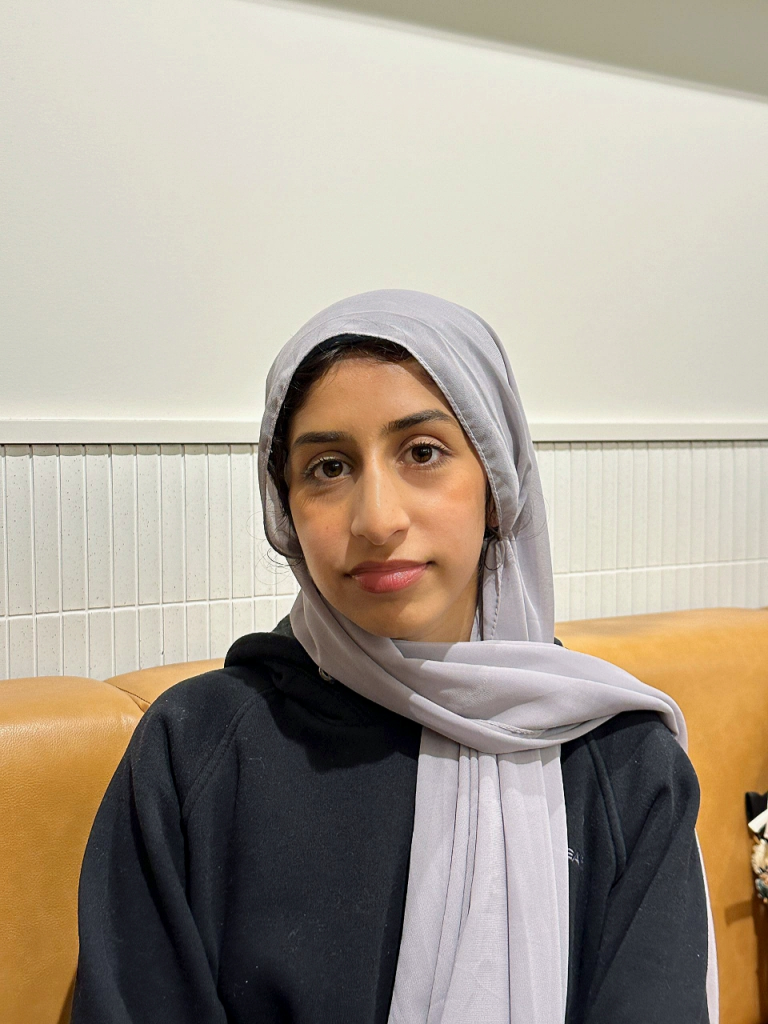 Karen Manu spoke about growing up in South London, and going to the University of Hertfordshire – hearing about the prior knowledge her peers had in knowing exactly how to enhance their career prospects gave her a sense of 'being behind' everyone else, questioning her sense of belonging because she did not see people like her. It felt like there were more opportunities offered to her peers and because of her background, there was a lot she did not know about the world of law.
Karen spoke about the importance of connecting with people that look like yourself in situations like this; it is really motivational to share experiences. She also reaffirmed that success is NOT a linear journey.
Karen also spoke about other parts of her character and how they made her progression into a legal career challenging at first. She found a clash between the workplace drinking culture and her Christian faith; it sometimes created a barrier to building relationships with other colleagues. She overcame this feeling of exclusion by finding other colleagues who also didn't drink, and over time this became less important.
Sandra spoke about the extra challenge of her dyslexia. She needed to dedicate more time to practicing her general reading, which made an extension to her already heavy workload as a barrister. She didn't feel this made a difference in building her reputation as a barrister but she also never mentioned it in applications. She wonders whether her treatment would have been different if she had mentioned it?
Ultimately, no two black women in law share the same experience.
Victoria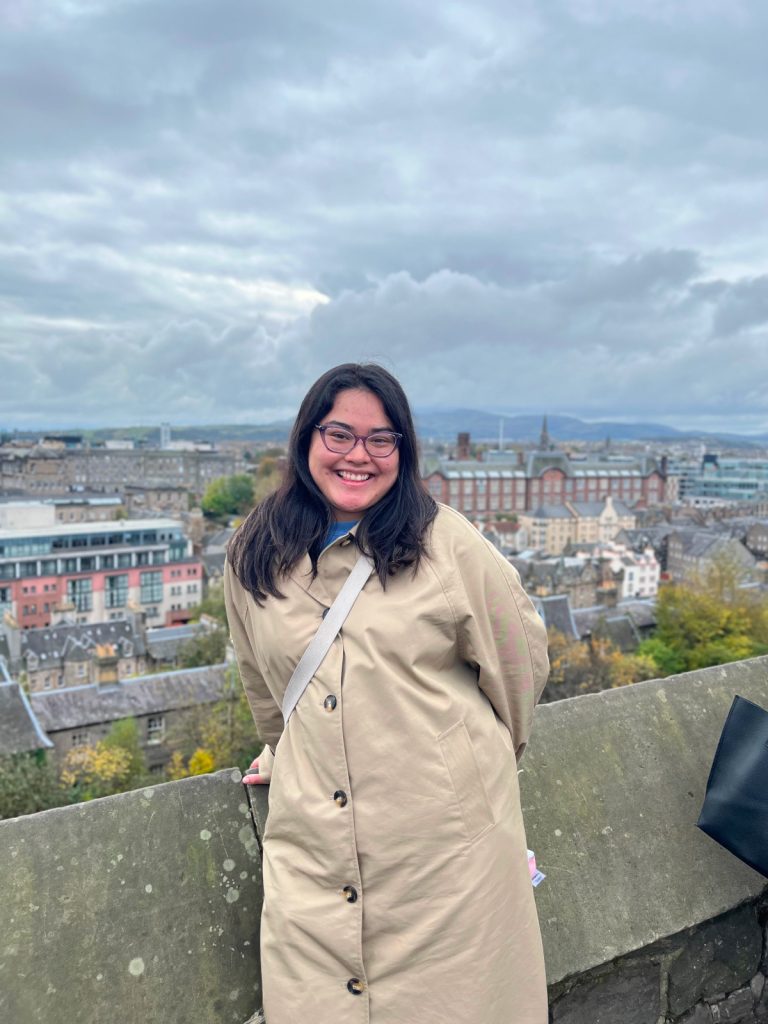 Black women are often underrepresented in numerous fields from law, engineering, and medicine. They are disproportionately over-policed on the streets and black women are more likely to be the victim of hate crimes. A recent incident on the tube in London resulted in the Executive Director of Southall Black Sisters Selma Taha being physically and verbally racially abused. Conduct of British Transport Police officers at the scene has been referred to the IOPC. There are far higher mortality rates associated with pregnancy (the risk of dying in childbirth or just after, is four times higher for a black woman), and there are many other social obstacles that are much prevalent in the contemporary context.
According to the International Bar Association, female attorneys make up 51% of the profession, but only occupy 32% of senior roles. In the judiciary, women make up 43% of all judges and hold 26%of all senior positions. These are important statistics to bear in mind and the more reason to have representation, especially in the legal field.
The Black History Month theme at City was Celebrating Our Sisters and the theme certainly fits the event that the Women of Law Society put together, which was empowering and enlightening. It brought together an array of women to share their personal, academic, and professional experiences. The strong-willed and ambitious women who were presented, each brought a unique perspective which is much needed, especially in the workplace.
Struggles aside, they have something that Christianah Babajide calls as 'black resilience'. She beamed as she told her about this and discusses her lived experience being a 'black woman' in the legal field. She shares her personal experience and how racial equality is 'vital' in the workplace setting.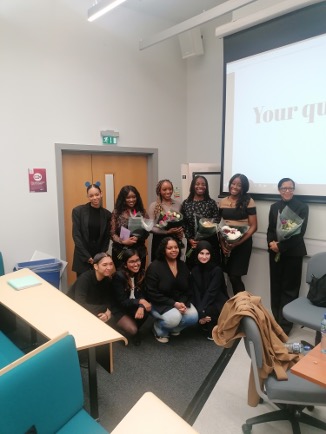 Christianah Babajide studied her LLB at the City Law School and has worked at Keating Chambers since May 2023. She shares her personal experience of what it is like being a black woman in the legal field, and states that the job application period is always one of the most 'challenging' things ever because of the unknown competition.
During my one to one with Ms. Babajide, she radiated such positivity and optimism when sharing her experiences. I asked her a question, regarding employers hiring and recruiting practices:
"There have been some improvements in having representation in the solicitor and barrister field, but there is a much need for BAME to be in leadership position, what can law firms do to solve this racial and gender inequality?"
Her response was to say:
"It begins at the stage of recruitment when recruiters go to the universities, they should be seeking students not only from Oxford, Cambridge, or King's College. They should expand it to include universities, such as City, University of London, Roehampton University, Kingston University, etc. If firms start at that level, there will definitely be more representation, especially for BAME and LGBTQIA+."

Christianah Babajide
It is clear from what the participants shared that there has been much improvement in the UK to address racial inequality, especially in the realm of policy-making. However, I believe that corporations must do far better in having equal representation event at executive levels.
Sumayya Alam is an aspiring family law solicitor-advocate. She is also interested in immigration and medical law. Book worm, nature lover and creative.
Victoria Rivera is an international student. Originally, she is from Los Angeles, California and has moved around quite frequently (living in other countries as well). She is pursuing her LLM in Public International Law and wants to pursue a career in being an IP attorney in the US or a glorious career in legal journalism. She loves to talk and interact with people, and is a big fan of Star Wars, Ted Lasso, and Japanese anime. Fun fact: she loves to write short stories and read romantic novels.