Hello! I'm Emily and I'm the Director of Mooting at City. Hopefully most of you have now either had a face-to-face talk from me or watched a thrilling video on Moodle as part of your Welcome Week. Mooting is something we are very passionate about at City and strive to give our students as many opportunities as possible to get involved.
I've compiled a schedule of workshops you can sign up for in order to learn the basics. These will be run by some of my star mooters from last year over the next fortnight at various times. This will get you ready for the internal moots we run for City students and the selection process offered to those who want to moot externally, in competitions taking place in the UK or internationally. We are offering an introductory session called Mooting 101, plus sessions focused on skeleton arguments, bundles, giving submissions and dealing with judicial interventions. We also have a number of small workshops where you will have the chance to work on your skills in a small group of 12. Go to Moodle and find the Module entitled CLS-Events and Opportunities, find the Mooting tab and there will be the signups.
OK tell me about the internal moots?
We run three internal competitions for our students:
The City Scholars Moot
The GDL Moot
The Senior Moot
The City Scholars Moot is for LLB and GELLB students, as well as LLMs with no previous mooting experience. The GDL Moot is (unsurprisingly) for GDL students. Both of these moots will kick off in late Oct/early November and are open to all. The Senior Moot is for all law postgraduates and will take place later in 2021. There are a limited number of places which you need to apply for.
Are there competitions I can enter without going through a City selection process?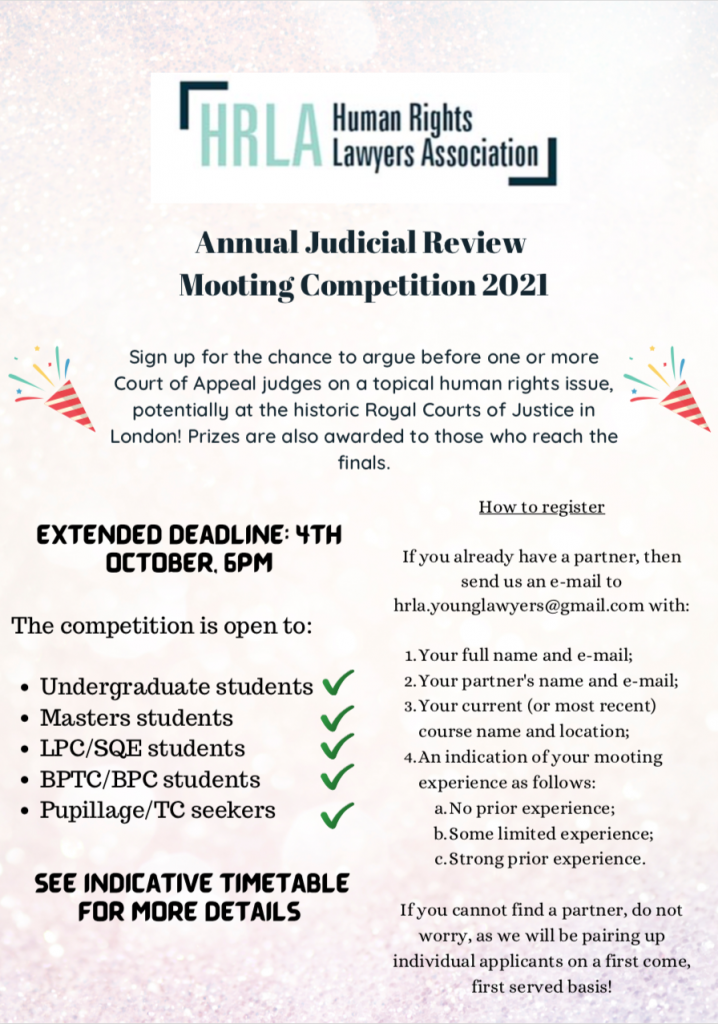 Yes! There are a number of moots you can enter independently and we would encourage you to do so. A couple of them have released their problems and application info already, so take a look.
For those of you interested in Environmental law there is the UKELA Moot Competition – this is longstanding competition and the problem is out already. Open to all – take a look!
There is also the Human Rights Lawyers Association Judicial Review Moot – at the moment all you need to do is register but there's a deadline of 4th October at 6pm so get on with it! (see details in the image to right).
A new one comes from the Society for Computers & Law (SCL) and 4 Pump Court on the Law of Artificial Intelligence. This is designed to give participants insight into the use of technologies in legal practice and the issues surrounding the governance of emerging technologies. Deadline 15th October. Open to all undergrads/postgrads including GDL and BVC. Take a look at the flyer for the problem, rules and more info.
Quadrant Chambers is planning on holding its second virtual moot event in January 2022, with details still to be confirmed. There only 64 spaces however, with a limit on the number from each institution (it'll be first-come, first served). The format last year was a speed moot of 7 minutes per round, with a total of 6 rounds for the most successful mooters. They also hold an open evening with talks covering pupillage, life at Quadrant and the commercial bar, and other relevant topics. You can read a report on the moot from last year's winner and a report on the open evening via their website.
The Kingsland Cup is run by the chambers of Francis Taylor Building, pairs of students can enter this prestigious moot independently. Usually on public, environmental and European law topics, it is a very challenging competition. However City students have had great success in this moot, winning on a number of occasions in the past few years. Find out more via the competition website.
The National Speed Mooting Competition has run for a number of years, and is open to students for a fee. They also run various events and an Advocacy Club. Find out more via their website. There are separate competitions for LLB/GDL and LPC and Bar students.
The great LSE-Featherstone Sexual Orientation and Gender Identity Moot competition runs over a weekend in February usually, though no news on dates for this coming year as yet. The oral rounds of the moot competition run alongside an associated networking event during which participants engage with a number of workshops, discussions, and panels focused on the gamut of SOGI/LGBT+ issues and their interface with the law. Keep an eye on their website for more info.
The UK's first dedicated animal law moot is the Cecilia Moot! As yet no info on whether it will run this year but we will let you know when we have more info. It has run since 2019, you can read a write up of that year's final on Lawbore written by founder (and former City GDL/Bar student Sam Groom), or see a short video on the 2020 final.
The Times team up with the chambers of 2 Temple Gardens to run the Times 2TG Moot and is open to all students with no cap on how many enter from the same institution. No news yet on whether this is running this year…
OK so what if I want to moot against teams from other universities on behalf of City?
Hurray! You will be happy to know there are lots of opportunities for this. There are a number of general competitions we enter (ones which deal in all core areas of law, so round 1 might be on contract, round 2 on crime etc) and we'll be sending out a selection problem shortly for those of you who want to be considered for this. The big competitions are the OUP/ICCA National Mooting Competition and the ESU-Essex Court Moot but there are a few others too.
And what about the exciting specialist moots?
There are loads to choose from depending on your interest, here are a number of the topic areas moots pivot around:
Property law
Judicial review
European law
Human rights
Intellectual property
International criminal law
Criminal law
Insolvency
Competition
International law
International Commercial Arbitration
Environmental law
Public law
Gender identity/sexual orientation
Animal law
Media law
You can see a full list of moots on Learnmore or on Moodle (CLS Events and Opportunities). Remember it's not clear yet which will definitely be running.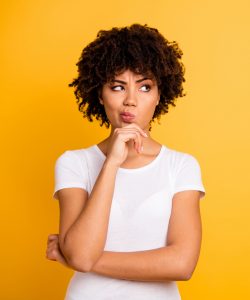 Yikes! There's so much choice! How do I choose what to apply for?
Remember there will be a lot of competition for places and for each team we'll only be looking for between 2-5 students, so you'd certainly want to be applying for multiple teams to raise your chances! Usually it's worth trying out for the general competitions and then trying for a few of the specialist ones that interest you. One important thing to note is that we only allow students to represent us in one moot. This is for two reasons – so as not to overwhelm you (remember you'll be studying hard plus also maybe working, doing pro bono etc), and to try and spread opportunities. If you're lucky enough to get selected more than once, you get to choose.
How do I get updates on mooting?
I'll be sending out regular emails as details emerge and will duplicate this by placing on Moodle. We also may send out occasional posts via our Instagram account.