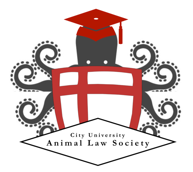 The Cecilia Moot is the UK's first and only animal law moot. Having been launched by the City University Animal Law Society last year (read all about it), it is now being run as a nationwide competition with City at the centre.
In the first academic term (October-December), City will host its own mini-competition, and in the second term City will host a finals day with competitors from all participating universities. We would love for as many City students as are interested to participate in what should be another great event. The field of animal law encompasses many legal disciplines and is academically challenging and increasingly relevant in legal practice. The competition is a great opportunity to practise your advocacy skills, learn about a range of legal issues and receive useful feedback. Last year we had practising barristers, an academic and a Lord Justice of Appeal making up the judging team. Students from all courses are invited to enter the competition. Mooters will compete in pairs, and can either enter as a pair or be matched up by CUALS.
Please email Sam and Raha by Monday 30 September at animallaw@city.ac.uk with your name, course, year and, if applicable, partner in order to enter.
We look forward to hearing from you and are happy to answer any questions you might have at that address!
Additionally, CUALS is also looking for students to stand for election to the role of Finance Officer at the start of the year. Part of this role will include helping to run the Cecilia Moot 2020. If you are interested, please do join the society online and email us at animallaw@city.ac.uk to find out what the role would involve!