The City Students' Union have brought back the VP Education Award this year – students are asked to write 1500 words on one of the 5 given essay titles. As law students, one may seem more pertinent than the others, but you are free to tackle any of the 5!
The 5 titles – pick one…
The future of cryptocurrencies and their likely impact on economics and finance
Free Speech vs. Hate Speech: Where Should the Law Stand?
Gender Pay Gap: Current Situation & Next Steps
Brexit & The Health Sector
Artificial Intelligence or The Future of Autonomous Vehicles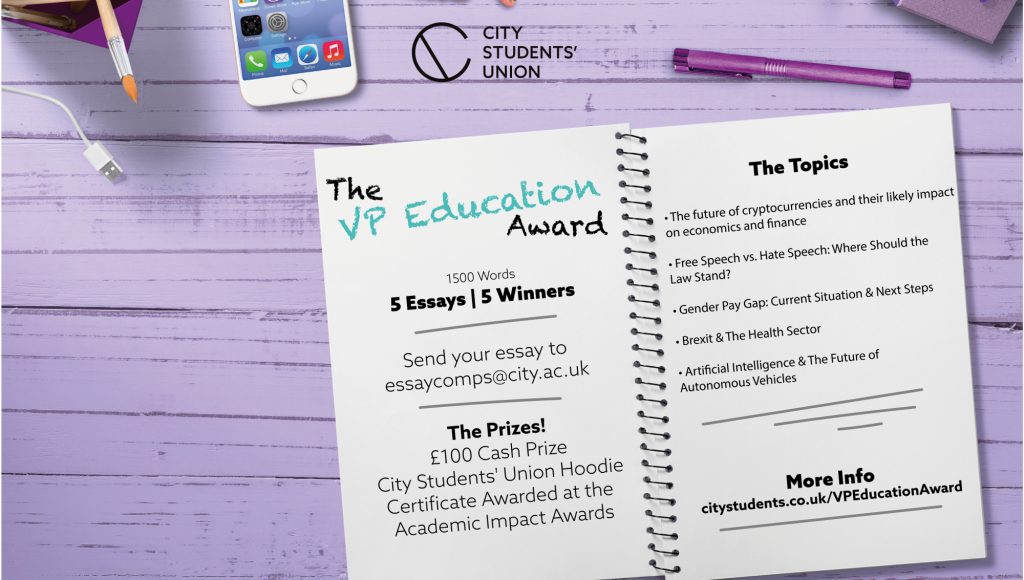 Important stuff at a glance:
Prizes: £100 Cash Prize (funded by CASS, CLS, SHS, SASS, SMCSE), City Students' Union Hoodie, Certificate Awarded at the Academic Impact Awards (April 16th 2019)
Deadline for submissions: March 18th 23.59pm
Send your completed essay to: essaycomps@city.ac.uk
To find out more and read the rules in full, take a look at the SU Award page.