Rosanna Drinkhouse (who graduated from the GDL with us earlier this year) has written for Lawbore on a number of occasions this year and we're lucky to have a pro bono round-up from her; with snapshots from her peers of their overall impressions of the varied pro bono experiences they've had this year. Hopefully this piece will prove inspiring to the 2018-19 cohort!

Pro bono work is critical to the development of a legal career, as it allows students to gain tangible insight, with direct access to vulnerable people, which they are trained to laterally assist. From making copies to representing clients in court, City GDL students have made significant impact on the community. With recent government cuts to legal aid, it is more important than ever to get involved with worthy pro bono projects. There are a plethora of ways to serve the community with the skills acquired as a law student, but I wanted to take the time to highlight some opportunities that my fellow GDL peers have been involved with.
Klara Slater, Vocalise:
Vocalise is, without a doubt, the most interesting and enjoyable pro bono project I have ever been involved in. Firstly, it has brought some hard-hitting realism to my rather dry and abstract GDL year. This has helped to widen my sense of perspective and develop my understanding of the problems in the criminal justice system, and how they might be addressed. Secondly it has developed my communication skills. This is largely because we need to conduct the lessons in a way that is both fun and professional, but also because we teach learners of varying experience and ability. This is extremely useful in my pursuit of a career at the Family Bar, where the ability to speak convincingly to vulnerable individuals and other members of the legal profession simultaneously, is crucial. Third, Vocalise has also been a fantastic way to meet other like-minded students who are going through, or who have successfully gone through, the pupillage application process. Therefore, it is an excellent forum for seeking advice, sharing concerns and, hopefully, improving our chances of being barristers!
Piers Digby, Free Representation Unit
Normally, if you're not legally qualified, you can't represent people. However, this rule doesn't extend to most tribunals, which nevertheless still operate on legalistic lines. FRU looks for aspiring barristers and solicitors, gives them training and guidance, and gets them to represent people in social security and employment tribunals. I feel much better equipped for a future career as a result. The experience certainly changed how I view the law.
The nature of the teaching on a course like the GDL is always going to be academic, and it can be quite easy to almost forget that behind all of the cases we study are real people. The law is not an academic exercise to them. Instead, it can be the difference between having to skip a meal every other day or not. Beyond that, it also made me realize just how fragile the law is, and how much it needs to be supported by the government if it is to work effectively. Where that support is not provided, then the only people who can fill in the gaps are people like you, the Lawbore readers, and in my view that's a duty that shouldn't be taken lightly.
 Lucy Chapman, CommUnify
This year I have been setting up my own pro-bono project, CommUnify, working with social housing estates, including my own. As a career changer, I have had much experience of community work, often with the most vulnerable in society, which I wanted to share, using my skills to satisfy an existing need for support, advocacy and advice, to give social housing residents a voice. The need for this was highlighted recently during the Grenfell Inquiry. There are many who have issues with communication, including older people, people with disabilities, those without English or with English as a foreign language, with literacy or numeracy concerns or lack of IT skills and the clinic is designed to address these concerns. Many students may not have ever set foot onto a Council estate, and will not know the issues residents face regularly, so I view this as a skills/experience swap.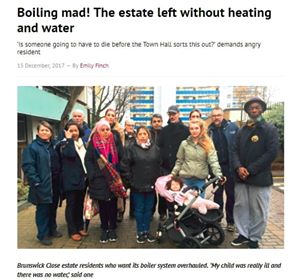 The students I am learning alongside at City have had incredible educations, their talents could be really helpful in making a difference to people's lives. This project is different – it is not just a case of a charity sweeping in and telling residents what they should do and what's best for them, it is run by me, a passionate social housing resident. I have first hand experience of issues faced as both a tenant and from my past work. At this year's Pitch for Good competition at the Social Enterprise Festival, I was awarded the runner up prize after pitching my project against eight finalists. With the prize money, I am focussing on getting the clinic and project up and running so am seeking enthusiastic volunteers to join the team. I will be advertising through City's volunteer portal but anyone interested in the meantime can follow me on Twitter, LinkedIn (@lucyandthelaw), or drop me a message.
Luís Miguel Lago, Hackney Migrant Centre
HMC gives advice to migrants in Haringey borough, ranging their migrant status, asylum, housing, welfare, employment. The centre also serves a free vegan lunch.  My current position is not entirely focused on law. Essentially I "interview" the guests, take notes of their issues and then look for ways to help or direct them to someone who can give them advice (the volunteers are obviously not authorised to give legal advice ourselves). As an example, I once offered to function as an interpreter during an interview at the job centre, where the applicant was a Portuguese migrant that didn't know English very well. Even though it wasn't directly related to what I want to do with my law degree, I believe it was a good way to get a closer look of what type of issues my potential future clients face. The position gives you first hand contact with real people with real problems and real legal issues, instead of all the abstract stuff we deal with as part of our studies. We can understand how the law really affects people and how that impacts their lives.
Blessing Mukosha Park, School Exclusion Project
Although in the cases I took on this year at the School Exclusion Project we were not able to overturn the decision to appeal the parents were actually still happy about having a chance to speak their side of things. It surprised me because I was so worried about winning for my clients but the most important thing to them was having someone there to represent them and support them through the appeal process. My presence helped them feel comfortable and supported when they faced down the school. That demonstrates why it is so important that everyone has access to representation when they need it, and why Pro Bono work matters so much.
Other than the obvious merits of Pro Bono work, people should get involved because this work is pretty much a trial run of the kind of things you'll be doing as a barrister. With each case you are assigned a barrister mentor who will look over your submissions but you will research and draft them by yourself. You need to manage your own time and make sure you communicate with your client and take their instructions. The skills you learn as a Student Rep for SEP are invaluable. SEP has made me think more carefully about why I want to become a barrister in the sense that I'm even more motivated than before. This choice of career is so unique and often we do not get to experience what it is like outside of mini-pupillage or pupillage. This experience gives you the opportunity to do a similar kind of work and get feedback on your work from actual barristers. Outside of assessed mini pupillages there aren't many opportunities for that.