Joint second prize for this year's Exploring the Law competition went to Pawandeep Kaur, whose piece follows. Find out more about the competition via this earlier post. Well done to Pawandeep! You can find other winners from this year and previous years via the #exploringthelaw tag.
Often, when we think of Legal London, our minds turn to courts such as the famous Inns of Court which give the tourist a real insight into the history of the English Legal system. However, there are some hidden gems in the heart of Legal London that are easy to pass. Stepping into my first year of university, bombarded with new faces every day, I was set a task to adapt myself with not only my group mates for the next three years but also expand my knowledge of Legal London further. Thus after pre-planning a route, we were on our way. This blog post will briefly explain the history as well as the legal links to these locations.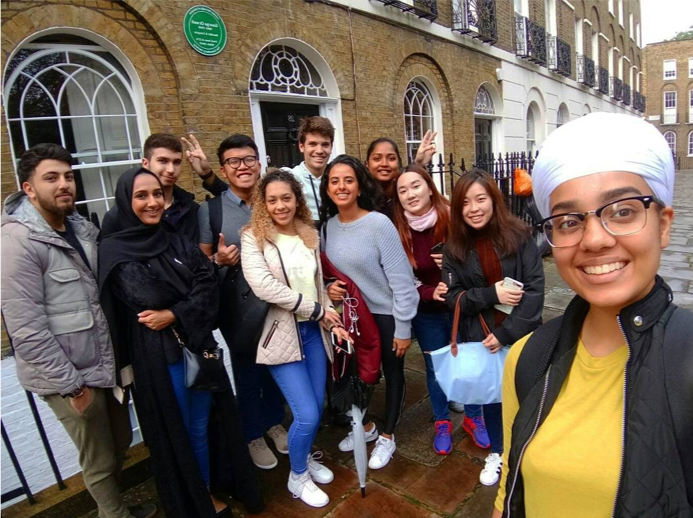 We began by stumbling upon the popular novelist, George Orwell's house on Canonbury Square. Orwell was not only a well known author, but wrote many essays, including "Politics and the English Language" in which he criticises the written English of the mid 1940s. Orwell's link to the legal system comes from the fact that he was deliberately arrested in December of 1931 for being 'drunk and incapable'. He had set out to be arrested in hopes of being able to document the experience of spending Christmas behind bars. Nevertheless, Orwell returned home two days after incarceration because the authorities did not regard his behaviour as imprisonable. Orwell's legal mischief does not stop there, as 64 years after his death, a student  at Cairo University was arrested for being in possession of Orwell's famous novel "Nineteen Eighty-Four" which speaks of a dictatorial ruling party criminalising political rebellion. Following a year of anti-government protests, students had been killed, expelled and jailed including Mohamed T. However, there has been doubt over this arrest as police stated they accused him for filming security forces without their permission. Although the reason for the arrest of Mohamed T is widely disputed, there is no doubt this occasion raised questions about free speech under the country's government. Seeing the residential place of such a historical and political figure was an awe-inspiring moment as it made me question what life must have been like for a common man in the mid 1900s that made Orwell write such fiction.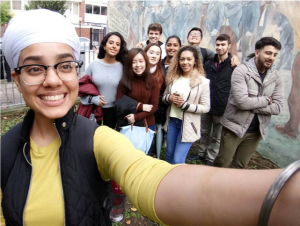 After quite a stroll, my group mates, who I had grown quite fond of by now, and I came across Edward Square on Copenhagen Street. The mural on the wall stood out to all of us as it was clearly depicting an important event in history. Indeed, this mural has rich historical value as it is in remembrance of the Tolpuddle Martyrs who were a group of agricultural labourers that were arrested for swearing a secret oath as members of the Friendly Society of Agricultural Labourers. The Tolpuddle Martyrs were sentenced to Australia. This mural, painted in 1984 by David Bangs, pays tribute to the gathering of people organised by the Central Committee of the Metropolitan Trade Unions to demonstrate against the transportation of the Tolpuddle Martyrs to Australia. This is just one of the many memorials in the Tolpuddle Martyrs' name in London. As my group stopped to take a picture, it definitely mirrored the gathering of civilians depicted in the mural and I began to think about how human rights have strengthened over the years since this occurrence.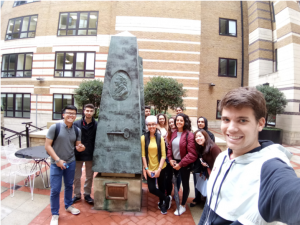 Thereafter, my group tracked down a monument of Thomas Paine in Angel Court. Thomas Paine was a revolutionary and political philosopher, along with many other things. Angel has a close connection to Paine as he often stayed at the Angel Inn which is where he started writing "Rights of Man" in 1791, thus a monument was unveiled in 1991, on the 200th anniversary of the publication. This book is one of Paine's most well known publications which proposes that a revolution is lawful if a government does not protect the rights of its people. It is no surprise Paine was a keen supporter of the French Revolution in 1789 as his intentions behind "Rights of Man" was to answer Edmund Burke's attack on the French Revolution.
After witnessing the historic monument of Thomas Paine, my group headed to our last destination, the house of Joe Orton, on 25 Noel Road, another author as well as a playwright. Similar to Orwell, Orton was known to play pranks with his alter ego, Edna Welthorpe. A prank that led to Orton's six month imprisonment was in May 1962 in which Orton and his partner, Kenneth Halliwell, would remove books from libraries and deface the cover art or blurbs before replacing them back on the shelves. These books are still available to ponder over in the Islington Local History Centre. Orton later revealed that they both received a harsh sentence due tot he judge knowing him and his partner were "Queers". Unfortunately, this cannot be proven as there is an absence of trial transcripts yet it is encouraging to concentrate on the legal differences between now and 1962.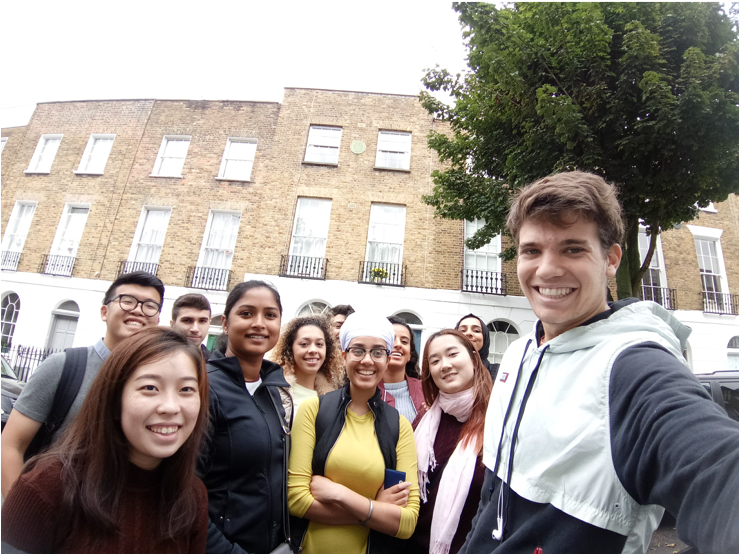 Undoubtedly, London has an abundance of legal history, the streets are overflowing with an author who has clashed with the legal system whilst expressing their opinions or a mural commemorating a legal historical act. Nonetheless, this task was exceptionally enjoyable and informative as not only did the whole cohort get to know each other but it also allowed us to understand and experience the city of London better, especially the foreign students who, I imagine, were even more lost and confused than I was. I highly urge anyone who wants to grasp the knowledge of the history of law to experience these spots firsthand.