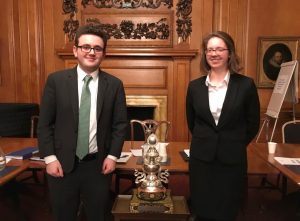 Buoyed by our success in managing to find the only entrance to Inner Temple actually open at the weekend, we arrived at the Inner Temple Hall on Sunday 21 January eager to begin a day of mooting on landlord and tenant law. The moot problem concerned covenants to repair in a lease, and also section 4 of the Defective Premises Act 1972: we had yet to cover either of these on the GDL, and so in the week before we beavered away feverishly in an attempt to get to grips with the legal issues at stake.
Preparing for the moot was made all the more difficult by the fact that we had to submit skeleton arguments for both the appellant and the respondent, as we alternated positions in each round. This proved to be great fun, as in each moot we could hone and refine our submissions. However, the judges intervened on a different point at each stage, and so there was no chance of being allowed to rest on our laurels: our arguments were mercilessly dismembered, and we really were forced to think on our feet!
We were delighted, if surprised, to go through to the knock-out stage after two preliminary rounds, as one of the top eight teams of the 26 who entered. Somehow we made it through two further rounds to the final, where we faced a panel of five judges, all practising barristers. Although we were making submissions on behalf of the respondent for the third time, and most of the authorities were on our side, it was a challenge to persuade the judges, sitting in the 'Supreme Court', that previous Court of Appeal decisions were correct, and that they should not depart from them. Thankfully, we were by then so invested in our fictional client's plight that we were determined not to be deterred by judicial interventions, and ended up winning the competition and the Inner Temple King of Bhutan Cup. We are very excited to have been invited to take part in a moot against the winners of the ESU-Essex Court Moot at Inner Temple in October.
We would like to thank all the teams we competed against throughout the day, the barristers who gave up their Sunday to judge us, the Inner Temple Mooting Society for organising the day, and Tanfield Chambers for generously sponsoring the event. Thanks must also go to Emily Allbon and Edward Bates for arranging everything for the City teams, and to Elliot Schatzberger and Jeffrey Thomson for representing City as judges.
We would whole-heartedly recommend the moot to next year's GDL cohort.
Many congratulations to Henrietta Boyle and Eno Elezi for their win at this challenging competition, and also for sharing their experience with us! Fantastic to see City win this moot for the second year running.