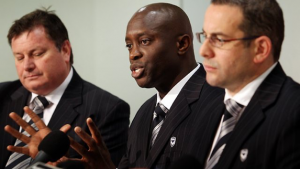 Much earlier in the year Francis Awaritefe  spoke to Lawbore Journalist, Christianah Babajide, and shed some light on the potential implications Brexit may have on British football.
[Ed – apologies for the delayed publication of this! Obviously there have been a few quite a number of Brexit-related developments the interview]
CB: Give it to us straight, is Brexit good for Football?
FA: The fallout from Brexit will carry with it profound implications politically, economically and legally for the Football industry in the UK, particularly the English Premier League.
Since the vote to leave the EU, the weakening English Pound is making foreign signings from other European clubs much more expensive inters of wages and transfer fees, thus driving up transaction costs, notwithstanding the current financial strength of EPL, driven predominantly by mammoth growth in television broadcast deals.
Manchester United's latest quarterly financial report to the New York Stock Exchange showed a big hit to the balance sheet, with net debt rising 18% due to the strengthening US dollar and weakening English Pound.
Given Wolfgang Schäuble's pronouncements on EU's likely negotiating position on Brexit, in which he stated "There is no à la carte menu. There is only the whole menu or none", the portents for negotiations on Brexit, with respect to UK access to the EU internal market and freedom of movement, is rather ominous for the UK, which in my view does not bode well for UK football industry in general.
CB: What might 'Brexit' mean for foreign footballers seeking a career in UK Sports?
FA: At this point in time, there is uncertainty as to what the regulatory picture may look like in future. This question will ultimately depend on the terms of the Brexit agreement, whether the UK chooses a soft or hard Brexit.
A soft Brexit agreement, for example, the Norway option, would mean the UK would still be subject to Freedom of Movement and the European Union laws, therefore this will have minimal or no impact on footballers from EU/EEA Members states seeking a career in the UK.
However, the impact of hard Brexit, at its extreme, would mean that clubs wishing to employ players from EU member states, may be subject to stringent work permit conditions. The would be so, especially if the English FA and Home office were to take a protectionist approach in granting work permits only truly world class talent, in order to pursue a policy of increasing the number of English players playing in English Premier league, thereby increasing the pool of players available for the English national team. Reform of this type and similar others have in the past has fallen foul of EU Law on Freedom of Movement.
Article 19 of FIFA Registration on Status and Transfer of Players (RSTP) generally prohibits the international transfer and registration of players under the age of 18 subject to very restrictive exceptions. However, due to Freedom of Movement laws, European clubs are able to sign and transfer players within EU at aged 16, subject to certain conditions.
The top EPL clubs have been able to sign hundreds of some of the world's most talented youngsters as a result of this exception under Article 19 over the years.  The implication of a hard Brexit, is that this advantage would no longer be available to EPL clubs, because these youngsters may presumably be subject to strict work permit restriction, which would almost certainly prevent their being employed in many cases, as is the case with the strict work permit conditions in place for non-European players.
At the very least EPL clubs may lose a significant source of competitive advantage in recruitment and retention of youth players, because clubs who do this [recruitment and retention] extremely well, can make significant sums of transfer revenue in the player transfer market. The recruitment and retention of talented youngsters plays an important role as a strategic plank in the overall strategy of some football clubs.
CB: Brexit is likely to tarnish London's status as the Sporting Capital of Europe. What can British Sport clubs do to minimise this implication?
FA: While there are some challenges regarding Football, Brexit may open other sporting opportunities, for example, the relocation / location of an expansion NFL or NBA franchise in the UK. One of the current big obstacles to the location of NFL franchise to London, something that has long been mooted for a while, is the barriers regarding EU Law. For example, the draft system in North American Major League Sports will engage EU Freedom of Movement and Competition laws, meaning that their regulatory system would be incompatible with EU law in a number of respects.
Hard Brexit, however, would mean that Freedom of Movement and EU Competition law, would no longer be a barrier to the introduction of an NFL team subject to the Government and NFL being about to work out other potential legal issues created by the regulatory barriers, taxation and player and employee work permits.
As far as British sports is concerned, the EPL is a powerful beast. Owing to its financial clout and pervasive influence, it may be able leverage this clout by lobbying the government of the day in ameliorating some of the harmful economic and regulatory effects of hard Brexit.
CB: We learnt a lot about your path into law from your interview with CityNews,  could you fill us in on what's happened since? 
FA: I completed my GE LLB (Hons) with The City Law School and graduated in July 2016 with 2:1. Luckily for me, I'm a dual citizen and so spend time both in the UK and Australia.
CB: Are you back in Australia?

FA: I'm back in Sydney (Australia) undertaking the next stage of my training/education, with a view to qualifying as a Solicitor in Sydney sometime next year.
CB: Are you planning to work within the field of sports law?

FA: Yes.
CB: Could you talk us through Sports Law as a practice area – which modules from the GELLB are most pertinent? What kind of work do you get involved with?

FA: The LLB and GE LLB students at City Law School can now choose a Sports law module taught by Dr Luke McDonagh. For those of you who don't have this option, it is worth remembering that virtually every module can be applied to Sport in some way whether in Tort, Company Law, Contract, Employment and Competition Law, just to name a few.
Sports law is generally split into two areas – Commercial and Regulatory. Commercial practice encompasses areas such as Sponsorship, Intellectual Property, Media, Player Intermediary (Agent and Athlete Representation) to name just a few disciplines.
The regulatory practice encompasses Corporate Governance, Industrial Relations, Collective Bargaining, Disciplinary and Anti-Doping to name just a few.
I've recently started to do work representing players at disciplinary tribunals which I find interesting. I like both commercial and industrial relations side of Sport in terms of the kinds of work I would love to do post qualification.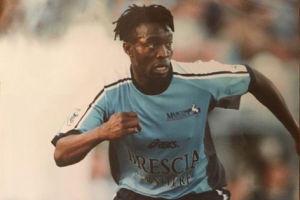 Many thanks to Christianah for this excellent interview, and to Francis for being so generous with his time.

British born and Australian dual national Francis Awaritefe was once a professional football player in Australia- a former Socceroo (Australian International) and National Soccer League player to be specific – He completed his GE LLB (Hons) at The City Law School, City, University of London in June 2016. He regularly writes for the Guardian's Sport column.
You can follow him via Twitter @FrancisAwartefe.