Lawbore Journalist, Christianah Babajide, reviews the CityCareers event on 'making a good impression'.
On the 1st of November 2016, Anup Vithlani, Head of Graduate Recruitment & Development at Trowers & Hamlins LLP, called upon his years of experience to deliver an interactive presentation at City University of London.
During the presentation, he explained what was required to make a polished summer vacation scheme and/or training contract application to a law firm, albeit through the eyes of Trowers & Hamlins.
This unique session took place at Northampton Square and was tailored to those that are looking to develop a career in the arena of commercial law.
Here are five standout things we learnt…
1. You can't escape commercial awareness (no matter how hard you try to)
Anup emphasised that being aware about commerciality is not as daunting as it sounds and the truth is, if you want to become a commercial solicitor, you can't escape it. He added, "when you're reading a commercial article, think about the background issues at play….If you can do that, you are aware of how commerciality is being influenced.
2. The only language you really need is English
Anup made it clear that knowing how to speak and write English eloquently, succinctly, and in a well-structured manner was important. He added, "By all means, highlight any other languages you speak, but most commercial business takes place in English." As a law student, who only knows English, I was relieved to hear this
3. All experience is relevant
Anup encouraged the receptive audience to include all work experience on their application form – be it legal, non-legal or voluntary. He emphasised that Trowers & Hamlins are interested in how candidates develop and what they have learnt from their work experience(s).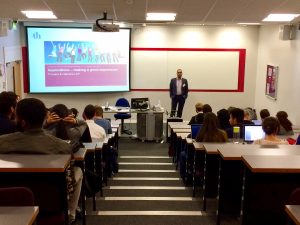 Anup added that candidates have 250 words to play with on their application form, so make the most of it. He also recalled many wasted opportunities he had seen where candidates have not made proper use of the word count and instead either undersold themselves or oversold themselves. He added, "It is important to find the right balance."
4. You will not Sink; you will Swim
Contrary to the popular belief of trainees being snowed in with paper work and impossibly-hard tasks, Anup reassured us that at Trowers & Hamlins "you will not sink, you will swim." He pointed out the different sources of support that were available at the firm, adding "you will always have supervisors around you and support from everyone within. We invest a large sum of money into our trainees and we don't want them to fail."
He highlighted that Trowers & Hamlins are committed to organic growth and interested in investing in the future partners of the firm
5. Be yourself
During the CityCareers event, Anup highlighted that he doesn't want to recruit simply academically-focused individuals, but wanted people with personality as well. This is not only because they value the 'human touch' but also because clients relate with personalities themselves.
Towards the end of the event, Lydia Jones, a first seat trainee solicitor at Trowers & Hamlins offered an insight of life as a trainee and described the warm, encouraging environment she was working in.
Reflections
This event made me realise that a high level of commercial and lateral thinking is involved in answering the questions posed on a training contract application form. By the end of the event, I felt encouraged to approach competency-based questions with a combined personal and professional mindset.
Further reading

A message from Anup Vithlani via his law firm's profile to those considering applying.
How is the Trowers & Hamlins Training Contract structured?
What type of trainee is Trowers & Hamlins looking for?
Author Christianah Babajide is also a guest contributor to Legal Cheek and you can see her work via her Legal Cheek profile page.  She also writes regularly for Lawbore and CAREERS (City's Careers blog).