It is nearly the start of the academic year, many Student Ambassadors at City have graduated, a new batch of students will be welcomed into City in early September. Which means the City's marketing team will be recruiting for friendly, student ambassadors.
What is the Student Ambassador Scheme?
The Student Ambassador Scheme at City employs a number of undergraduate, postgraduate and recent graduates from City University London. The Scheme allows the ambassadors to share their experiences of the university, their course and promote opportunities available within higher education.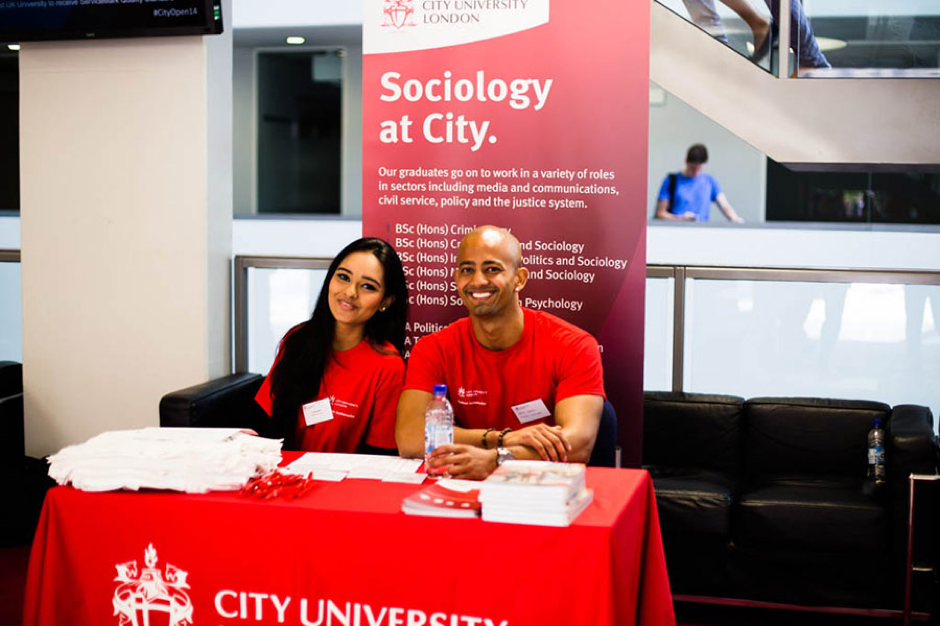 Who can apply?
We prefer friendly students who are able to speak to a diverse group about their university experience. We believe students who understand the benefits of higher education and are enthusiastic about City would suit this scheme. Being reliable and professional are vital to this role. Anyone currently studying at City University is free to apply to this role, even students that have just graduated can work for a year!
Why apply to this scheme?
To develop your public speaking, teamwork and independent thinking skills.
Great CV-booster.
Build your self-confidence.
Make friends with other students from all over the University.
Lastly, to get paid of course! (£8ph)
When can I apply?
Applications will open at the start of the welcome week (Monday 19th September) – apply via the Student Ambassador webpage and on the Unitemps website.
The application deadline is Friday 7th October 2016 and successful applicants will be invited to an assessment afternoon later on that month.

What are Senior Student Ambassadors?
Senior Ambassadors are ambassadors who are given more responsibility such as being in charge of a team of ambassadors at events such as Open Days. Senior Ambassadors are recruited every summer. They are also paid a higher hourly rate than Student Ambassadors. This role provides great leadership experience.
How will it fit in with your studies?
The scheme provides flexible part time work. Ambassadors are informed via email of work when it becomes available and most of the time, it is on a first-come-first-served basis. Student Ambassadors must be available to commit to a minimum of two events per term but they can choose to work as much or as little as they wish.
Christianah Babajide has been a Law Student Ambassador at City University for a year. She has successfully managed her workload with the flexibility of this role. Christianah strongly encourages City students to apply to the Student Ambassador Scheme.
"I have had the time of my life as a Student Ambassador of City University. I have been privileged to meet other students, give campus tours to prospective students, talk to parents about my experience at City, describe the LLB course and represent my university at internal and external events like UCAS fairs and Offer Holder Days. Being a Student Ambassador has improved my self-confidence, honed my public speaking skills and allowed me to learn so much about the university. Due to the number of tours I have given, I have been able to find my tutorial classes quicker! As I go into the next academic year, I shall continue to work as an Ambassador because it is a deeply gratifying role as I am given the chance to truly inspire young people and make a difference."
Do not miss out on this amazing opportunity: you might be the reason someone chooses City.
Good luck!
Find out more about City's Ambassador Scheme or visit the Unitemps website for job opportunities within the university.