All of our first year law undergrads took part in an exercise in week one of their LLB where they escaped City and went to visit a number of buildings of significance in the local area, before tackling some research questions.
They were then asked to write a blog post inspired by their travels. 21 winners were selected from all those posts submitted – this is one of those – thanks to Anisa Islam.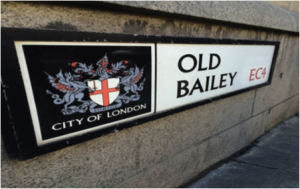 When asked to explore the legal surroundings of London, I thought it would be a fairly easy task. Although, some may argue that walking a few hundred metres on a pair of heels isn't the greatest of ideas.
Nonetheless I did manage to survive the entire trek and I am rather glad that I did. One of the landmarks which caught my attention was the Old Bailey, a historic landmark which is still relevant in today's day and despite its ancient age. Considering our legal system is primarily dominated by men, it's refreshing to see a statue of a woman at the top of the building, symbolising the significance that women play within the English legal system. As I pondered around in my heels, feeling sorry for my unfortunate toes, my sympathy turned to the Lady of Justice statue, which I thought must get relatively tired carrying a sword and weighing scales all day. It got me thinking about the position of women in today's society.
Upon further researching, I discovered that only 29% of police officers in England are woman with less than 23% in supervisory roles. However, astonishingly 44% of law students are female and 25% of judges are female thus showing that woman within the legal profession are in a much higher position than police officers. After considering these statistics, I automatically assumed that the statistics in London which is otherwise known as the heart of law would be a lot higher. However, much to my dismay, City of London has the lowest proportion of female officers at only 25%.
This research suggests that women appear to be unrepresented when it comes to the practical sides of law. However, when you look at the academic side, it portrays a totally different story. The reason for this could be the way women are stereotyped through media, books and general thinking by portraying them as individuals who should be keeping our heads in our books as opposed to patrolling on the street. On the contrary, it is rather uplifting that the mascot for the Old Bailey, is the lady of justice.
History (or herstory) behind the lady of justice statue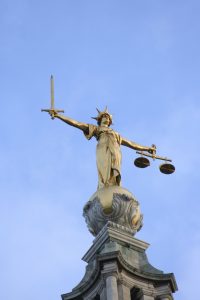 Originally, the statue wore a blindfold to symbolise that justice should be carried out objectively, without "fear or favour, regardless of money, wealth, power, or identity". However, the lady of justice statue on top of the Old Bailey was one of the first around the world to not include a blindfold. One interpretation of this could be that women are now more liberated, thus this statue may be portraying their freedom.
Nonetheless, at the other end of the spectrum, it is a completely different story. As the criminal justice system is dominated by men, the chivalry thesis is put into place and thus they are more lenient with women hence why woman account for only 5% of the prison population. However, when women are found guilty, they are given a much harsher punishment than men, representing again the gender inequality.
Gender inequality has been further reinforced by Lord Sumption who has also commented on the gender injustice and commented that it will take "another 50 years for woman to become supreme court judges." This is supported by the fact that Lady Hale is the only female Supreme Court judge within the English legal system.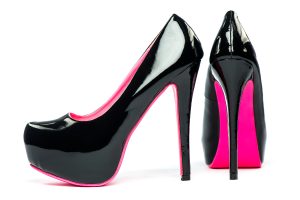 And so, whilst I fought to walking my heels, it got me thinking of the struggle that women face within the criminal justice system. Though we are not far from gender equality for once and for all, it is nice to remind ourselves of how much our women contribute to the legal system. Law for me, is a vital instrument of our society, structuring and harmonising society into what it is today. But this mere instrument would not function without the work of both men and women within our English legal system. And that's what makes my aching toes all the worthwhile.
References:
https://en.wikipedia.org/wiki/Lady_Justice