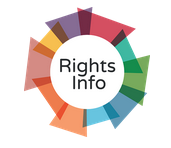 City alumni and One Crown Office Row barrister Adam Wagner launched his new venture on Tuesday evening: the RightsInfo website. With the Conservatives keen to kick that pesky Human Rights Act into touch and regular misreporting in the UK media, Adam's mission is to improve public understanding of human rights.
Great mission aside, this is a fantastic site – content is both hard-hitting and wry, accessible but not dumbed down. Bright, colourful infographics bring the site to life.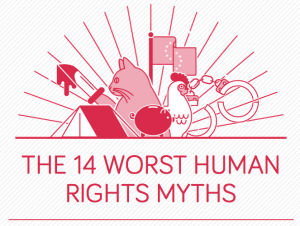 Features present at the launch include:
What human rights do for us – cards with key cases and developments – each one linked to the relevant judgment and any commentary featured on Adam's other superb site, the UK Human Rights Blog. You can change the category to focus in on specific categories: Equality, Justice and Privacy amongst others.
The 14 Worst Human Rights Myths – this is brilliant. Featuring the myth (headlines from the UK press) and the actual truth, along with the relevant source. Included are the classics: "Police give fried chicken to burglar because of his human rights" "Human Rights cases being decided by unelected European judges" and of course "A man was allowed to stay in the UK because he had a pet cat".
50 Human Rights Cases Everyone Needs to Know About – based on recommendations from the legal community, RightsInfo have pinpointed 50 cases, summarised them and then linked to the full judgment. These will be released daily.
As an ex-librarian, what is very cool about this site is that every post is tagged with a category (or several) so if you find a particular subject intriguing you can just click on the category tag to find everything on the site related to this. Addictive stuff…
Want to find out more about the man behind it all? There's Adam's 1COR profile, follow him on Twitter or read an interview with him from the heady days of 2011.