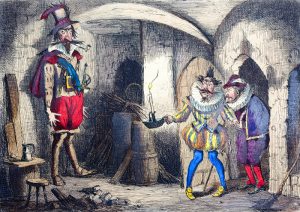 On Wednesday 18th February, Lincoln's Inn hosted the Crowther Shield advocacy competition. This is an advocacy competition like no other. BPTC students from across the country were invited to present a plea in mitigation following the conviction of their client and given just five minutes to persuade the court to pass a lenient sentence.
The twist?
The defendants on trial were historical or fictitious characters, convicted of the crimes of their past. Students faced the challenge of defending: Goldilocks, King Herod, The Grinch, and Peter Rabbit, among others.
The competition was judged by Lincoln's Inn barristers, and attended by honorary guest Mrs Crowther. The standard was incredibly high, calling for creativity and top notch advocacy from each and every competitor. This year's winner was City Law School student Jodie Drummond. She successfully mitigated on behalf of Guy Fawkes, which was no easy feat given the nature and severity of his crimes. All competitors spoke of how challenging it had been, but how entertaining it was on the night.