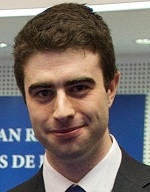 Niall Coghlan, who made up a quarter of the team who triumphed at the European Human Rights Moot Court Competition in February, has won the FIDE Essay Prize.
Niall's essay entitled 'Does recent case law suggest that the Court of Justice has lost its way on the issue of EU citizens' rights?' earned him paid-for registration at the FIDE CONGRESS and a £600 bursary for travel and accommodation in Copenhagen.
FIDE ( Fédération Internationale pour le Droit Européen ) – the International Federation for European Law – focuses as the name suggests on 'European law'. The non-profit organisation was established by the national European law associations, and was created for the study and development of the law and institutions of the European Community.
Find out more about Niall via the press release on the UKAEL website.