LPC Law talk for BPTC & LPC students
Tuesday, 11th March 2014 | 6.30pm start
Venue: The City Law School, Room 13, Princeton Street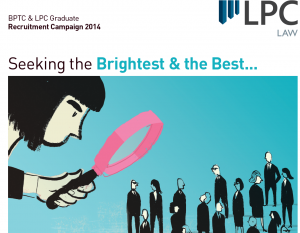 LPC Law are pleased to be conducting a talk on 11th March 2014 at 6:30pm for BPTC & LPC students.
The talk will be attended by LPC Law Advocate and former City BPTC student Alex Schindler-Kelly and HR Assistant, Deanna Ozal.
LPC Law specialises in the provision of advocacy services. To maintain LPC Law's high standards of advocacy we are looking to recruit BPTC graduates to work as Advocates attending hearings in the County Courts on behalf of our clients.
The Advocate will talk about the role, their experiences at court and working with LPC Law. The HR member will talk about the recruitment procedure and how to apply for advocacy positions commencing in July 2014.
Book your place online at https://careershub.city.ac.uk/ (log in using your usual university username and password) or simply turn up on the day