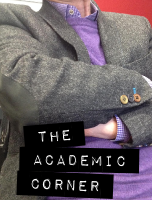 Welcome to our new column: The Academic Corner. This will feature interviews with City Law School academic staff, giving us an insight into their life away from their teaching. This month's interview was carried out by GDL students Daniel Bowman and Eleni Dinenis.
Catherine Elliott is a senior lecturer at City University Law School, who is known to many Law students as she teaches undergraduate, GDL and postgraduate students. After undertaking pupillage and qualifying as a barrister, Catherine decided that she enjoyed teaching more than practicing at the bar, and so moved into teaching and academia. She has been a lecturer at the University of East London and Kingston University and joined City University in 2004. Catherine's main academic interests are in the areas of English and French criminal law. Catherine spoke to Lawbore about her interests, and some recent and controversial developments in the UK criminal justice system.
Within criminal law, what are your academic interests?
I focus on whatever is topical, and whatever catches my interest. The most recent thing I've been working on is self-defence, triggered initially by the Anthony Martin case [the Norfolk farmer who killed a burglar at close quarters and was initially convicted for murder, reduced to manslaughter on appeal]. I have my own political angle to an area, and as an academic I like to highlight causes for concern and influence a little bit the way people see a subject.
Do you think that the law should have a more gendered approach than it currently does? Should men and women be treated equally under the law or does this fail to take into account their unequal position in society?
As a feminist I'm concerned about women's rights and how to achieve equality. The area in criminal law where this has been at the forefront of discussion has been provocation and loss of control. We have had the idea of battered women syndrome, where a woman suffering from domestic abuse may be unable to escape and may become aggressive against her partner. But I felt that the risk of these discussions was to stereotype women as reacting differently from men. I personally start to get a bit uncomfortable here. If you look at the reported offences of non-fatal offences against the person, a lot of the scenarios are public fights between men, and there aren't many domestic violence cases. Some of these issues don't come to the attention of the courts enough, and there are problems with social issues and how the police are responding to these social issues.

Do you think then that this is largely a problem of lack of diversity in the judiciary?
There are examples I can think of, such as the Clinton sexual infidelity case, where it was questionable whether the male judges took a position that I was uncomfortable with as a feminist [the Court of Appeal held that sexual infidelity could be used as a defence to a murder charge by a husband who had killed his wife where there were other triggers for the killing as well]. That becomes an issue of having a more diverse judiciary. Recently the Courts have moved away from the Clinton approach. Generally I am quite comfortable with a lot of the application of the criminal law, and I don't feel outraged as a feminist.
One issue that I have personally become concerned about is school hair policies. My eldest son has an Afro, and before he started secondary school I had an argument with the headmaster. The law is quite clear that our hair is part of our cultural background and school hair policies should be sensitive to that, whereas the headmaster was saying 5cm maximum. A friend of my son had had plaits since he was a toddler, and was told to cut them off. For me it was quite an eye opener, seeing the way the school reacted to my concerns. I know that as a white women, I wouldn't have understood the significance of the school hair policy but for my children being biracial. It's only by experiencing this myself, and seeing it through the eyes of my son and husband, that I've started to understand. It also highlighted the role of lawyers. We could see that the only way to protect their rights was to go through the courts. In terms of protecting human rights, you need solicitors and barristers and legal aid.
Do you worry that cuts to legal aid being carried out by the coalition government will mean that the law will not be used to challenge injustices suffered by individuals of ordinary financial means in everyday life?
I would have thought that we're going to move closer to an American system. You might be aware of the 'big tobacco' cases, where a wealthy company could be sued for damages, and the lawyers would get involved on a contingency fee agreement basis. But my school hair policy case would not get the legal backing. In cases like this, you are not going to be awarded significant damages. As a lawyer, would you take on such a case on a conditional fee agreement? It's not a money-maker, so you are dependent on legal aid if it exists, or a charitable organisation. I see the old legal aid system as part of our social welfare system, and I think that we took it for granted a little bit. It probably was quite generous, but in a very positive way, like the NHS. We benefitted from having a good system, and it's sad to see it being dismantled.
Moving on to developments to open up the justice system, specifically the broadcasting of civil cases before the Court of Appeal. Do you think that it brings a risk of sensationalising court proceedings?
Looking at the Nigella Lawson saga, I'm left asking is that what openness is supposed to be for? Isn't it a problem of dominance, and that it becomes an abusive power when the state is dominating people within the system? Is it really in the public interest for this information to be made public? I'm not sure that's what an open system is meant to achieve. But this is an exceptional case, and in general the more openness the better.
So is this more a problem about what the judge allows to take place in court, rather than the filming?
My instinct is that the more open we are the better when it comes to filming. I'd look at the family justice system, and the problems there have been with the fathers' rights movement. There are suggestions that actually there isn't a major problem with the family justice system, but there is a problem with people not knowing what's going on. To me, the family justice system has suffered from insufficient publicity and openness. But you can see why the courts wanted to protect the children and prevent divorces being used to titillate the public, trying to keep some privacy. If criminal courts were filmed, you might get it backfiring with celebrity criminal suspects, as we've seen in America with the Conrad Murray and O. J. Simpson trials. Certainly it gets people interested in the criminal justice system, but, looking at these cases, does it produce better quality justice? I think it's a balancing act, and the government's step-by-step approach, extending televising from the Supreme Court to the Court of Appeal, seems to be a sensible approach.
Is the balance between openness and secrecy in cases an area where we can draw contrasts between national legal systems?
We can certainly see distinctions in certain areas, for example the identification by police of suspects in alleged sexual offences cases. I personally have come to the view that it helps the police get information. Yes, there are risks to accused, but the advantages for the investigation outweigh that. This is an area where we differ from the French criminal justice system, which puts more emphasis on secrecy. It can be a criminal offence to reveal anything about the investigation.
In Portugal, the Madeleine McCann investigation by the Portuguese authorities has shown parallels with the French system, and there have been tensions between the English and Portuguese police. The Portuguese police had put together an image of a suspect, and they have been criticised in England, where the expectation would have been for it to be published. We have a tradition of the police feeding information to the public as part of the investigatory process. I think that's appropriate in these kinds of cases.
Finally, do you have any advice for law students?
Try to find out what you enjoy studying most. Try to keep the sense that studying should be an enjoyable process. I know this is difficult when it gets close to exams, but for me law is an interesting subject, and if you pursue the subjects that interests you the most you're more likely to flourish, rather than going against the grain to try to earn more money.
Many thanks to Catherine, Daniel and Eleni.
Quickfire questions:

An unusual fact about you?

I studied Hindi and Indian Constitutional law for a year in New Delhi.

Last film seen?

The Hunger Games: Catching fire.  Not really my type of film.  I would have much preferred to see a modern French film.

Proudest moment?

Seeing my sons winning a national school football tournament at Arsenal's Emirate stadium.

Your escape from law? [what do you do outside of work?]

Football – spectating not playing!