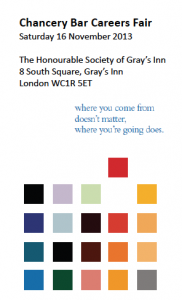 The annual Chancery Bar Careers Fair will give you some insight into what a career at the Chancery Bar entails, shedding light on the different areas of work (Charities, Commercial Litigation, Intellectual Property and many more) and let you have the opportunity to meet those already working at the Chancery Bar.
The day will include talks on pupillage in chancery chambers, traditional chancery practice and company and insolvency practice. The day will kick off with a Q & A on on the pathways to qualification.
Check out the flyer for full details – sign up via the Chancery Bar Association website.
The CBA have produced a booklet 'Careers at the Chancery Bar' which is available online.