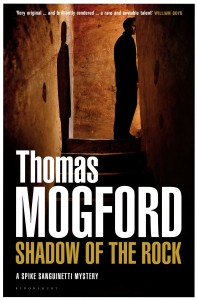 Thomas Mogford (who Lawbore interviewed in October last year) has made the longlist for the prestigious Crime Writers' Association John Creasey Dagger 2013. The CWA John Creasey Dagger is awarded for the year's best crime novel by a previously unpublished author.
Tom's first novel Shadow of the Rock is a crime thriller based in Gibraltar where the book's central character, tax lawyer Spike Sanguinetti, gets embroiled in a murder case whilst trying to save the accused, old friend Solomon.
Shadow of the Rock received much acclaim; described by The Times as 'evocative, engrossing and entertaining', Mogford's work has also been praised by William Boyd, author of Restless, Ordinary Thunderstorms and Waiting for Sunrise, as 'Very original … and brilliantly rendered … a rare and enviable talent'. Judges of the CWA John Creasey Dagger described Mogford's book as:
'Well written, beautifully crafted with a wonderful sense of place and voice. This fast moving adventure is more than just another accidental private investigator racing through an exotic landscape, this is a first-class thriller in which lawyer Spike discovers the underside of the Gibraltar dream and establishes a major new character in the criminal pantheon'.
Since writing Shadow of the Rock, Tom has also published the second in the Spike series, Sign of the Cross.