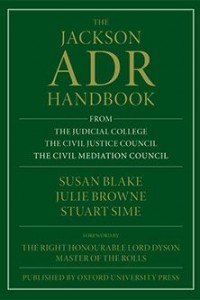 An occasion to celebrate the publication of the ADR Handbook took place on the 13th May 2013 at the Royal Courts of Justice. The Handbook is published by OUP and authored by our very own Susan Blake, Julie Browne and Stuart Sime.
Lord Justice Jackson, in his Review of Civil Litigation Costs, had recommended that an authoritative handbook for ADR should be prepared. This is that book. It is endorsed by The Judicial College, The Civil Justice Council, and The Civil Mediation Council. Sir Rupert Jackson, congratulated them on an excellent book commenting; "this is exactly what I envisaged when drafting chapter 36 of the Review of Civil Litigation Costs Final Report".
Lord Dyson, Masters of the Rolls and Head of Civil Justice, gave a speech welcoming the Handbook and reminding us of the centrality of ADR to civil practitioners. Lord Justice Jackson, Sir Henry Brooke and Mr Justice Ramsey were also present.
Lord Dyson provided the foreword for the book, commenting:
"It is properly authoritative. It is readily accessible. I cannot commend it more highly. This book deserves to be the first and only port of call for every student of ADR irrespective of whether they are a litigant, a law student, a lawyer or a judge. I am sure that it will be."
The full story of the book's beginnings can be read via The City Law School News.