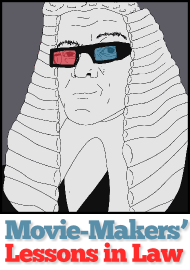 In her elegant townhouse, the bewitching Mrs Paradine (Alida Valli) plays the piano beneath a painting of a handsome Colonel. He was her blind husband and she is about to be charged with his murder. Trouble comes with a capital T for the brilliant, successful and, until now, happily married defence barrister Anthony Keane (Gregory Peck) who finds himself irresistibly fascinated by Mrs Paradine the moment he meets her in Holloway Prison.
Keane loses the plot both personally and professionally as he becomes ever more infatuated with his client. Besotted with her charms he begins a mission to save her 'because no one else can'. It's car-crash movie watching with all the suspense that you would expect from a movie directed by Alfred Hitchcock. Is Mrs Paradine kind and noble or is she evil and manipulative?
The trial takes place before a cruel and creepy judge practically drooling at the prospect of sending Mrs Paradine to be hanged. (In the United Kingdom executions for murder carried on until 1964. Ruth Ellis was the last woman to be executed and that was in 1955.) The climax of the movie takes place in an Old Bailey courtroom – a replica of the real thing, right down to the scratches on the desks.
What I can say without spoiling the suspense is that things go royally wrong in for Keane in the full glare of the courtroom. With hindsight his biggest mistake is not excusing himself from the case when he first met Mrs Paradine. But he didn't and went on to demonstrate that infatuation can make you do crazy things like telling a defendant what must have happened, turning private detective and not following client instructions. Being recently struck by Cupid's arrow would have provided no defence had he been hauled before the ethics committee.
Penny specialises in witness evidence and never ceases to be fascinated by anything to do with the courtroom. She carries out research into witness issues and teaches judges and barristers about witness handling methods. As often as possible she likes to get a good DVD, a big bag of popcorn and hold a family film festival.
© Penny Cooper, 18 November 2012