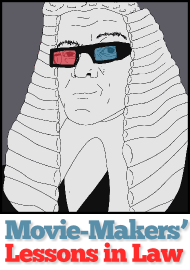 Apart from going to law school, the best way to learn about law is to see it in action. Legal learning is free from the public galleries of our courts. You can walk in and watch judgecraft and advocacy as it really easy is. The advocacy will vary from the excellent to the mediocre or poor and from the sidelines it may not be easy to work out 'the plot'. And don't expect too much excitement – even if you happen upon the next Carman QC, you probably won't see a witness unravel and confess and you certainly won't see a lawyer cross-examine himself!
But the movies are different.
Although what you see in a film is often far from realistic (the now famous 'You Can't Handle the Truth' bit in A Few Good Men is pugnaciously dramatic), it can still be a great source of legal learning. All the movies I write about in this series have something important to say about 'lawyering'.
Entertainment and legal education coincide in these ten films. Between them they have gained a stack of acting award nominations, a clutch of 'Oscars', tens of millions of dollars in box office revenue and, you can bet, have generated many budding lawyers. Which one is your favourite? Is it even on my list? Grab your popcorn, get comfy and don't forget your legal thinking cap.
Reversal of Fortune (1990)
The film is based on Alan Dershowitz's 1985 book Reversal of Fortune: Inside the von Bülow Case. Professor Alan Dershowitz, probably the most famous lawyer in the U.S.A., represented Claus von Bülow in his appeal against conviction for the attempted murder of his wife Sunny who was found in a coma in 1980.
The movie begins where it ends with Sunny (Glenn Close) lying in a hospital bed in a vegetative state and inviting us to look back at her relationship with to Claus (Jeremy Irons) and the events that led to Claus's trial. The film depicts a privileged world of marble floors, chandeliers and golden toilet seats. It's a tale about money, love, addiction, control, attention seeking and misery – all of which should be gripping for any lawyer since, as the movie reminds us, good lawyers are part-psychiatrist.

As the days count down to the appeal hearing, Dershowitz (Ron Silver) is concerned about the principles at stake if prosecutions are based on evidence from privately conducted investigations. He ponders what makes people tick, in particular the judges of the Rhode Island Court of Appeal. He challenges his assembled legal team to consider how these judges would be able to go home to their spouses and justify quashing Claus's conviction against a massive tide of public opinion.
This is a movie about court of appeal strategy: double-checking the reliability of lab results, questioning expert opinions, tirelessly demanding the prosecution's unused material, using your legal judgement not your moral judgement, not relying on technicalities to win appeals ('guilty men's arguments' which appeal judges do not like), submersing yourself in the client's case preparation (sometimes at the expense of personal relationships) and thinking about all possible case theories until inspiration comes. Notice what is written on the T-shirts as the appeal team shoot hoops.
If this movie has left you wanting to learn more from Deshowitz, who by the way has a cameo role as a judge, a good place to start is his Letters to a Young Lawyer (2001). Watch out too for coverage in the media of his involvement in the Julian Assange case – Dershowitz joined the defence team in 2011.
Penny specialises in witness evidence and never ceases to be fascinated by anything to do with the courtroom. She carries out research into witness issues and teaches judges and barristers about witness handling methods. As often as possible she likes to get a good DVD, a big bag of popcorn and hold a family film festival.Penny moved from The City Law School to Kingston University Law School in summer 2012.
© Penny Cooper, 18 November 2012