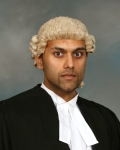 Our author Dev
Almost every student or trainee searches for legal work placements, with good placements being regarded amongst students almost as highly as their degree grades.
The amount of time spent searching for, and subsequently applying for work placements often surpasses the amount of time students spend on coursework, study, and dare I say it, even clubbing…
The first work placement can often be pivotal; it can lead to open doors for further placements, or can put students off entirely. At an early stage in a students' life, obtaining a legal work placement can almost feel like obtaining the Holy Grail.
But how do the organisations feel towards work placement interns?
Many of them are extremely welcoming, especially on face value. Placements are valuable in terms of meeting professionals and being exposed to legal practice. Such an impact at an early age, or at an early stage, can be vital to you.
Practically however, most interns would be given little to do, and rightly so. Legal work requires legal expertise, and it would be detrimental to the client, not to mention just plain wrong, to make an intern responsible for complex casework. It would be unfair to place such a huge weight on their shoulders, no matter how keen they are. In some cases, predominately with the larger firms, interns may be given timed assessments throughout their placement, however the majority of cases will involve students doing pretty menial tasks.

The imperative thing is what the intern makes of it; how they present their experience on their CV and how well they network. The physical part these placements is easily replicated as interns can spend time carrying papers and serving hot beverages at hundreds of office blocks up and down the country.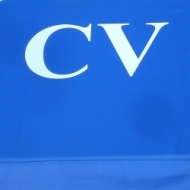 I would suggest that it would be wise to make selections on where to apply to. It is always tempting to throw out as many CV's as possible in the hope that one firm might actually contact you. Whilst the 'shopping mall' approach (the good old days walking around Brent Cross armed with 12 CV's to hand out in your favourite stores…) may get you a few more responses than ordinarily expected, they might also be firms simply looking for free labour at the time. It is easy to conclude that in such instances time would be better spent studying for a better grade.
An alternative benefit of obtaining a 'non-legal' placement, is that the intern has an opportunity to rule it out as a career option. One question always thrown out in interviews is 'how do you know that law is for you?'. Well in this instance, the intern can quite categorically say 'well I tried doing other stuff and didn't like it' (…so there…).
Applying for placements at Chambers may give interns the legal exposure they crave, as they would be taken along to court on a frequent basis. The opportunity for networking is always rife as the intern would meet Barristers at Chambers, as well as other legal professionals whilst in court, or in conference.
Again, if the intern has no particular wish to train or practise as a Barrister, they always have the option of obtaining the placement, learning about that side of legal practice, and then telling people in interviews that they would prefer to do other things.
The first 'experience' I had of anything legal was watching Ally McBeal on Channel 4 when I was in year 9. I used to think being an 'Attorney' looked like a pretty cool job; with interesting colleagues and the customary imaginary dancing baby (although I have never harboured thoughts of mothering a child, unlike Ally…). My first placement was in Barristers' Chambers, and although the English legal system is fundamentally different to that of the USA, I must admit it entirely reaffirmed my initial interest in the profession. The passion and drive that followed have kept me pushing since, through numerous placements in fields of very little personal interest, training, and then finally, into litigation.
The same path won't apply to everyone, as each individual will have to weigh his or her options up accordingly. However I did say that the first placement could be pivotal, and I definitely stand by that.
Placements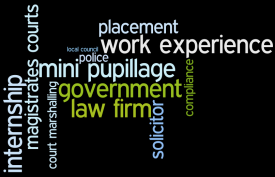 In terms of the type of legal placements available, the list can include but is certainly not limited to the following:
– Work experience with solicitors firm
– Mini-Pupillage with Barristers' Chambers
– Court Marshalling with a Judge
– Placement with Court staff in Magistrates Courts
– Placement with Court staff at Immigration Tribunal
Other relevant types of placement could include:
– Work experience at local council
– Work experience with government official
– Work experience with police
– Internship in banking and finance
– Internship in compliance and regulations
I certainly look forward to any questions and comments with regards to the above.
Dev completed the LLB and is a Barrister, with experience in criminal litigation. He has covered a range of offences from road traffic accidents right through to murder, and specialises in theft and offences of a sexual nature.
Dev spends the vast majority of his time as a visiting lecturer, focusing on outreach to students and increasing their access to the legal profession. Dev feels strongly about the need for widening participation in the legal profession, and breaking down the social barriers that often find talented individuals from urban backgrounds moving away from the law.
Find out more information about events and work experience on 'to a degree' on Facebook, and support the movement by following on Twitter!