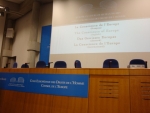 The English Law Students Association, more famously known as ELSA, gave 47 lucky law students, from various universities across London, the opportunity to travel and visit key institutions of the European Union ("EU"). The study trip, which began on the 8th of January, was a week-long trip that ended with a two day stay in Amsterdam. The programme included visits, lectures, and discussions at the NATO ("North Atlantic Treaty Organisation"), Council of European Union, European Commission, European Parliament, Council of Europe and the European Court of Human Rights (ECtHR).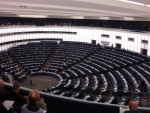 The study trip was very informative on the functions of each of the EU institutions and its role in executing and formulating various policies for Europe. The Lisbon treaty, as expected, will bring out a number of important changes. Mr Vandercapellen from the European Commission in his presentation noted among the many changes there would be a permanent President in the European Council, Qualified Majority Voting is to be extended, co-decision was to be extended, and the reform treaty will amend all other treaties.
The trip gave students an opportunity to also explore the various European cities where most of the institutions were located. Brussels, home to many of the institutions, was a beautiful city and a favourite among the beer fans (these were numerous). Strasbourg, home to the ECtHR, was a picturesque capital city of the Alsace region in France. With many beautiful sights (like the Place Klébe), café's and restaurants Strasbourg proved to be a truly European city with both the French and German languages being given near equal importance. Amsterdam was a two-day break at the end of the trip for the participants. Once again Amsterdam provided both the first time and repeat visitor an opportunity to visit its many museums (those that enjoy a pint of Heineken had an opportunity to visit the Heineken museum), café's, bars (particularly the Brown café's), and only complete with a canal boat tour of this splendid city. ELSA study trips are a great opportunity for law students to participate in various conferences, network and enjoy the various European cities that host ELSA conferences and events.