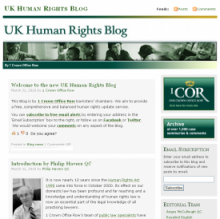 Adam Wagner, who completed his GDL at City 05-06, is one of the editors on the newly-launched UK Human Rights Law Blog from One Crown Office Row.
The blog offers a lively round-up of human rights-related news and commentary. Postings are extremely comprehensive with links to full judgments, case summaries and other documentation where possible. Their regular case comments are excellent and detailed. Users can sign up for email alerts and RSS.
Had you guys considered blogging would be a part of your role within Chambers I wonder?