[jwplayer file="/videos/Craig Robinson__City_Hi_bandwidth.flv"]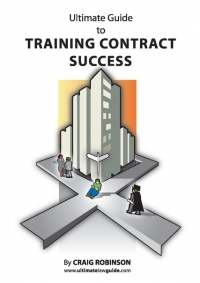 Craig's interview is wide-ranging; offering Future Lawyer readers an insight into how Craig's career in law has panned out, from his experience of studying at City, becoming a commercial lawyer, right through to his current role as author of The Ultimate Guide to Training Contract Success and creator of The Ultimate Law Guide website.
Craig has developed The Ultimate Law Guide to help students sketch their path out to a training contract – his website offers the following snapshot of his mission:
We are a team of qualified solicitors, who were the first in our families to go to university and come from backgrounds not traditionally associated with law. We beat all the odds to achieve our ambitions of becoming lawyers at leading law firms, and now want to give back – by helping to inspire the next generation of talented students to get-ahead and successfully forge careers in law.
Hot content in this interview includes Craig's tips for training contract interview, the most difficult question he's been asked at interview and some thoughts on demonstrating commercial awareness successfully.
To find out more about Craig – read the piece featured in The City Law School's In Law Magazine Spring 2009