[jwplayer file="/videos/Marlon and Ruth – 16x9__City_Hi_bandwidth.flv"]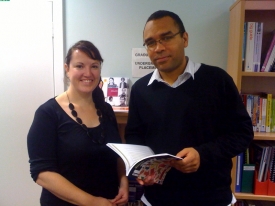 Meet Marlon Gray (Senior Careers Consultant) and Ruth Wilcock (Careers Consultant)
Based within the Centre for Career & Skills Development, Marlon & Ruth have responsibility for organising, planning and delivering the careers programme for The City Law School for all undergraduate and postgraduate programmes. The service is offered on the main university campus (Northampton Square) and The City Law School based at Holborn. This involves working with the student employment and events co-ordinator Eleni Antoniou in their department and staff based at each site.
Besides their involvement with careers programme development the service also delivers a whole host of other activity such as: Careers guidance and advice legal/non-legal, Cover letter/CV/Application advice, guidance on preparing for employer selection events/tests.
This video introduces you to Marlon and Ruth and gives us the opportunity to quiz them on lots of important issues; tips for applications, resources available and how students should make the most of their time at City.