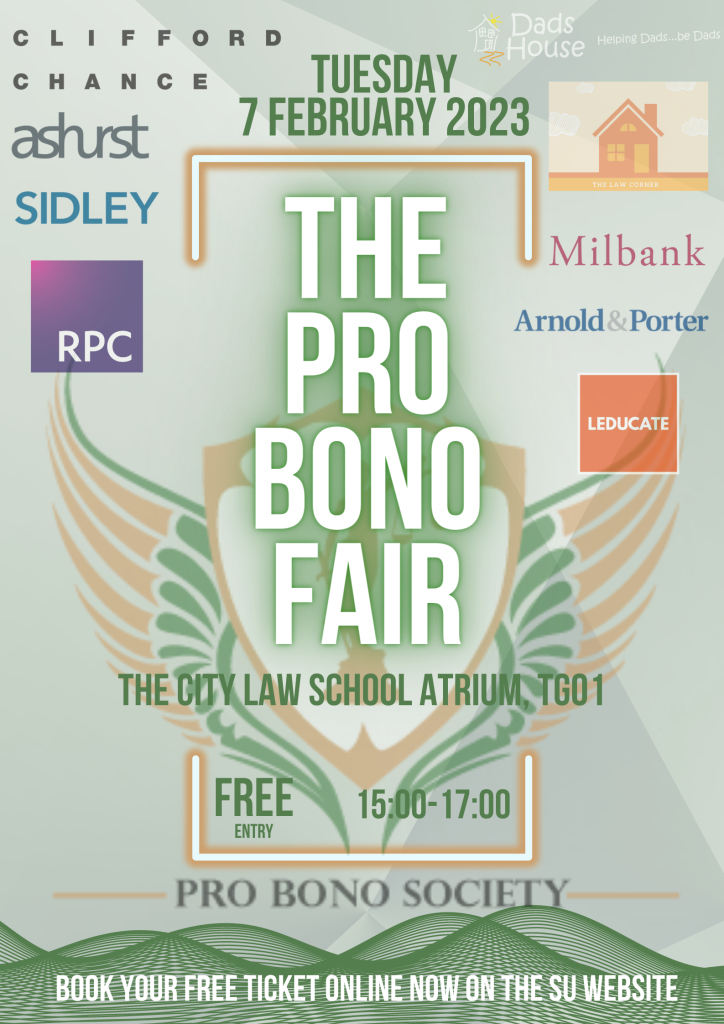 City's Pro Bono Society have been working hard to put together the 2023 Pro Bono Fair, which will take place between 3-5pm in the Law School Atrium on Wed 7th February 2023.
This offers students the opportunity to be exposed to a range of pro bono opportunities, including the difficulties that come with access to justice for many members of our communities.
it also gives you the opportunity to gain valuable networking time with a range of people within the legal community and from top law firms who contribute to the fight towards providing equal legal representation for all.
Those attending include:
Arnold & Porter
Ashurst
Clifford Chance
Dad's House
Leducate
Millbank
RPC
Sidley
Between 3-4pm you can browse the stalls and chat to representatives from the organisations listed above. Ideal opportunity to find out about their pro bono experiences and initiatives. This will take place in TLG01.
The next half hour (4-4:30) consists of a panel discussion with or visitors, discussing case studies and employability. The final slot (4:30-5) offers a 'reception style' networking where representatives and students can comfortably and openly discuss or ask questions.
Want to secure your place? Book your free ticket via the SU website.