In a year when the world has been gripped by a pandemic, it was only apt that this year's Price Media Moot Court case revolved around a fictional state imposing restrictions on the freedom of assembly and the freedom of expression to protect its citizens from a deadly virus.
Despite being held virtually, some 100 teams from around the world entered this year's competition, with the top thirty progressing to the international rounds. The City team of Hugo Murphy, Charlie Richardson, Rafe Jennings and myself (Alexander Haines) was selected at the end of October and immediately set to work grappling with international human rights law, a field that none of us had ever studied before. Our weekends turned into self-study periods focusing on the principles of human rights law and case law from jurisdictions from around the world. Whilst last-year's team had been able to meet in person for coffee meetings to discuss the case, we did not have that luxury and soon weekly Teams meetings became the norm. Indeed, it would not be until after the competition had finished that we finally got the chance to meet!
One of the first hurdles we overcame was how to write a memorial, and thanks to a reminder from last year's team, how to write two memorials – one for the applicant and one for the respondent. Francesca, a member of the previous City team, was especially helpful in giving advice on areas to focus on and kindly read through initial drafts of our memorials. Soon it became clear that our ambition of having the memorials written by Christmas was a touch optimistic. So, over the Christmas lockdown, fuelled by many cups of tea and several (hundred) mince-pies the two 5,000-word memorials came together. They were a lot of work, and we were unsure whether our efforts were going to suffice, but as one marker stated the memorials were "clearly a labour of love" and our apprehension was clearly misplaced.
After a month of waiting, we were informed that we would be competing in the Northern Europe Oral Regional Round. Sadly, we would not get the chance to moot in person and as such were denied the chance of a trip to Paris where these rounds would otherwise have been held. These rounds saw each 'side' moot once. We had decided that Charlie and Hugo would take the role of the applicants whilst Rafe and I would advocate on behalf of the respondents. To progress to the finals of the regional round the marks from the memorials (marked by three judges) and the marks from our oral pleadings (scored by three judges) would both be considered with a total of 9 points up for grabs.
First round
The first round saw Hugo and Charlie take to the 'zoom podium' and put in a strong performance against another team from the UK, dealing well with what we would later find to be relatively gentle judicial interventions. As applicants, Hugo and Charlie were accorded 3 minutes of rebuttal during which they could query points made by the respondents, while the respondents would have three minutes to respond to the rebuttal. As would become a theme of the competition, Charlie's rebuttal left the respondents with little time or room to provide a convincing response.
The following day, Rafe and I took on a team from the University of Paris with slightly more frequent judicial interventions relating to the application of the principles of human rights law and how they related to the facts of the case. Strangely, they opted to relinquish their rebuttal which further forced Rafe and I to respond to their oral pleadings in addition to their memorial.
Later that day we received our scores. Hugo and Charlie, facing stiff opposition, edged their round with a 5-4 win, recording a convincing 3 – 0 win in the memorials. Rafe and I enjoyed more success against our French opponents, as we recorded a comprehensive 9-0 victory. Sadly, we did not progress to the regional finals and we feared that the many months of work had been squandered.
Our disappointment of missing out on the finals was quashed in the awards ceremony that followed the final. Our dedication to our memorials paid off as we won the runner up award in the best memorial category and also found out that we had progressed to the international rounds!
Another two months passed before the International rounds started. In the week before the final we were lucky to manage to have a practice moot with a former City GDL student and mooting master, Caspar Ramsay, who gave us a confidence boost and a few tips that would prove valuable in the next rounds.
The international rounds
In the International Rounds, we were guaranteed to compete three times in two days, twice as applicants and once as respondents. We faced some stiff competition from Osgoode Hall Law School (Canada), the University of Sarajevo (Bosnia and Herzegovina) and the Georgetown University Law Center (USA). We had no idea of how well we had done and whether we would be progressing and nervously waited for the results to be released. It should also be noted that at the start of the week Rafe suffered a stream of technology failures, firstly with his laptop and secondly with his phone – forcing us to carefully communicate over the direct message function of zoom to finalise our surrebuttal.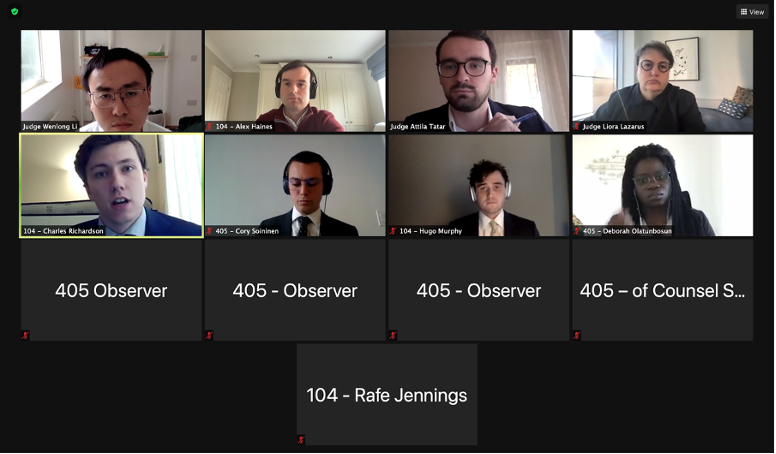 When we found out that we had beaten each of our opponents 9-0 each time it rapidly became apparent that we were through to the semi-finals. A few hours later our place in the semi-finals was confirmed and once again the task was left to Charlie and Hugo as applicants to represent us against the Symbiosis Law School (Pune, India). Once again, the pair dazzled in a closely fought contest. There was an abundance of intensive grilling from the judges, including City's own Dr Richard Danbury, who later provided a brilliant nugget of wisdom that if the facts of a case are weak then focus on arguing the law and vice versa. Having received some excellent feedback, especially regarding Charlie's exquisite rebuttal, we were told that we were through to the final!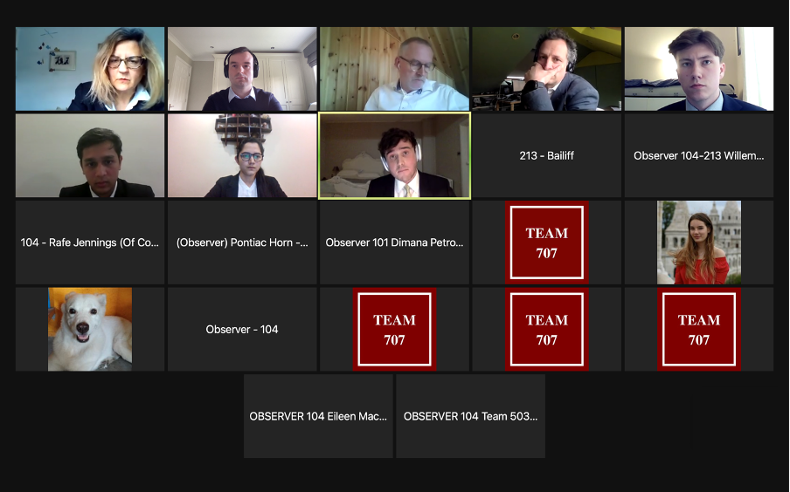 The final
The final would be left to myself and Rafe against the National Law School of India and we had an afternoon to brush up on our case-law and relevant principles. Once again, we were subjected to forensic questioning from judges Gehan Gunatilleke, Nani Jensen Reventlow and Mark Stephens CBE. As in the semi-final there was a distinct change in tempo and direction of the questions, with deeper questioning on the application and relevance of case law, our use of the facts and the principles we had focused on as well as more theoretical questions relating to what the parties should or could have done. Following what felt like the longest deliberation of the competition Gehan announced that NLU had won, although he emphasised that it was a very difficult decision and one that he and his fellow judges had not enjoyed making. Rafe deservedly won best oralist in the final and we both received excellent comments from all judges who also accepted that, as respondents, we had the harder side to argue.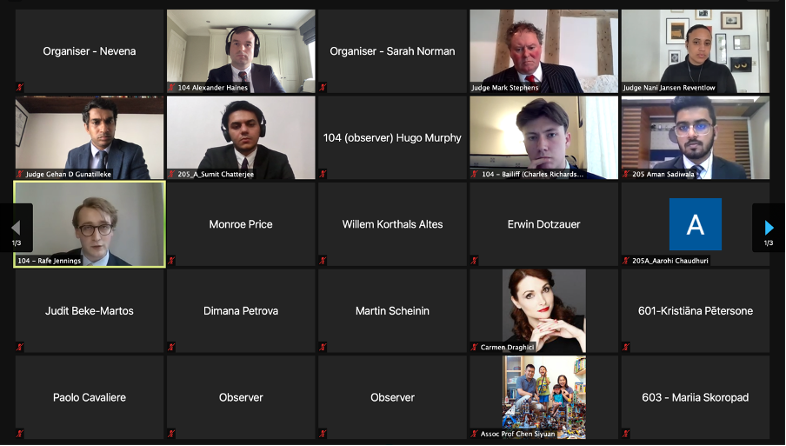 The closing ceremony was an opportunity for further accolades, this time for Charlie, who was adjudged to be the fifth best oralist in the competition. Furthermore, our team scored the most points in the preliminary rounds.
I would highly recommend this moot to anyone looking to go into human rights law or international law, but also if you enjoy challenging yourself and exploring new areas of law. The moot is a great chance to hone your written and oral advocacy skills by competing on a truly global stage.
Our thanks go out to the moot organising team at the Bonavero Institute, the judges for their time and insightful feedback, and all those at City who selected and supported us throughout the moot! The organisers are also anticipating seeing the return of in-person mooting next year, so some aspects of the competition may change. I hope this has given you a glimpse of what to expect, and we would be happy to offer any advice we can to teams in the future! If you'd like to see the final…here it is!
Huge congratulations to the team on their terrific achievements at this moot, we are very proud of them! Many thanks for this write-up also – we hope it will serve to encourage future City students to enter our selection process.
Alex is a GDL student at the City Law School and has previously studied at the University of St Andrews. He is interested in wide variety of legal practice areas ranging from human rights law to commercial law with further interests in aviation and maritime law. He currently intends on pursuing a career as a solicitor.  

Charlie is a GDL student and previously studied History at the University of Cambridge. During his degree, he focused on the historical development of political and civil rights, which has naturally evolved into an interest in human rights law that he has pursued during the GDL. As a future pupil barrister at a set specialising in family law, he's looking forward to seeing the way that human rights interact with family law in practical and real-world situations.

Having previously studied at the Universities of Oxford and Cambridge, Hugo is now studying the GDL at City. He intends to practise public and media law at the bar, and crucially wants it known that he eats pizza without cheese. 
Rafe completes our team of GDL students, having previously studied Philosophy at the University of Edinburgh. He is interested in human rights in general with a specific interest in digital rights.