Three City students were chosen to enter this year's Price Media Law Moot Court Competition; heading off to Oxford University in April to join a very global range of teams. Team member Francesca Nicholls tells us more…
The legal world has direct implications on the way we interact, socialize and behave as individuals. With the rise of social media, many believe that they are 'safe' in the vortex of cyber space; that they can write whatever they like without contestation, or publicize defamatory content about an individual or, in its worst form, promote and propagate hatred.
The tensions of these acts are founded on the well known polemic: freedom of expression vs the right to privacy. If these particular rights interest you, then go no further than the Price Media Law Moot!
Genevive Zingg, Honor Frazer and I [Francesca Nicholls] participated in this particular moot. It was challenging and hard-work by all accounts, but was an incredible experience! Not only did it strengthen our skills as advocates, but engaged us in real-time issues facing the international world. The use of the internet has triggered many human rights issues, and our exploration into these concerns exemplified how essential it is as lawyers to be aware of these tensions.
Upon being chosen to represent City, the three of us were presented with a fictional case which centered around whether a politician's rights had been infringed due to false information spread about him on the internet during his campaign, thus resulting in the failure of reaching a Parliamentary seat. The second issue regarded the proliferation of anti-refugee posts on UConnect [the fictional version of Facebook] and whether UConnect's inaction of taking down these posts warranted the government's suspension of the Internet, thus enacting an infringement of the right to freedom of expression.
The first part of the Competition was to write a Memorial amounting to 5,000 words. This included a Bibliography, OSCOLA footnoting and other sub-sections, all of which amounted to many days in a coffee shop painstakingly going through every element to a tee! We did not realize until a month before the Memorials were to be sent that we had to do the Respondent argument and the Appellant argument (thus amount to TWO Memorials as opposed to one) and so, as you can imagine, the coffee shop meet-ups became all too frequent and lengthy!
The Memorial was marked by academics in International Media Law. In order to proceed to the advocacy stage we had to reach a certain amount of marks and, with a lot of work and many espresso's, we thankfully managed to make it to the exciting oral rounds.
These rounds are based in the University of Oxford, and the competition prides itself in being directly aligned with the Bonavero Institute of Human Rights. As it is an International Competition, competitor's came from all over the world and it was truly wonderful to meet aspiring lawyers with different stories, different legal systems and different cultures. The competitors ranged from Egypt, Ukraine, the Philippines, China and many more.
The oral rounds thus consisted of three preliminary rounds. One round was for the Respondent, the other for the Appellant, and the third one was chosen by a toss of a coin and so our team did one Appellant round and two Respondent rounds.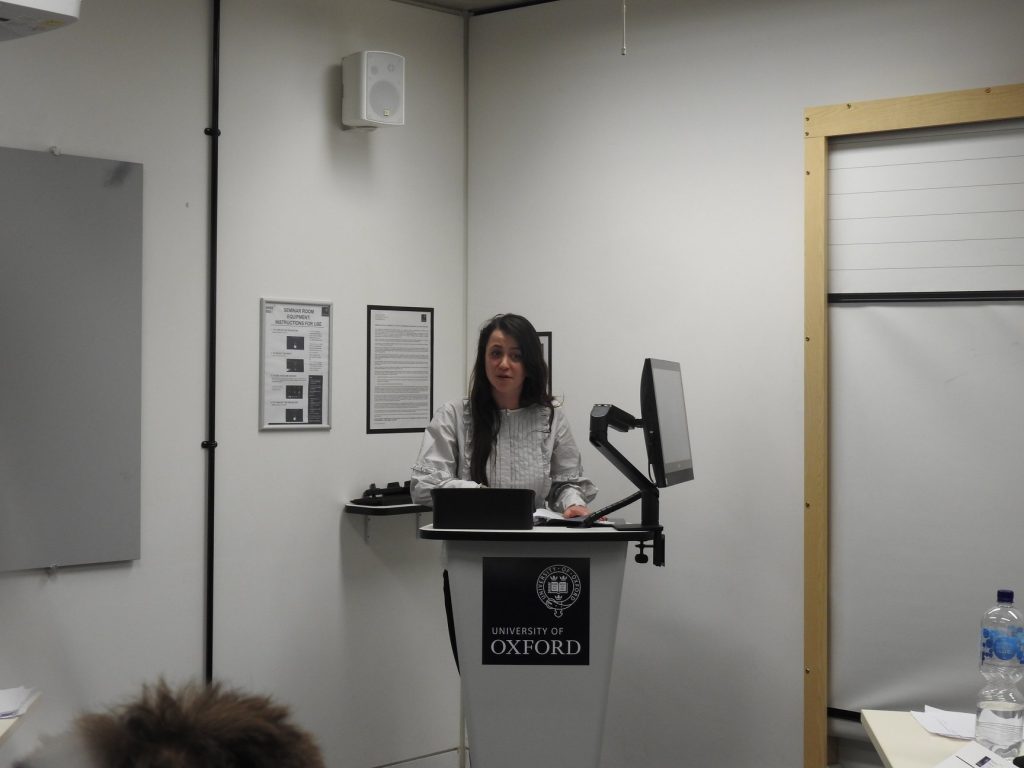 The rounds were based in the seminar rooms at the Manor House Road Building, and were judged by three individuals. These individuals ranged from academics in the field, Barristers and real-life Judges.
When presenting the arguments, each team had 45 minutes, and could chose to delegate their timings between the Senior and Junior counsel in whatever way they felt necessary.
Depending on the Judges you had been allocated with depended on the intensity and veracity of questions[as is the case in all moot Courts!]. Although I cannot speak on behalf of Genevive and Honor (who were utterly incredible in the face of judicial scrutiny), I can say it was rather intense being challenged by world-academics who could squash your meticulous argument you had been working on for months within an instant. Even so, we held our ground, and the questions were of such a nature that the Judges clearly wanted to push you into questioning elements such as:
Was this decision overruled and, if so, why?
Why do the facts of the case you mention have relevance to the instant facts?
What is the test for 'necessary in a democratic society'?
Essentially, the judges wanted to test how water-tight our arguments were, and also make us consider and reflect on how we got to our arguments, rather than regurgitating them without substantive knowledge.
The preliminary rounds consisted of 38 Teams and City made it into the next rounds; the Octo-Finals!
Here, we played Ukraine, and the match was perilously close, but Ukraine narrowly beat us. The fact they made it to the Finals, which is judged by a panel of eight judges, including members of the European Court of Justice, certainly made us feel a lot better about our defeat!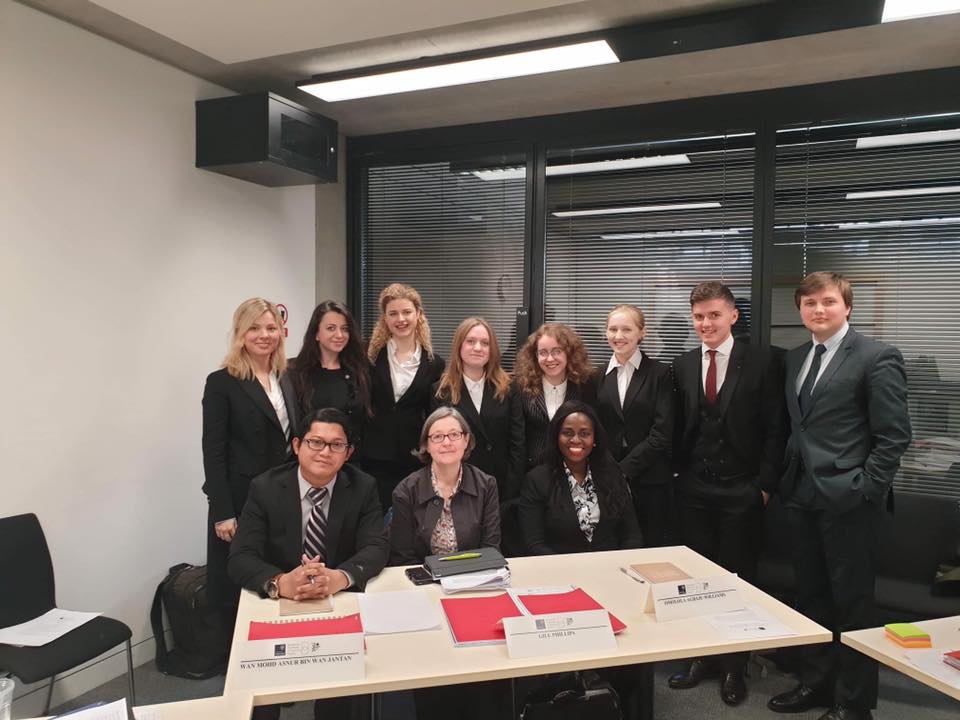 Even so, it was an incredible opportunity. Not only was it wonderful to be placed in Oxford for five days, able to meet many international soon to be lawyers and, of course, getting to know your team mates, but it really gave us a feel of the life to come in the legal world. It pushed us to work to our extremes, and really helped us blossom on our journey to becoming barristers; not only because of the advocacy training, but also in the fact we had to persevere. Such a skill seems fundamental in the quest of being a lawyer in the Court room!
Oh, and of course, there were many evenings organised by the Competition of dinners in Mansfield College Cathedral, Champagne receptions and general drinks in the Turf Tavern – a great way to talk to both judges and competitors alike.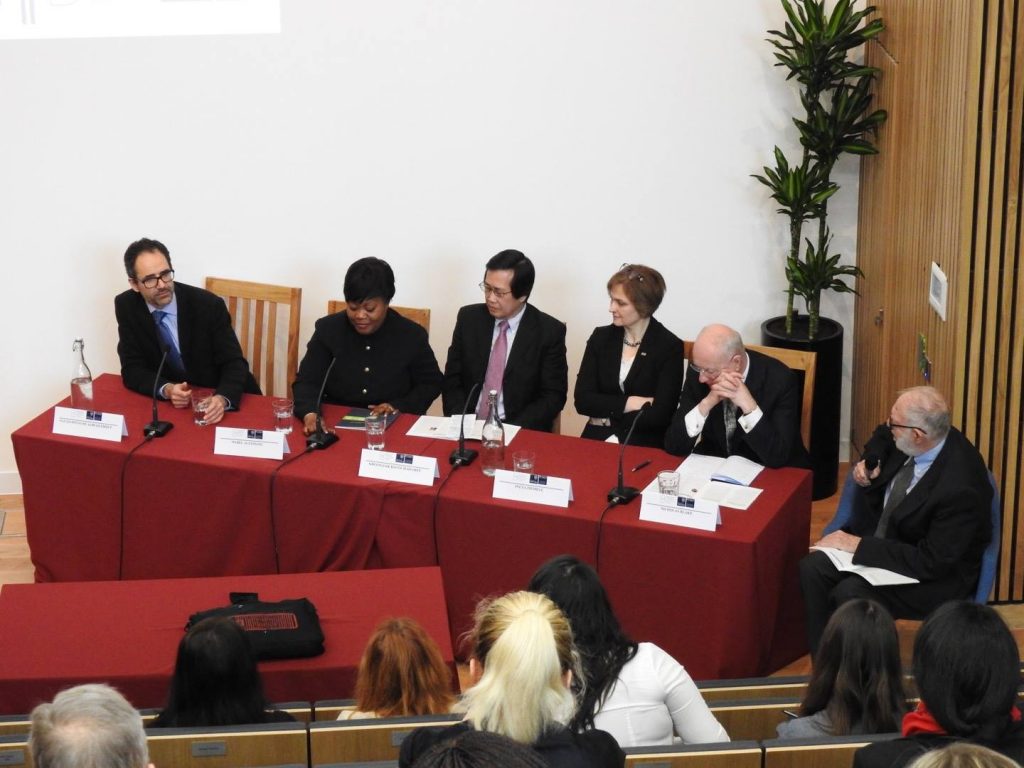 I would highly, HIGHLY, recommend taking part in this competition, particularly if you are interested in human rights, media law, international law or European law !