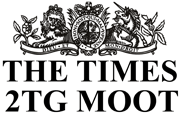 I'm sure many of you saw this in The Times mid-February, but for those who missed it – there's a brilliant opportunity to moot in The Times/2TG Moot. Deadline for registration is the end of May, but the problem has been released already.
Winners receive an assessed mini-pupillage at 2TG and a share of the £6000 prize pot. This is a moot you can enter independently of City – with no maximum number of teams who can gain entry from any one institution.
The Grand Final will take place in January 2017.
Find out more: www.2tg.co.uk/timesmoot