Are we … prepared to contemplate the gradual emergence of a court [the ECHR] with the equivalent jurisdiction throughout Europe of that enjoyed by the Supreme Court in the United States of America?
Lord Judge, 'Constitutional Change: Unfinished Business', 4th December 2013
In the May 2015 General Election, the way forward for Human Rights is a key differentiator between the major parties' manifestos. Most notably, the Conservative Party wish to scrap the Human Rights Act 1998 and leave the European Convention on Human Rights, in favour of a 'homegrown' Bill of Rights.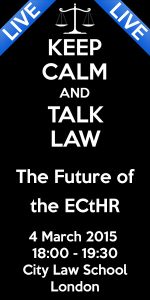 What should the future be for the European Court of Human Rights?
Do we want a powerful European Court with power equivalent to that enjoyed by the US Supreme Court?
Our panellists come together to discuss this burning issue.
The panel for the evening includes:
Adam Wagner (1 Crown Office Row, UK Human Rights Blog)
Angela Patrick (Director of Human Rights Policy, JUSTICE)
Kirsty Brimelow QC (Doughty Street Chambers)
Jon Holbrook (Barrister & Writer)
Date/Time: 18:00-19:30, 4 March 2015
Venue: Atkin Building Lecture Theatre, City Law School – Gray's Inn.
Please direct any enquiries to the Keep Calm and Talk Law events team.
Sign Up required