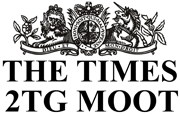 The Times has teamed up with 2TG to run a moot later this year. Aspects that will most interest you as follows:
First prize is £4000!
All four finalists will receive assessed mini-pupillages at 2TG.
There is no cap on the number of entrants from any one university…so all of you can give it a go.
Take a look at the moot website (where you can register your interest), or see flyer for full details.