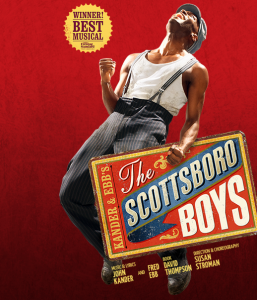 "If you don't make it entertaining no one will listen," said American musical theatre lyricist Fred Ebb. It is advice that is arguably useful not just for writers crafting a script for an audience, but also for lawyers preparing a case to present to a jury.
Last week I attended a special event for members of the legal community at The Garrick Theatre. After a performance of the hit musical The Scottsboro Boys, there was a private reception to celebrate the show and its legal links. Attending the event were director Susan Stroman, producers, the cast and notable lawyers.
The Scottsboro Boys, co-created by acclaimed songwriting team John Kandor and Fred Ebb – they also did Chicago and Cabaret – tells the true tale of a famous miscarriage of justice. And it triumphantly achieves the double whammy of being both entertaining and making people listen.
The case of the Scottsboro Boys was pivotal in creating social and legal change in the American South. In 1931 one day in Scottsboro Alabama, nine black male teenagers, who had been travelling on a freight train, were forced to disembark by the local law enforcement. They were later (falsely) accused of raping two white women, given a joke of a trial, convicted by an all-white jury and sentenced to death. So started their very long fight for freedom and justice. They waited years on death row, never far from the threat of the electric chair. Their case resulted in trial after trial, changes in Alabama state law, and support from a burgeoning American civil rights movement and the Communist party; the latter funding a New York lawyer to represent the Scottsboro Nine.
The musical starts in a very high-energy, jolly manner, luring you in. The performers, dancing, singing and smiling, assemble into a semi-circle. And then they announce that they are performing a minstrel show.
The minstrel show format often feels very wrong to watch. Which, perversely, is very right. You are reminded of the wrongness of the story – a tale of teenagers cruelly mistreated and racially discriminated – by the physical act of these young black men performing as minstrels under the command of a middle-aged white man.

There are some beautifully subversive moments of rebellion, mostly from the main character, Haywood Patterson, played intensely and subtly by Brandon Victor Dixon. Patterson was a young man who had learnt at an early age to tell the truth at all costs. Even when it was arguably in his best interests not to, Patterson stuck to the truth through his many years of incarceration, firm that in doing so he was creating his own sense of peace.
At the drinks reception afterwards, British human rights lawyer Mark Stephens spoke of the changes in the law that the Scottsboro Boys case had prompted. In 1935, the US Supreme Court ruled that black people not being permitted to sit as jury members in Alabama had deprived black defendants of their right to equal protection under the law. Director Susan Stroman spoke of how Rosa Parks had known about the Scottsboro Boys as her husband had marched for their release and she had read Haywood Patterson's book about the case. And producer Catherine Schreiber prompted us to look up the Scottsboro Boys Museum, which was founded in 2010 by local woman Shelia Washington, who campaigned for the State of Alabama to grant all the Scottsboro boys a posthumous pardon.
The Scottsboro Boys is lively, clever and wonderfully performed with great direction and set design. It would be an excellent musical even if the narrative wasn't a shocking true story. But the fact it is adds depth to the piece. Susan Stroman revealed that several of the killer lines of dialogue in the script were actually copied from the real court transcripts.
The show's theme of young, poor, uneducated migrants travelling to seek work, but instead falling victim to a harsh and unfair system, has resonance today. But, as the story of the Scottsboro Boys proves, by standing for equal human rights and justice you just may – even if the process takes far longer than it should – have a positive influence on the freedom of future generations.
The Scottsboro Boys plays at The Garrick Theatre, Charing Cross Road, until the 21st February 2015.
Ness Lyons is a playwright and former solicitor currently doing a Creative Writing MA at City University.