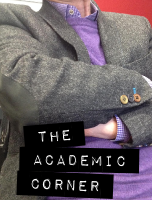 Dr John Stanton graduated from his LLB at the University of Surrey in 2007.  In November 2010 he was awarded a doctorate by Kingston University for his work 'Democracy in sustainable development: Accountability and participation in Britain's local communities'.
Appointed Lecturer in Law at Kingston University in September 2010, John joined The City Law School in September 2012 where he teaches Constitutional and Administrative Law on both the LLB and Graduate Entry LLB, and Public Law on the GDL.
John is an active member of the Society of Legal Scholars and also of the Honourable Society of the Inner Temple.
What drew you into public law?
From the second year of my undergraduatedegree I knew I wanted to be an academic rather than practice as a solicitor or barrister.  Though I spent the summers (during my LLB) at a solicitors' firm, I quickly realised that studying the law and continuing to learn about it, is where my fascination lies. I love the pursuit of scholarship that can come through working as an academic as well as the various discussions and debates.
I did my undergraduate dissertation on the Jackson Case [2005] UKHL 56 in 2006 – 2007, considering the implications of the House of Lords' judgment on orthodox parliamentary sovereignty. There was so much academic debate to consider that it made writing easierand more fun. And that also drew me into constitutional and administrative law. I enjoy Public Law because there's rarely a 'right' answer to the issues and discussions, especially in our system which is so different and complex to other countries' systems. I don't know if there are wrong answers either… misunderstandings, perhaps!
What do you think is next for the area?
We are in a time of constitutional change – all the various issues are fascinating. We've currently got the first peace time coalition government since the 30s, for instance. The next general election will be pivotal, and I think we'll see an increase in turnout in 2015 as the way the whole system works seems to be changing. In years to come, there's the possibility of EU referendums, a new Bill of Rights, talk about leaving the Council of Europe. We're potentially in the midst of clear constitutional evolution.
Lots of high level international politics to look forward to then. You recently published a book, tell us about that.
My book was my PhD thesis and came from a studentship, supported and funded by the EC1 New Deal for Communities government regeneration programme.  My area of specialism is localism, and the book really looked at what happened in local communities under New Labour policy, assessing their changed approach to how communities and citizens can plan their own development and play a part in improving local areas.
Democracy in the form of the involvement of local people is fundamental to sustainable development, making sure that activities and changes meet the needs of people today without jeopardising people's future needs.
Does it work?
It does, the changes I studied are the community just next to this university 'EC1'.  One of the projects was called Help on your Doorstep and involved people calling on their fellow residents to ask what they wanted. That meant that the people whose ideas created what you see around here, are not only people who are usually active volunteers in their local community, but a much wider group of people. So it can work, but there are problems which we see time and again in local governmental reform.  It can be summed up by saying that there's a reluctance at the centre to 'let go', meaning local people aren't empowered properly, they have the power of ideas but not power over the money or resources.

So what next?
I'm doing a big empirical study around some of the London Boroughs, interviewing local councillors and looking at how the coalition's localism agenda is working.  So far it looks like the same problem is emerging, not enough decentralisation.
What local authorities need is two things: not just power but the freedom to use that power.  Part of that is financial resources but the Localism Act also created over 60 new powers for the Secretary of State, which seems somewhat paradoxical in a piece of "localism legislation".
It's a valuable idea though. One size fits all isn't effective or efficient enough to be appropriate to every community.  It'll work when people have the freedom to participate fully.
What advice do you have for a law student?
Take every opportunity. These are very competitive times and you need to sell yourself in the best way you can to stand out. But what's really impressive is when a student has a deep rooted interest in the subject and goes beyond what academics have told them to find out for themselves by visiting Parliament or something similar.  The point of what we do is that we are teaching you to think for yourselves. Being able to do that is impressive.
Quickfire questions:
If you weren't a legal academic who would you be?
A classical singer, probably in a chamber choir.
What do you do outside the lecture theatre?
Sing with a semi-professional choir, The Bach Choir.
I also like running, cycling and reading.
What's your top tip for living on London?
Make the most of it. Walk by the river, go to a museum. There are great exhibitions to see, I recently visited the London Film Museum, where there's a large collection ofvehicles from the James Bond films (another interest …)
Many thanks to Helen Longworth, GDL student at The City Law School, for this interesting insight into John's life!