If you fancy a break from your core texts over Christmas don't forget about the Innovation Centre library's fiction collection.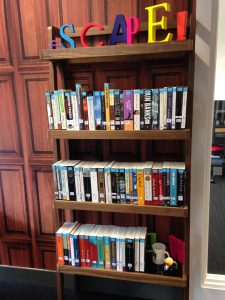 Held in the academic corner next to the main desk you'll find books with links to London and some with legal connections; there's crime, thrillers, fantasy, war, romance, classics – some funny, some tragic but lots of great stories.
Here's ten to wet your appetite:
Iain Banks – The Crow Road
Dalton Trumbo – Johnny got his Gun
David Guterson – Snow Falling on Cedars
Pat Barker – Regeneration Trilogy
John Lanchester – Capital
Neil Gaiman – Neverwhere
Jonathan Franzen – The Corrections
Caitlin Moran – How to Build a Girl
Donna Tartt – Secret History
Edgar Allan Poe – Selected Tales
I chose the collection – so really hope everyone can find something that allows them to get a bit of a break from study!