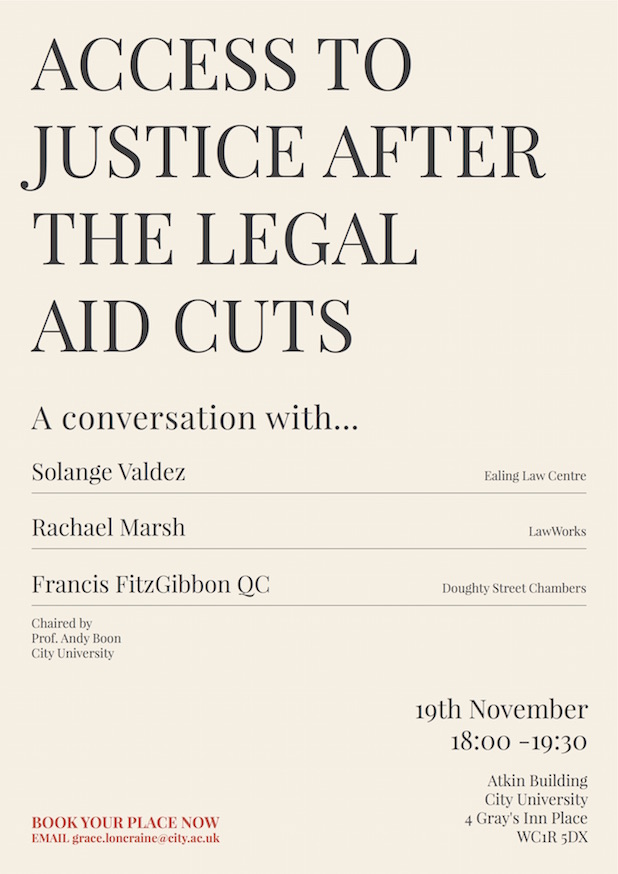 More than a year has passed since the first of the Government's reforms of our legal aid system came into force. There is a broad consensus across the legal community that these changes have obstructed universal access to justice. No such consensus exists over the most efficacious and viable response. While some argue that only a complete reversal of policy will ensure equality in the courtroom, others believe that pro bono can, and must, step in to fill the gap. Meanwhile, does the popular press, judicial review or the House of Lords present our greatest hope for restraining further cuts?
This event is intended to be a lively and open debate on the strategies available to defenders of justice.
Email grace.loncraine@city.ac.uk to reserve your place.
The Panelists
SOLANGE VALDEZ is the supervising solicitor at Ealing Law Centre, where she specialises in immigration law. Her passionate support for migrant children and the children of migrant parents led her to found the Project for the Registration of Children as British Citizens. She is particularly concerned about their experience of the cuts, as detailed in her report "Separated Children and Legal Aid Provision", produced for the Immigration Law Practitioners Association, of which she is a former executive committee member. Solange was recently shortlisted for the Legal Aid Lawyer of the Year award. She is also a supporter of the Justice Alliance.
FRANCIS FITZGIBBON QC is a criminal silk, with extensive experience in homicide, fraud, historic sex abuse and drug cases. He also sits as an immigration judge. Francis is recommended as a leading advocate in criminal law by the Chambers & Partners Directory. He writes regularly about the legal aid reforms, both for his blog, "Nothing like the sun", and as a contributor to the London Review of Books.
RACHAEL MARSH is Head of Casework at LawWorks, a non-profit organisation which encourages and supports lawyers and law students in carrying out pro bono work. Its membership includes a number of top city law firms. She also works part-time at the Centre for Criminal Appeals, which represents individuals who are subject to miscarriages of justice.​ With previous experience at both a law centre and a chambers specialising in legal aid work, Rachael has a broad insight into the provision of legal services to disadvantaged groups. ​
The Chair
ANDY BOON joined The City Law School in September 2012. He was previously Dean of the School of Law at the University of Westminster, London. He served on the Law Society's Training Framework Review Group and as Vice-Chair of the Bar Standards Board's Education and Training Committee. He was recently consultant to the Law Society of England and Wales on introducing legal ethics to the compulsory curriculum for undergraduates and to the Solicitors Regulation Authority on the mandatory scheme for continuing professional development.